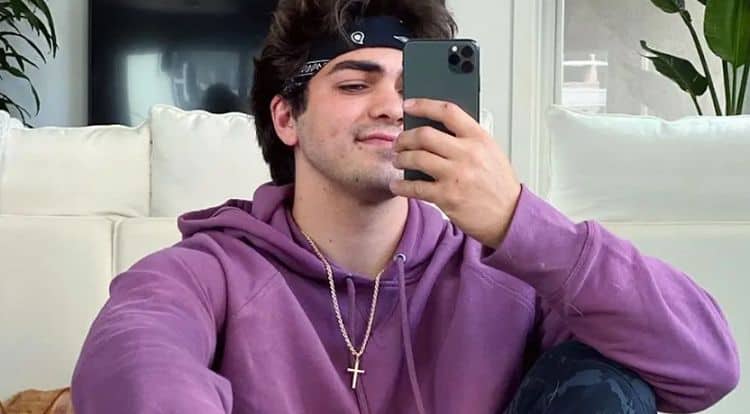 For lots of young influencers, having internet fame is relatively new to them. However, that isn't the case for Thomas Petrou. The 21-year-old content creator has been doing his thing online for the last few years, and his hard work has certainly paid off. He has more than a million followers on each platform: TikTok, Instagram, and YouTube and his numbers continue to climb on a regular basis. He is also the manager of the Los Angeles based TikTok collaborative, Hype House. Although his presence on each platform has a slightly different vibe, he is well-known for his lighthearted content and positive attitude. Keep reading for 10 things you didn't know about Thomas Petrou.
1. He Got His Start On Vine
At 21-years-old, Jake is a little older than lots of the other popular people on TikTok. This means that he was around before TikTok was even a thing. He actually got his start on the now defunct platform, Vine which allowed users to upload short 6-7 second video clips.
2. He Used To Work For Jake Paul
Jake Paul is one of the most well-known people on YouTube. His channel has more than 20 million subscribers and he creates a wide variety of content. Thomas and Jake became friends and eventually started working together. Thomas was a member of Jake's Team 10 but was fired in 2019. The circumstances surrounding his firing are still a little fuzzy.
3. He Sells His Own Merch
As someone who has been working in the industry for a while, Thomas knows that branding is everything. He also knows that you can leverage your popularity on social media to create other opportunities. On top of creating videos, he also started his own merchandise line called Cancelled. He sells all sorts of items including sweatpants, hoodies, t-shirts, and hats.
4. He Used To Make Personalized Videos On Cameo
Thomas appreciates all of the love he gets from his supporters and he loves to interact with them when he can. For a while, he was even making personalized videos on Cameo. Cameo is a platform that allows people to buy custom videos from their favorite celebrities and/or influencers.
5. He Wants To Be An Actor
Social media has been his thing for the last few years, but ultimately, Thomas would like to break into the acting world. He hasn't had any roles yet, but he this is something he hopes to achieve in the future. Living in Los Angeles will definitely help him get access to the opportunities he needs.
6. He Almost Had A Modeling Career
There is a misconception that Thomas had a modeling career before becoming a social media star. However, in a Q&A video with Famous Birthdays, he said that he was never fully involved in modeling. Although he joined a modeling site and got some attention, he never completely committed to modeling although he did have talks with some major agencies such as Wilhelmina.
7. He Wanted Be An Engineer
Do you remember what you wanted to be when you grew up? Ironically, Thomas' answer doesn't have anything to do with the internet or entertainment. When he was younger, his dream was to attend MIT and become an engineer. Now, however, he would be happy to play a character like that in a TV show or film.
8. Dwayne Johnson Is One Of His Role Models
Thomas isn't the kind of person who looks up to a lot of people. But if there's one person who he does consider a role model, it's Dwayne 'The Rock' Johnson. Thomas has been a fan of Johnson's since his wrestling days and he admires the way he's been able to move seamlessly between industries.
9. He Used To Vlog Every Single Day
One of Thomas' claims to fame is that he vlogged every single day for three whole years. Each day, he would upload a new video on his YouTube channel which currently has 1.3 million subscribers. As you can probably imagine, recording yourself every day and then editing the videos can get really time consuming which is why Thomas decided to give it up. Although he no longer vlogs every day, he still posts content on a regular basis.
10. Casey Neistat Inspired Him To Start Making Videos
Over the last 10 years, Casey Neistat has become very popular on YouTube. He has more than 12 million subscribers and is well-known for creating a wide range of content that includes vlogs and tech reviews. When Thomas was in high school, he spent a lot of time watching Neistat's videos and became inspired to start creating content of his own.