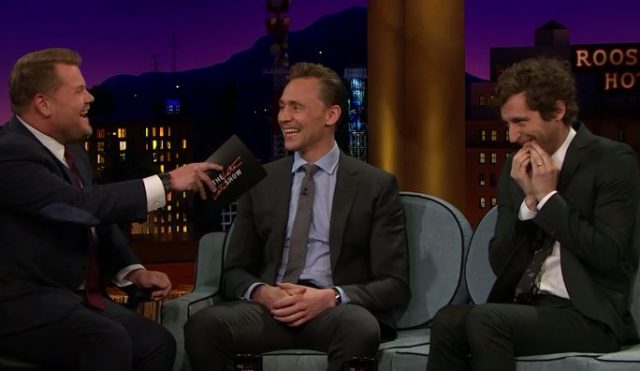 Tom Hiddleston,, who can currently be seen in The Night Manager on AMC, and Silicon Valley star Thomas Middleditch were both guests last night on The Late Late Show With James Corden. However, even though the two of them had never met officially in-person before, they did already kind of know each other, and the story of how they sort of met is both hilarious and bizarre.
As Hiddleston explains to James Corden in the video below, he just finished shooting his new film Kong: Skull Island last month, but during production on the movie, he, along with many of his co-stars, including Brie Larson and Corey Hawkins, and Skull Island's director, Jordan Vogt-Roberts, were all part of a group text together. It was very helpful, as the group text allowed the cast and crew to keep in touch with each other, even when one of them wasn't necessarily on set during production.
But then something odd happened: a number that no one recognized began joining the conversation. Whose number was this? Well, it was Thomas Middleditch's.
"There was a number saying 'This is Thomas Middleditch here,'" Tom Hiddleston explained. "And I was like 'Ha, ha, ha, that's a funny wordplay on my name'…and then it was actually Thomas Middleditch."
So how did it happen? How did Middleditch end up joining Tom Hiddleston and his Skull Island co-stars on their group text?
"The director and I have known each other forever, ten years," Middleditch told Corden. "You'll have to ask him, because I think he just accidentally included me on it."
Watch Tom Hiddleston and Thomas Middleditch laugh about the group text situation in the video below:
[Photo via YouTube]
Tell us what's wrong with this post? How could we improve it? :)
Let us improve this post!