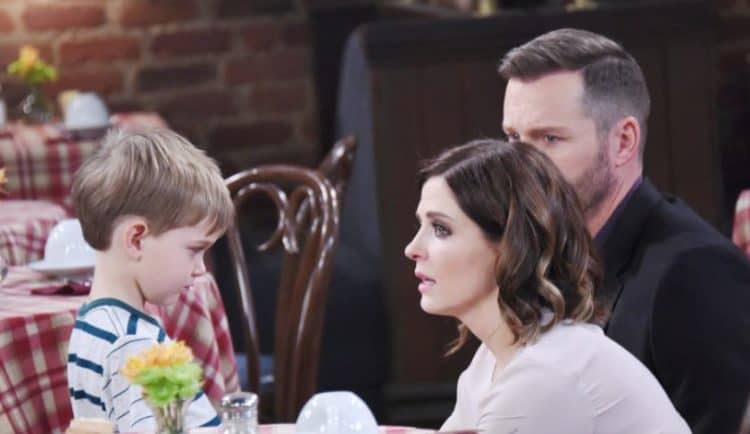 Days of Our Lives fans were privy to a long week of horrible behavior by so many people. Little did we know that JJ would end up in so much trouble lying for Theresa, and that she would end up losing her job and bailing on Salem, and that Brady would really lose his son, and that Eve would feel so guilty like it's all her fault. We didn't know that Victor would turn on Theresa or that Ciara would not tell her mother than Ben is the reason she is alive today, or that Hope would try everything in her power to get Ben to confess to her that he started the fire at the cabin that could have taken her daughter's life — it did not, but it could have — or that Claire would go out of her way to injure Ciara so badly even though she's already physically injured on top of it all.
We didn't know that Gabi would be so cruel to take something from a child. She might be beyond hurt over the fact that Abigail's alter personality put her in jail and accused her of murdering someone, but she's taking out her anger on a sweet, innocent baby that will either be terminated or raised by a horrible man when its father is really a good person in Chad. She's ruining a marriage, a family, and even a life. She's definitely not in a place where she cares, and we are all right with that if only she would find a new way to take revenge that doesn't involving harming the life and future of an innocent baby in the name of revenge. It's ugly, petty, and she knows she can't live with herself if this hurts the baby further in some way. She just can't.
What's Happening on Days of Our Lives
Save the date for a #DAYS event you won't want to miss. We're coming to Denver on Saturday, August 11. pic.twitter.com/yXb7vgACiN

— Days of our Lives (@nbcdays) July 18, 2018
Fans are still excited if you are in or near the Denver area on August 11. The show is showing up to make sure fans get to meet some stars, find out the answers to their biggest questions, and really have a good time with one another. Details are forthcoming, but you can find some already-created information on the Save the Date issued by the show. It's going to be a good time, but you need to know you'll miss it if you don't hurry up and reserve your chance to show up and be part of this epic situation.
What's Next on Days of Our Lives
https://twitter.com/nbcdays/status/1019658147370295296
This is a week filled with all kinds of excitement. The past week, as recapped above, was so intense. This week is shaping up to be a bit less of a drama fest, but it's just as terrible for so many people. For one, we are going to see that Gabi is going to open up and vent to someone about all she feels she lost in her life while she was rotting in prison for the murder she had absolutely nothing to do with. She will open up to him, and he will certainly get a glimpse of how upset and angry she is. Sorry, we're talking about JJ here. She's opening up to him, and it might be a big mistake for her. He might soon realize that she's so bitter about all of this that she might be behind all the horrible things that are going on in the life of his sister and her family. She might want to start keeping things to herself, but we don't know how that will all go down.
And then there is the fact that we are going to see that Abby is going to open up to her husband about her pregnancy. She realizes she has to tell him, and it is going to do nothing short of absolutely crush him that she is pregnant with the baby of another man. She can't handle this, and he can't either. This might be the beginning of their own personal end. He's been there for her, but this might not be something he can live with.
Stay tuned for more Days of Our Lives and be sure to check out TVOvermind daily for the latest Days of Our Lives spoilers, news, and updates.