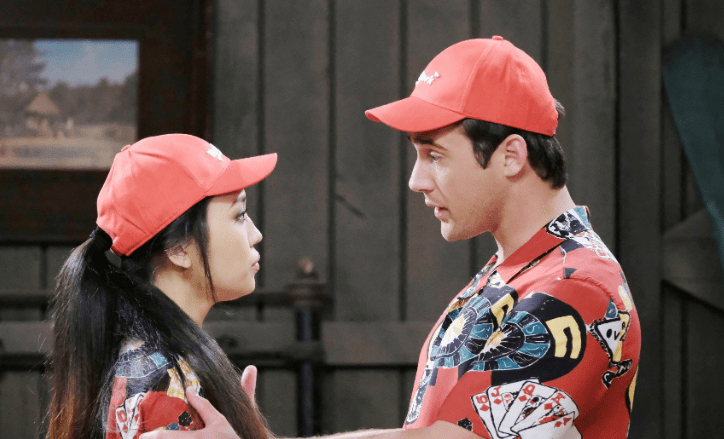 Days of Our Lives fans are not happy with Maggie's choice, even if we get it. She's done all she can to fight it off. She's done all she can to make sure she's not going to drink, but it's all been too much for her. Nicole returning from the dead was something else. Jack returning from the dead and abandoning his own family for Eve without any of his own memories to work with. Things not working out for him in the least. The baby dying in the accident. Eric's sadness, Brady's life situation, and all that is going on with everyone else. It's been a very rough year for her, and it seems that everything is working on her life in a way that is not good for her or the people in it. She's been tempted, and she lost control of her ability to control her temptation. It's not going to work for her at this point, and we get it. We get that she's done, and it's too late.
There is nothing else she can do. There is nothing else she can handle, and there is nothing else she's capable of at this point. She's had a rough go of it, and that's all there is to it. She's been unable to her situation to work for her, and she's not been able to control her desires. We are all sad about it, and we hope that someone notices she fell off the wagon before it is just too late. She is a woman who needs to be stronger, but she couldn't do it. We only hope there is someone there for her right now who can be stronger for her. Is there, though, or are we all just waiting on a miracle that might not come?
What's Happening on Days of Our Lives
Hey #DAYS fam – We're ready for #RedNoseDay. Are you? 🔴

Join us for @RedNoseDayUSA TONIGHT – starting at 8/7c on @NBC. Donate and find out how to get involved at https://t.co/tW1ZKtnXB9. pic.twitter.com/MBdpM6OmpH

— Days of our Lives (@DaysPeacock) May 23, 2019
Did you get to see this?
What's Next on Days of Our Lives
Take a deep dive behind #DAYS with stars @DeidreHall, Drake Hogestyn and @KristianAlfonso – TONIGHT on @enews at 7pm ET/8pm PT. pic.twitter.com/knzdkk8dMb

— Days of our Lives (@nbcdays) May 23, 2019
Things have been ugly for Chloe for a while now, but it's about to get even uglier for her going into the weekend. She's got a lot going on, and there is nothing we can do that will help her make a better choice in her life. She has to make her own life decisions in the moment, and right now is not a good time for her. She's been in a place that doesn't allow her to make good decisions losing the baby she was caring for after her mother died. Her new boyfriend, Stefan, says he is into her, but he's sleeping with Gabi on the side, even though they claim to hate one another. She's using him, and they are using one another, and things are not going to work out for them for the best.
But, she's about to walk into the DiMera mansion and find the man she's falling for in bed with Gabi. She's suspected it, ignored the clues, and gone out of her own way to pretend she doesn't see anything that works for her in this situation, and there is nothing that they can do about it. However, we are going to see her flip when she realizes what is going on in his life. She ignored the signs, and that is going to make her feel nothing short of entirely stupid, which is not how she wants to feel at this point in her life. It's going to be an explosive problem for her, and we are not sure she can handle that in her state of mind.
Stay tuned for more Days of Our Lives and be sure to check out TVOvermind daily for the latest Days of Our Lives spoilers, news, and updates.
Tell us what's wrong with this post? How could we improve it? :)
Let us improve this post!