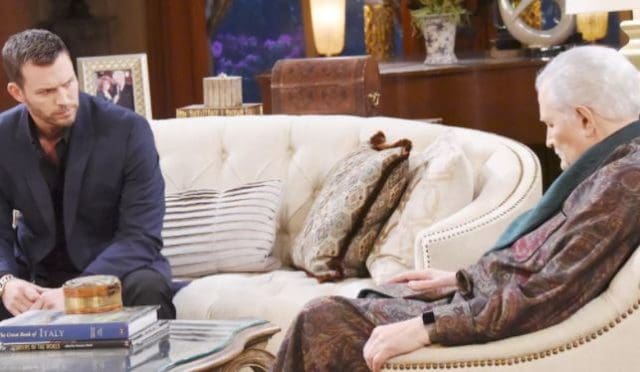 Days of Our Lives spoilers indicate Brady is going to have a long talk with Victor about what happened. He already knows that Xander was flown in the night of the party to murder Deimos. He spoke to the pilot of the plane. He knows, and Victor isn't going to deny he arranged for this to happen. Deimos was becoming a liability to the family, and he needed to get rid of him asap. So he did. And then he let Sonny take the blame for it. Victor will swear to Brady he never would have allowed Sonny to really go to jail or even be convicted of this crime, but Brady doesn't care.
It's too late for him to bother with Victor right now. He's already unhappy about all that is going on in his life with his girlfriend and his brother and everything in between, and he's doing some real soul searching. It's not good news for Victor, but we don't know how Brady plans on handling this. Will he tell? Will he allow anyone else to find out?
More importantly, will he allow Sonny to find out what is going on with his grandfather? Would he be able to handle knowing he was set up to take a fall like this in a situation like this? We aren't entirely certain he will do well knowing this, and we think that Brady probably knows this to be true. We don't anticipate he will tell, but we also know for certain.