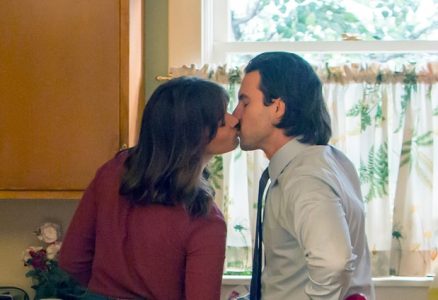 Pilots are complex to pull off. they have to introduce characters, their world and get audiences hooked enough to want to tune in every week. However, This Is Us, already had fans from the second it aired its first teaser, the Pilot simply delivered. Now, if pilots are tricky, there is another level of difficulty for second episodes.
A follow up episode, sets the tone, in my opinion, more strongly than the pilot. Especially considering this case, where the This Is Us premiere had twists, it was easy to wonder if the show could keep up. Thankfully, the series second installment does more than that.
"The Big Three" opens with a flashback. Rebecca is being the super mom she is, packing lunches and making breakfast for the triplets who are now 8 years old. The scene makes it clear that: 1. Kate's breakfast is the healthiest of all- which successfully roots to her very core, how her weight problems have always been clouding over her. 2. Jack and Rebecca's relationship, 8 years after becoming parents, are not as tight of a team as they used to be. and 3: The family has made their own chant in reference of the "big three". Endearing is a term that falls short to describe that moment the kids perform it for the very first time.
Continuing with the flashbacks, Jack meets his friend Miguel, who offers advice on his strained marriage. Miguel suggest the father of three that he needs to spend less time at the bar and more with his family. He highlights that Rebecca meets the gold-standard of wives. In other words, he tells him that he married UP and that his miss will eventually realize that. Miguel, we already love you, you are what every woman in the world wants her man's BFF to be. Well, sort of.
Because Jack being an absentee parent is not enough for Rebecca to be stressed, there is another problem. The kids at school are mean at Randall. they have nicknamed him "Webster" (in reference of the 80's sitcom). This causes tension between Kevin and Randall, since the former crashes under peer pressure and doesn't defend his brother.
Rebecca, of course, tells Kevin that he should always have his brother's back, no matter what people think. But Kevin is too concerned about his "image". It makes complete sense that he became an actor in the future.
The problems continue. Jack gets home, missing bed time by an hour. He has a "I'm sorry I've been absent" gift for his wife, and a buzz. Rebecca has something better for him: an ultimatum. Either he stops drinking and gets back to being the amazing dad that we saw in the pilot, or he's out of the house. With disappointment, Rebecca makes her case grading their family, herself as a mother, and Jack as a dad.
The verdict: they are a 6, though Rebecca operates as a 9. Jack is a 10 when he's there, but ultimately, his absence brings down their score. Mandy Moore KILLS IT, here.
Later on, Jack promises to be a 12 and gives his wife his gift: a necklace with a quarter moon pendant- the moon has a special significance to them and references "their song". She promises to never take it off and as peace is achieved, the triplets join the party. This is when we get to take a sigh of relief. Just for a beat.
In the present day, Kevin has to deal with the consequences of quitting "The Manny" in front of the cameras. He meets with his agent and her army, who inform him that he's under contract with the network for two years, therefore, even if he was able to walk away, he couldn't work on TV or movies for that extent of time. His agent, Lanie (Katey Sagal is as brilliant as ever), emphatically suggests he attends to a party at her house to make amends with one of the network's big shots. Kevin is shattered by his options, or lack thereof, and goes to Kate for advice. She tells him to "Manny out".
Speaking of Kate, she's mortified that Toby is losing weight and she isn't, and after having a meltdown while on support group, her new boyfriend convinces her to go to Lanie's party with Kevin, AND to take him. That way they can have "non-fat-centric" time together, she can support her brother and as a bonus, Toby can meet Lanie.
Cut to the party. The start is grim. Kate is too self conscious of her weight and feels watched, while Kevin is told by the exec whose ring he was supposed to kiss, that he cannot "Many Out" if he wants a career. Later on, crushed, he meets with a much more relaxed and drunk Kate, however, the most important part of the party segment comes when Kev calls Randall and asks for HIS advice.
It is evident that the brother have a strained relationship, yet, Randall (by far my favorite character so far), reminds him that their parents raised them well, they are, after all, the "big three". The siblings do their chant and the world becomes a little less dark. Kevin decides he's going to part ways with the network, move to New York and do theater instead. Kate is shocked by the news and Toby does "Jazz hands". Toby, I ADORE you.
Back to Randall, his wife, Beth is worried about William and his stay at their home. Understandably, she has questions, however, Randall wants to wait and see how things play down. Beth gets it, he is too good of a person to question his bio dad, so in an attempt to protect him, she confronts William.
She asks the man, still a stranger to her, about his activities during the day, since he is gone for a long period of time and it is unknown what he does. She suspects it's drugs and feels bad when she hears the truth. The old dying man has a cat back in his place in Philly and he goes back and forth to take care of the one precious thing he thought he had. He never told her and Randall because one of her daughters has asthma and he didn't want Randall to offer to bring the pet in, and in the process put the little girl in danger. Yes, this is when our hearts break.
Just when everything seems to be moving in the right direction at Randall's house, the doorbell rings. The girls happily announce their visitors are "grandma and grandpa!", which causes, first William to hide and secondly, the viewers jaws to drop. Grandma is Rebecca, wearing her necklace, but grandpa is none other than Miguel, Jack's BFF. If we believed the twist from the pilot was big, this one trumps it BY A MILE.
All in all, "Big Three" is exactly what Forrest Gump's mom was talking about, this box of chocolates. We never know what we are gonna get, but in the end, it's a box of chocolates!!!! We want it.