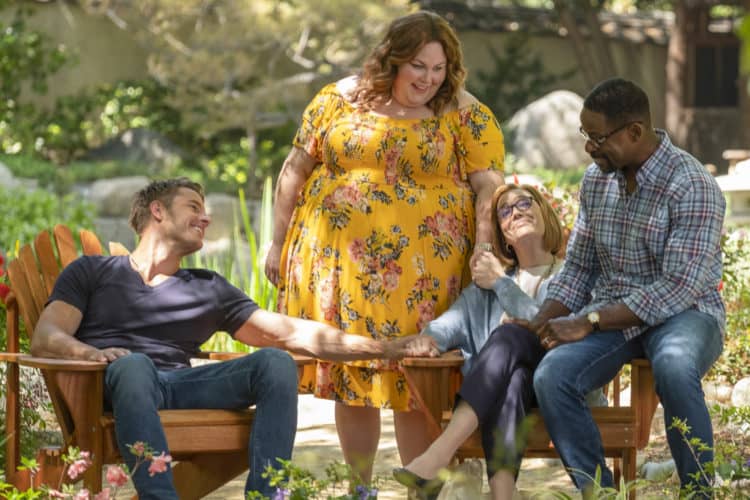 If This Is Us were to be an attraction in Disneyland, it would most definitely be one heck of an emotional rollercoaster ride. Watching the series unfold feels like opening a Pandora's box of emotions, you never know what to expect. Viewers craving for more need not fret. There are still more heartstrings to tug and more tissue boxes to consume. This Is Us is about to make the most memorable of comebacks in season 6, the final season of the series.
The NBC award-winning family drama television series created by Dan Fogelman first premiered in 2016, and follows the different phases in the Pearson family's life. The series is composed of a stellar cast who were simply tailor-made for their roles. The ensemble is led by Milo Ventimiglia (Gilmore Girls) as Pearson family patriarch, Jack and Mandy Moore (Tangled) as his better half, Rebecca. The grown-up versions of the Pearson children, also know as "The Big Three", are portrayed by Sterling K. Brown (The People v. O.J. Simpson : American Crime Story) as Randall, Chrissy Metz (American Horror Story : Freak Show) as Kate, and Justin Hartley (The Young and the Restless) as Kevin. The series starts off by subtly introducing several people who are celebrating their birthdays on the same day. As the story progresses, the lives of these people are proven to be interconnected in more ways than one. This serves as a first glimpse to the members of the Pearson household.
The journey begins with young couple, Jack and Rebecca, who are about to become parents of triplets. As Jack celebrates his 36th birthday, Rebecca suddenly goes into premature labor, which sadly leads to the demise of one of the triplets. Kevin and Kate are introduced to viewers as the two surviving members of the next generation. The first big twist of the series happens as Jack, who is still reeling from the loss of his son, lays eyes on Randall, an African American baby who was abandoned at a fire station, and was coincidentally brought to the same hospital where Rebecca gave birth. The pilot episode ends with the young couple deciding to adopt Randall, thus completing their original brood of three. This unforeseen turn of events is a classic This Is Us move. The show's creators eat and breathe unexpected storylines that seem to get even bigger and better as the series goes on. The show's creators somewhat incorporate an element of time travel in the series. The story is mainly set in the present time, but is able to innovatively switch through the different timelines of the characters' lives by using flashbacks and also flashforwards.
Preparing for Season 6
The recently concluded season 5 was able to dig even deeper into the characters' lives. These major developments include Rebecca coming into terms with her Alzheimer's disease diagnosis, Randall finding out about his birth mother, Kate adopting a daughter, and Kevin becoming a new dad to twins. The season also explores discovering one's sexual identity as Randall's daughter, Tess, comes out as gay. The last few minutes of the season finale continue to drop more bombs.
The characters are seen to be preparing for a wedding that is expected to be that of Kevin and Madison's, played by Caitlin Thompson (90210). Viewers are shocked when it is revealed that their wedding has been called off last minute, and that this new wedding is apparently for another Pearson sibling. Turns out, this scene is a five-year flashforward of a heartbreaking twist to come. The wedding is revealed to be Kate's second wedding to her current boss, Phillip, played by Chris Geere (You're the Worst). This mind blowing revelation poses endless questions. Kate and her current husband, Toby, played by Chris Sullivan (The Knick), are one of the show's most loved couples. This bitter pill will definitely be hard for fans to swallow.
NBC is yet to make an official announcement regarding the release date of the upcoming season 6, but it is reported that the show is expected to make its comeback in early 2022. Fans of the show can breathe a sigh of relief as their favorite cast members are set to reprise their roles for one last time. The final season is expected to tackle all unanswered questions and tie the storyline all together. This Is Us has taught its viewers the power of storytelling and showed the value of impactful life lessons. Leave it to the show's creators to come up with the perfect send-off that is sure to involve tears and a whole lot of separation anxiety.
Tell us what's wrong with this post? How could we improve it? :)
Let us improve this post!