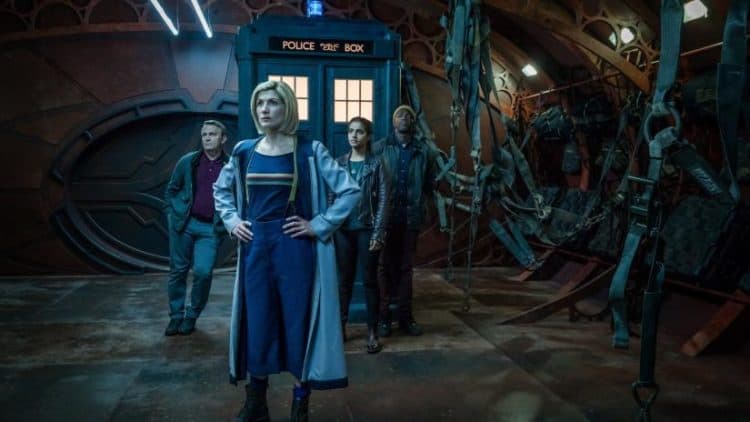 For casual viewers and those that aren't diehard fans but love the story, the idea of Doctor Who is that the good Doctor will usually regenerate as a man that wears a suit of some type and is more or less someone of impeccable character and is armed with a great deal of knowledge of how things work throughout the universe. But the theory that the Doctor would show up as an animal is a different and somewhat interesting idea to be certain. It's obvious that showing up as a woman has now been done even if it's been hinted at happening before, but an animal Doctor would be something that might shake things up a bit since it would indicate that the Doctor isn't bound by a human form and can therefore come back as pretty much anything. That would likely shake up the show quite a bit and get people to think about just what the Doctor might come back as and what might happen if the form was something that was deemed a bit less than effective for what the Doctor is meant to do. Of course, it does feel as though the writers might think up something that could be turned into a humanoid of some sort since the idea is to keep fans watching, not alienate them entirely with material that they can't get behind.
There have been a lot of strange ideas on the show in the past and people have loved them to be certain, but this one feels as though it might take another stretch of the imagination to really get people in the mood to accept it and to get them to take it as something that's needed for the story. To be fair it does offer a very different perspective and a chance to tell a very interesting story since it's something that hasn't really been done before apart from various stories that might tell of something similar. But on TV it does feel as though people might need some time to get used to the idea despite the fact that they've seen so many different things happen on the show at this point. Asking them to take something like this on wouldn't be a huge stretch since it's very possible that people might think it's just fine and would embrace it without question. But trying to change up the Doctor's form so drastically hasn't gone as well as people might have liked when the first woman was introduced, so perhaps it wouldn't be quite as welcome.
Or maybe it would, who knows? People respond in different ways to the strangest things and tend to accept one idea while rejecting another. Given everything that's happened on the show at this point it does feel accurate to say that trying to introduce the Doctor as anything but a human could be a 50/50 proposition that would be able to bear fruit or sink the show a little further down since it's hard to imagine what the Doctor might show up as and why the decision might be made one way or the other. The other theory that something is wrong with New Earth might be one of the only other theories concerning the show that might drown out the idea that the Doctor could regenerate in something other than a human form. The idea that New Earth is a trap and not a blessing probably as a lot of people thinking and coming up with their own theories as to what this could mean and why anything that is seen as a blessing and a place where species can exist would be considered a trap. There are already a lot of ideas as to why this would be, but reading them in fan forums would probably be best since listing them all out there might take a while. Needless to say, however, it's usually too good to be true if it happens to appear that way, and New Earth is, to some folks, a bargain that's just too good to be true and therefore it's very possible that there's something wrong. Explaining why this is could take a while.
Doctor Who has been a fan favorite since the 60s and while it's experienced its fair share of hiccups along the way the fans have been great enough to keep things going and have added their own thoughts and beliefs to the show as much as they can in support and to challenge the many ideas that have come along. It's amusing really that some seasons have pleased the fans immensely while others have been vilified beyond belief, but to be certain, Doctor Who has a pretty stable fanbase that should be able to take just about anything that's thrown at them at this point, so seeing the Doctor as anything but a human might not be a big deal.