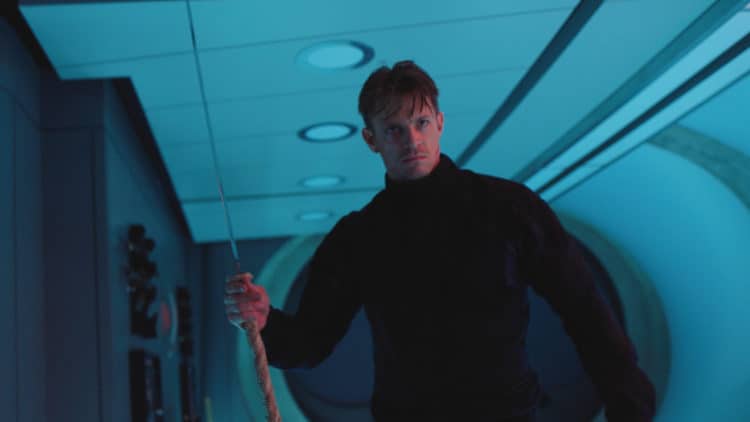 Some scenes in a movie or show are harder to film than others due to content or due to the amount of detail that's going into the scene, and fight sequences can be a nightmare at times for actors since, depending on the scope of the scene, there's bound to be a lot going on. Even in a fight that occurs between two individuals, there can be a lot happening that makes everything a little more difficult and will lengthen the time needed to get everyone and everything in place. In Altered Carbon, there was one particular sequence that took about a week to shoot since the number of moving parts and the environment apparently conspired to make this a rather difficult time for everyone involved. Joel Kinnaman recalls that the Panama Rose Fightdrome sequence was difficult since the air quality, the shifting sand that they had to work with, and the level of action was just so intense that it was hard to get everything right all at once, meaning that it took longer than was expected until the scene was finally shot and the show was able to move on. Some might say this is because there was simply too much to the scene, but there are plenty that would state that it's not just about the mistakes that might have been made, but the need to get everything as perfect as possible.
Some folks are perfectionists, that much is obvious, but this particular scene did have a lot of moving parts and Kinnaman even admits that it was more difficult due to the unstable footing thanks to the sand beneath their feet and the air quality that was a part of the scene. Added to that the fact that every move needed to be choreographed and performed just right to make it work likely made it a little more difficult to work with when trying to direct more than it should have been. But the scene came out looking impressive and it's fair to say that all the work put into it was worth the effort. Some scenes simply take longer since there's more to do and more variables to work with in order to get everything right. Trying to get everyone in place and make sure that everything is being done in an efficient and safe manner contribute to the overall success of the show and when it comes to fighting scenes one very key element is keeping people as safe and secure as possible since during fight scenes quite a few things can happen. Stunt people are trained to make the action look great and to make certain that viewers won't be able to tell that something isn't real, but even they have limits from time to time and it's easy to think that accidents do happen now and again since a lot of stunt actors would agree to this.
A week might still sound like kind of a long time to film a single sequence, but one has to remember that after so many takes it might be time to take a break and figure out how to make something work as best it can or go back to the drawing board to figure out how it can be accomplished with as little difficulty as possible. A good fight scene is going to be nailed down as much as possible since bad timing can mean the difference between a serious injury or a masterful shot since the actors are coming close to each other and in order to make it look as realistic as possible they're getting as close as they can in order to make it look good. There have been plenty of accidents in the history of cinema and TV, and there are enough blooper reels to prove that fact. But with high-intensity scenes, it's usually best to have everything planned out as much as possible. The trick is that things can still happen, and a week to shoot a sequence isn't unheard of in some shows while it's extraneous in others. In Altered Carbon, this particular scene isn't even the most violent, but it's definitely one that a lot of people enjoyed since the pacing was different for a fight scene but it started out fairly quickly and ended on a grisly note. The actors spent a great deal of time training for such scenes and as a result, the actual fighting did come out looking pretty good, but to think that things were a little difficult at first is pretty easy given the location and all that was going on. Trying to get everything right would be kind of difficult since things do tend to happen. But the sequence was finally shot and things kept moving forward so it's obvious that a week might have been a little long, but it was needed all the same.