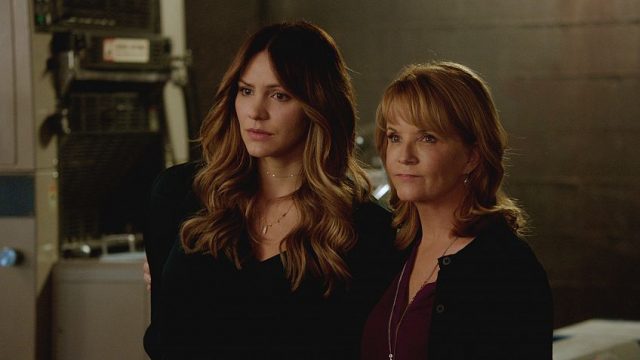 "Revenge is a dish best served cold." This version of revenge doesn't get any colder. In this week's episode of Scorpion, Walter, Paige, Sylvester and Agent Gallo find themselves kidnapped. As Happy would say: Not good.
The kidnapper, who turns out to be the sister of Norteguay's dictator, forces the four Team Scorpion members (along with Mama Dineen) to make counterfeit currency. Oh, she is also Norteguay's Ambassador to the United States. Yep, you heard right, she gets Diplomatic Immunity. This case just keeps getting better and better, doesn't it?
I applauded the part where Veronica used her lip balm to send a message to Walter. It helped him, Agent Gallo and Sylvester to escape from the room that they were in. The whole using the printing press as a drill was ingenious! That and when Walter used Agent Gallo's pen and tree sap to make a dog whistle.
The scene where Happy and Toby hijacked a wine delivery truck to escape from the goon that was after them was hilarious. Happy tried to wire the vehicle and didn't notice the key in the ignition until Toby told her. I will give the engineering prodigy the benefit of the doubt, however. She did that based on her instincts and couldn't see the obvious since they were in a rush.
Back to the captive Team Scorpion members. Paige and Veronica were still stuck. The former lashed out at her mother for abandoning her and her father when they needed her the most. Can't say I blame the liaison for doing that. If my mom did that, I'd be angry at her too. I also know that Veronica faked a heart attack so that she could swipe Luiz's key card. Shame Paige didn't see right through it and thought that her mother was going to die. At least it worked.
While we're on the subject, I can't believe that Veronica would try to pass off this entire experience as successful parenting. On the other hand, Paige has grown stronger since her mother threw her into the deep end and let her figure out how to swim back to shore. I hope that this will work on Walter because I don't think Paige wants to see all that effort she had put in go down the drain.
When Walter made it out of the forested area with Sylvester and Agent Gallo, it dawned on him that they never left the States. The kidnappers made them think that they were taken to another country so that they would comply with their demands. Classic Villian 101. Good thing the saloon owner was also a former Marine like Agent Gallo and was able to get help and contact Happy and Toby to save Paige and her mother. Semper Fi!
In the end, the counterfeit currency (along with the real ones) burned to smithereens at the way station. Walter made a smoke detector bomb to get rid of the knockout gas. Homeland arrested Lucinda and her goons. Guess the former's diplomatic immunity is null and void on account of she committed espionage. So much yes!
Photo via CBS
Tell us what's wrong with this post? How could we improve it? :)
Let us improve this post!