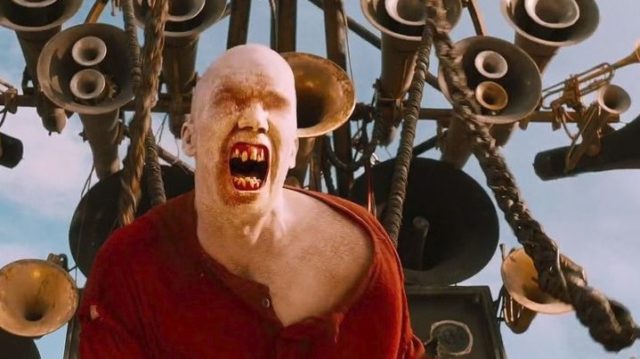 Well okay then. Coma-Doof Warrior, a character that had only a minimum of screen time in the recent Mad Max: Fury Road, is thought to deserve a TV series or a movie to better explain just how and why he came to be in Immortan Joe's cadre and why he's strapped to the top of a rig playing a fire-spitting guitar. Seems reasonable, right? Quite honestly though it would be better off being part of a movie, perhaps a prequel to Fury Road, showing how Joe came to be and then how he found Doof, who's named for the Australian slang that's used for techno rave parties. Doof is more or less like the bugler for Joe's war party as he provides the hard-hitting music that spurs the War Boys on and keeps them in the fight no matter what. Being completely blind and loyal to Joe, Doof continues to play his guitar through everything, even when the weather gets a bit nasty.
In fact the only time he does quit playing is when he's told to or when he gets to be in the middle of the fight between Max and the War Boys. Even then he tries to do his part but gets elbowed in the face by Max for good measure. It doesn't seem to faze him since Doof goes right back to playing when he gets the chance and finds his guitar.
A movie would have to start with Joe but come to center on Doof since when Joe finds him Doof is still a young boy. Whether they use the origin that his mother was attacked and killed, in which case Doof is found by Joe cradling her severed head, or the origin in which Joe finds them both, the idea of him wearing his mother's face as a mask would be necessary within the movie. A film would have to go through Joe finding Doof and raising him, and potentially teaching him how to master his musical talent and grow strong enough to actually wield the guitar, which apparently weighed about 45 kilos and actually did spit fire in the film. As a blind boy that had no one to look to save for his savior, Doof likely wouldn't be the most popular person in the community, but through his ability to muster the troops and get their blood pumping by his playing he could perhaps be seen to elevate himself in Joe's eyes and thus earn his spot on the war party. You've got to admit that hearing the right kind of music can get you fired up, and someone like Joe wouldn't want his men to quit just because they couldn't get their wind up enough to keep going.
Music has that strange quality at times, and this could be used as an integral part of the movie to explain why Doof became so invaluable, and why Joe kept him around.