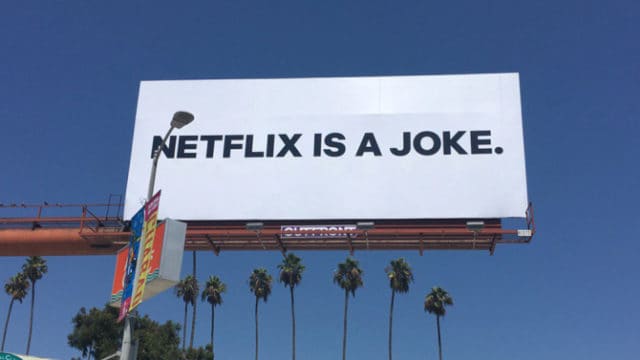 Did you do a Google search to find out what the billboards are all about? I did. As the preferred choice of Millennials, these billboards made no sense. As it turns out, the billboards are part of an ad campaign by Netflix to announce their new comedy additions to their very popular streaming service. Among the additions are tried and true comedians such as Jerry Seinfeld and Dave Chappelle. OK, I don't think Seinfeld is that funny anymore, but Chappelle continues to be good though. They will be two of several comedians who will be doing standup comedy routines scheduled for September 19th and beyond. The going rate per show is rumored to be about $20 million.
Netflix has also taken to Instagram to promote their new comedy show choices. With the company committing $7 billion for new programming, it makes no sense to not put some of that money into advertising. The billboards have first shown up in New York and Los Angeles, but they will distract drivers in other cities later.
As for the billboards themselves, they decided on a simple blank and white display. The average time it takes to read a billboard ad is less than 7 seconds because when you are speeding along at 55 mph or beyond, the billboard will be behind you by then. It's a simple and cheap way to create a buzz.
Give Netflix credit for its timing. To be able to look forward to some comedy given the hurricanes that have whacked the southern costs of the country and the politics that has turned way too serious lately can destress our lives after a long day of work. Add to that the unfortunately reality that summer vacation has officially ended, and Netflix comes out of this looking smart. Of course, if the comedy is a letdown then the company can expect some blowback. But that is why they are including Amy Schumer and Chris Rock in the mix — to make sure there is something for everyone. As Saavik said, "Humor. It is a difficult concept."
By the way, Netflix does have comedy programming. It seems to be looking to move in a new direction with the stand up shows. Many of their highest rated comedy shows are starting to get a little dusty, and viewers may have been letting Netflix hear about it. There aren't many comedy shows and movies you can watch over and over and still laugh at the jokes.
Personally, I don't think this stand up idea will hold up unless they line up some fresher talent. Schumer humor is iffy, while Rock and Chappelle may have seen their best days. They may be OK for Millennials but for the under 30 group they might as well be grey hairs. In fact, some of this rehashed talent may be looking to Netflix to revive what are failing careers, as they have not had much success attempting to do comedy on college campuses.
Time will tell. But if this experiment fails, the joke will be on Netflix.