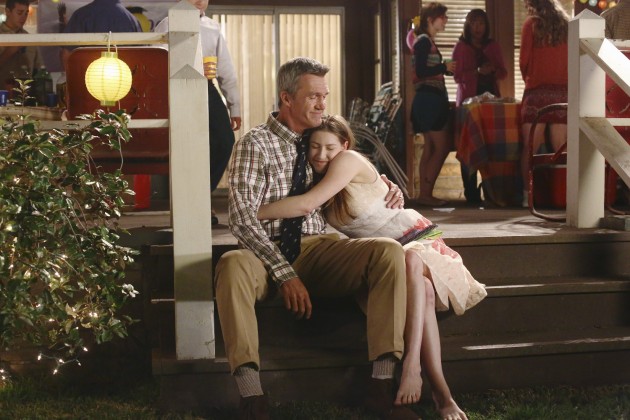 Although it's a wonderful family sitcom, The Middle has always paid special attention to Sue. Not only is she the middle child in her family, Sue is also mediocre in every aspect of the word. The truly great thing about her, though, is that she never ever stops smiling through it all. She's had a heck of a high school run, never letting disappointments keep her down for long. It was an honor and a privilege to watch her graduate last night in this season finale that very well could have served as a series finale.
Sue started this season entering her senior year of high school, even declaring it the "Year of Sue." And what a year it's been! She applied to colleges, turned down a marriage proposal, and somehow managed to move on through the heartbreak that followed. The least she could hope for is a smooth final few days in high school, but she couldn't even get that. She wasn't getting her perfect attendance award nor did she qualify for any cords to wear with her cap and gown. Her name in the yearbook was completely wrong, not to mention the fact that her yearbook was lost for days. It was tough to see Sue finally feel so defeated, so down on herself that she almost would have missed her ceremony. When she got her yearbook passed back to her through the crowd at graduation and saw every page was filled with sweet messages from everyone in her grade, I was crying. Then the montage of Sue through the years played set to Mama Cass' "Make Your Own Kind of Music," and I cried some more. She finally got the recognition and respect from her classmates who actually noticed her. She wasn't invisible or insignificant in the least bit!
Of course, this meant that Axl came home from school for the summer. He only began to get worried about his relationship with Devin after his siblings were so amazed that they never had the talk about where they stand over break. This whole season Axl, mores so than any other character on The Middle, has been maturing, so it was kind of fun to see him start to freak out about the possibility of his girlfriend seeing other guys. He almost drove out to see her in Idaho but turned around so he wouldn't miss Sue's graduation. As Frankie said in the voiceover, Axl realized he might have impressed one girl but devastated another if he kept driving. It's also Frankie's favorite quote that "you do for family" so it was very nice to see Axl's priorities are in check. After all, he'll be seeing a lot more of Sue next year since she chose to go to his college!
Brick's school called the house requesting another parent/teacher conference. Nothing bad this time, instead it was rather surprising. He's able to skip a grade and enter high school if they so choose. Honestly, he's had such a tough time finally learning how to make friends with the classmates his own age. I'm surprised Frankie and Mike would even consider letting him skip a grade. They have to know to expect all new problems with his adjusting to high school life and making new friends. Creatively speaking, that might be the direction the show goes in just to give fresh storylines next season. If this were real life, however, I would strongly suggest they keep him in eighth grade.
One last funny thing to mention was Mike's apparent feeling to rush through things. He called in a favor with a janitor friend (which I laughed at that since he was The Janitor on Scrubs!) to get a prime spot saved at the graduation ceremony, all in the hopes of getting out of there quicker. Frankie called him out on rushing this celebratory moment before they even got there. Then when the chance for Brick to jump into high school was presented, Mike looked at it as the chance for them to be one year closer to having an empty house. I get the feeling that when they're dropping Sue off at her freshman dorm in the fall, Mike is going to regret ever wishing for time to speed up.
Notable quotables:
-"Hello summer, goodbye pants! See you in September." -Axl
-Frankie: "Just give me a minute! She feels insignificant!"
Mike: "Tell her we all do!"
What did you think of the finale and this "Year of Sue" as a whole?
[Photo credit: Michael Ansell/ABC]
Tell us what's wrong with this post? How could we improve it? :)
Let us improve this post!