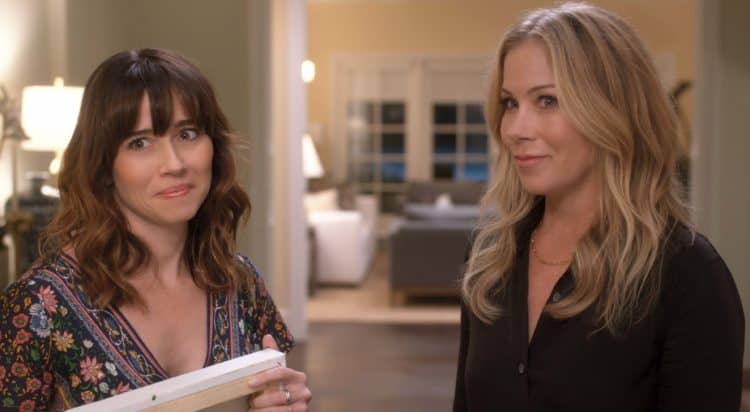 What happens when a hot-headed widow meets a soft-spoken free spirit at a grief support group? Well, you're about to find out. This dark comedy, produced by Adam McKay and Will Ferrell, will have you go from bent over laughing to feeling tears well up in your eyes. The overall story is about Jen (played by Christina Applegate) doing everything she can to find out who killed her husband in a hit-and-run. She's angry and doesn't hold back. The last thing she expects is to befriend Judy (played by Linda Cardellini), who is her polar opposite and hiding some dark secrets. When you reach the end of each episode, you will find yourself wanting more. Below are 10 Things we love about "Dead to Me" on Netflix.
1. "Dead to Me" is Very Bingeable
We all have days where we want nothing more than to get cozy on the couch and binge-watch Netflix. Some shows have what it takes to keep you staying up for "just one more", and this is one of them. Each episode has twists and turns. It seems like right when they reveal one twist, a new one appears moments later. There is never a moment in the series where you'll zone out and scroll on your phone. Between the mystery blended with comedic relief, you'll never find yourself bored while watching "Dead to Me".
2. The Storyline is Unlike Anything You Have Seen Before
With so much to watch on TV, it can be hard to find something that doesn't feel too familiar. As soon as you press play on episode one, you will be drawn in. The story has everything, really. You get a murder mystery, betrayal, crass humor, and so much more we cannot mention without giving too much away. Combining a serious topic like grief, a murder mystery plot, and a hilarious writing style is no easy feat. However, of course, Adam McKay and Will Ferrell nail this dark comedy.
3. It Shows the Real Side of Grief
One of the top reasons that make this show worth watching is in the way they cover grief. While watching them work through their own forms of pain, you forget you are gazing at a screen. It all feels so real. Of course, Christina Applegate and Linda Cardellini are such incredible actresses, so we wouldn't expect anything less from them.
4. Jen and Judy's Unlikely Friendship
While most shows focus on a main love interest, this show highlights a focus on friendship. Jen is the yin to Judy's yang and vice versa. Jen is a hardcore, no filter, loudly cursing mom who meditates by listening to loud music. Judy is a soft-spoken, spiritual, big-hearted woman who teaches art for the elderly in a nursing home. While they have so many differences, they have one huge thing in common – grief (and love for Entenmann's cookies). Well, and another thing, but you'll have to see that for yourself. Their friendship is a beautiful combination of heart-wrenching and downright hilarious.
5. The Incredible Actors and Actresses
Not only do Christina Applegate and Linda Cardellini have incredible chemistry together (and even say they bonded immediately) but every single supporting actor and actress does as well. Each character is so detailed and it shows. James Marsden and Valerie Mahaffey are two characters you will find in most of the episodes, and they add their own forms of drama and excitement to the series. Even those who are not shown as much were cast perfectly and add the perfect amount of conflict to the series.
6. Each Episode Takes You on a Thrill Ride
The layout of the episodes is no less than pure genius. The overlying theme consists of Jen who wants to find who killed her husband, while Judy harbors a few huge secrets that tend to show up at the most inconvenient times. As the show works to reveal all of this, new twists and turns come up each and every episode. While watching the series, you never feel like too much is happening, nor do you feel like it is getting dull. From the first season through the last, you are on a non-stop ride where you cannot wait to see what happens next.
7. They Deal With Relatable Issues Throughout the Series
Throughout the series, there are a lot of issues that just about everyone can relate to. Of course, an underlying theme is about feeling grief after a loss, but there is so much more to take in. Jen has to deal with her mother-in-law that she does not like, to say the least, as well as children grieving the loss of their father in their own ways. You also watch dating and relationships in a realistic way that feels refreshing.
8. You May Gain a New Perspective
Although the plot of the show is very unlikely to happen, the characters themselves are incredibly relatable. It is easy to see parts of yourself in both Jen and Judy. They are both messy human beings who have experienced a lot of trauma in their lives. However, they learn to love the messiness in each other and encourage each other to love themselves more. It reminds us that we are complicated human beings. We can benefit by seeing not only the good in others but ourselves as well.
9. They Show a Lesbian Relationship Without Making it a Huge Deal
It seems like when writers add in an LGBTQ+ element, it gets mentioned in some inauthentic way. Watching women learn that they enjoy their company together without needing to label or come out is refreshing. When Judy tells Jen she is dating a woman, she doesn't even question it. All she cares about is that her best friend is with someone that makes her happy.
10. "Dead to Me" is Hilarious in a Unique Way
From the very beginning of the first episode, you'll find yourself laughing hysterically. What we love about the humor on this show is that it feels authentic. It doesn't seem like the funny moments are forced, and feels more like laughing with your friends. While the dark humor may not be everyone's cup of tea, they don't hold back for anyone who enjoys it.
Tell us what's wrong with this post? How could we improve it? :)
Let us improve this post!