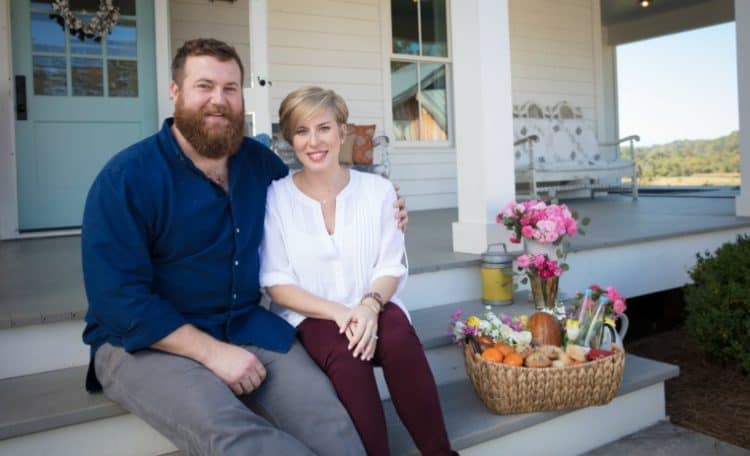 Over the last two decades, there has been an ongoing and growing trend for property series. These come in various formats, from buying and selling properties to property renovations. It is a subject that homeowners can relate to and the series often give them ideas for their own properties. One property series that is aired on HGTV is Home Town. This series was first aired on March 21, 2017, and in March 2019 it was renewed for its fourth season, which will premiere in 2020. Here are 10 reasons why we love Home Town.
1. Ben and Erin Napier Are a Likable Couple
The main stars of the series are Ben and Erin Napier from Laurel in Mississippi. They had not intended to become television stars and had simply wanted to renovate some of the houses in their home town. Their lack of celebrity means that Ben and Erin are a very normal and down-to-earth couple that viewers can relate to easily. The fact that the couple is so likable is one of the main reasons that people love the series.
2. The Stars' Relationship is Fascinating to Watch
The relationship between Ben and Erin is also fascinating to watch. Although they both live and work together, there is hardly ever a cross word spoken between them. They have a very loving relationship and communicate with each other well. This is a refreshing change form the many series that feature married couples that are constantly bickering and disagreeing.
3. Laurel is an Adorable Town
The setting for the series is the historic city of Laurel in Mississippi. Laurel was founded in 1882 and flourished because of the growth of the timber industry. In 1893, the first giant timber mill was opened in the city and this was followed by many more. People working in the milling industry needed homes, and many properties were built during the turn of the century. Laurel is adorable, with historic houses, tree-lined streets, and a real sense of community. The streets are paved with bricks and residents can enjoy shopping in antique stores or dining in Cajun restaurants. When entering the town, visitors will see a pretty sign that welcomes them to historic Laurel, Mississippi.
4. The Series is an Interesting Concept
The concept for this series is unlike any other property series on television, and it is this uniqueness that makes it so appealing. While many property series focuses on a team of experts doing up a house to sell it or individuals trying to improve their homes, Home Town is completely different. Ben and Erin are trying to renovate neglected homes in their own community, and this was something they were doing before they began appearing on television. The fact that they are a married couple and that all the homes are within their own community are two unique features that make them stand out from other property series. The fact that Ben and Erin use their own skills to create unique interiors also makes this series different from any other.
5. The Transformations Are Amazing
Of course, most of the audience who watch Home Town do so because they are interested in seeing the property renovations. Each of the transformations is amazing and viewers get to see every step of the project, from when the house is an unloved wreck until it becomes a stunning family home that is restored to its former glory.
6. It's Great for Tips and Inspiration
Like many property shows, Home Town is a great source of inspiration and tips. While Ben uses many practical methods to renovate a home, Erin is amazing at the creative elements of the transformation. This means that you can learn both practical skills and creative ideas when you watch this series.
7. Stunning Architecture
For those who admire interesting architecture, this is a great show to watch as the historic properties featured on the series have an architectural style that is typical of Southern America. The history, design, and different features of the properties are discussed throughout each episode.
8. Laurel Mercantile is So Cute
Renovating houses and appearing on television are not Ben and Erin Napier's only jobs as they also have a super cute store in Laurel. Their store, Laurel Mercantile, is adorably old-fashioned in its appearance. The couple sells the various goods they have designed and crafted themselves or that are American-made. Their goods include everything from candles to wood products and clothing to pottery. Their stock reflects Erin's background in design and Ben's background in woodworking.
9. The Bespoke Design Element is Interesting
The interior designers in many property series simply follow current design trends. This is a completely different approach than the one taken by Ben and Erin Napier. Each renovation is unique as they consider the history of the building and the lifestyles of their clients. The Napiers try to make the home a place that reflects the personalities of their clients while also being practical for their daily needs. To do this, they talk to their clients about the things they like and what their idea of a perfect day is to use their responses to design the homes.
10. Baby Helen
In the third season, Ben and Erin introduce their baby daughter, Helen. The couple had kept the pregnancy a secret for almost seven months before announcing their news on social media. The new addition to Home Town is so adorable that it is just another reason to love this series. Their young daughter was born in January 2018, just a few weeks after the second season premiered. Viewers had to wait until season three to see the youngest star of Home Town for the first time. Now, baby Helen will appear in many upcoming episodes of Home Town as the cameras follow her parents' lives and follow their renovations.