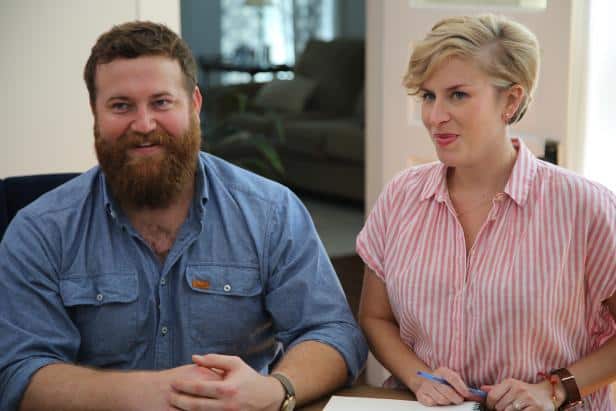 It seems like every time a new show hits HGTV, somebody has to start calling it a fake. But, what exactly is "fake" when it comes to home home improvement shows? Well, the first popular one was actually called "Home Improvement". It starred funnyman, Tim Allen, and yes, it was what you might call "fake" and that's because it was a sitcom. It was scripted, had professional actors, and was meant to simply entertain viewing audiences and make them laugh. And, laugh we did!
Real-Life Married Couple
But, that was yesterday and today, actual home improvement and reno shows are a staple on HGTV (Home & Garden Television). One of them is called "Home Town" and it's filmed in Laurel, Mississippi. The show features a real-life married couple helping to create a number of perfect homes for some of the local residents. That young couple is Erin and Ben Napier and their show delivers a real small-town vibe every week. They're just as passionate about the town of Laurel as they are about the restoration of charming historic homes with tons of character that line their streets. You just can;t help fall in love with these two. They're humble, believable, and just as cute as can be!
Two Seasons Already in the Can
According to TheList, they've already completed two seasons of "Home Town" and we hope they stay around for a long time to come. The Napiers make us feel like we're part of the Laurel community with their warm and welcoming smiles that are definitely not fake. They're the real thing and then some! Here are a few things that perhaps you don't know about them and their charming little Southern home town and equally charming little show:
The Couple Met in College
Their love story began when they were both in college. According to Parade, she was well aware of Ben even prior to him noticing her. Erin says that he was the BMOC that everybody seemed to know and so she wanted to be his friend, too. On the other hand, Ben says that, for him, it was actually love-at-first-sight in the Jones County Community College cafeteria. He thought that she looked really cool in her loose-fitting jeans and adorable trademark pixie haircut and he was instantly hooked.
Erin's Dream Home
She's known exactly which Laurel house she has wanted for her own from way back when she was just a little girl. Since then, she has been keeping an eye on it and dreaming of buying it when she grew up. For years, she dreamed about living in the "little yellow cottage" that's located in the middle of Laurel. And then, later she and Ben would dream about it together. Now, the dream has come true and they moved into their dream home in 2008 after they got married. Since then, they have restored that 1925 house and created both a new story and a new home for themselves.
Social Media Start
According to Instagram (via @erinapier), they have social media to thank for bringing about their amazing show. After their home was featured in a magazine, and then a photograph of it wound up on social media and was seen by an HGTV executive in charge of development at HGTV. She asked the couple if they had ever considered doing TV. And, the rest, as they say, is history!
Another Question Answered
According to Southern Living, one other question that many audience members are asking is whether the homeowners on the show get to keep all of the beautiful furniture and accessories that go into their renos. The answer is that some they do and some they don't. Much of it is included in the reno budget, some pieces are already owned by the homeowners, and other items are on-loan from local shops and are tagged as such. The homeowners also get to keep those beautiful custom pieces that Ben builds for them. He has his own professional woodworking shop @scotsman.co. The homeowner then gets a binder full of info on the items from local shops and how to make those items their own. Erin says that they like to utilize as much of the homeowners' own furnishings as possible.
What About Her Style?
Erin explains her unique decorating style. by saying that some people think it's cluttered or maximalist but she just calls it "real life," Everybody has stuff and they're simply pieces that are comforting to us on stormy nights, welcoming us home when we come walking in the door. And, her particular style mirrors that feeling. It's always the perfect blend of cutesy farmhouse style and clean contemporary blended together to make the homes on "Home Town" as homey and welcoming as they can be.
Good Reno Advice
According to Southern Living there are several significant tips for anyone contemplating a home reno project. The most important one is to always make sure you've taken plenty of pics of your home prior to starting any home renovation. And, it goes without saying that you should also take some of the finished reno project. Erin continued on to say that it's really a pleasure to be able to look back on your home's progress down the road and to enjoy reminiscing about your house turning into a home. She also recommends a few easy and inexpensive ideas for renovating any room in your home with just fresh paint, throw pillows, and new rugs, as well as some new artwork and/or new mirrors for your walls.
Our Conclusion
So, in answer to the question about whether it's fake or not, absolutely not. They're a couple that's as real as real can be, right down to their adorable baby. Erin was pregnant on a lot of shows and audiences everywhere were thrilled when they introduced their new baby to them. Now, instead of just being the cutest couple on HGTV, they're the cutest family on HGTV. See for yourself by tuning in to HGTV and following some of their amazing renos.
Tell us what's wrong with this post? How could we improve it? :)
Let us improve this post!