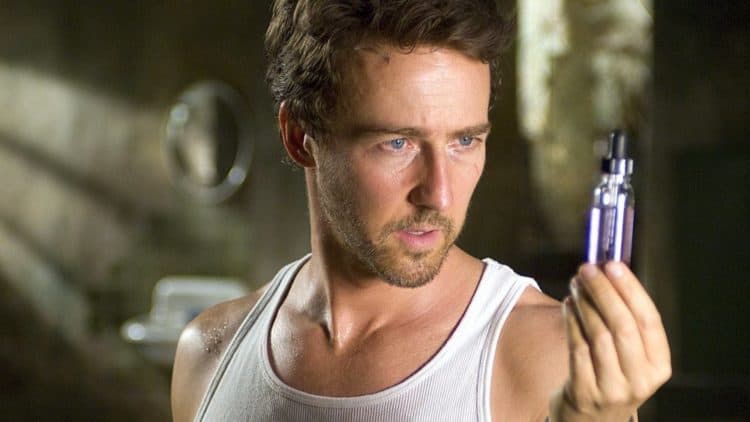 Sequels have been something that has been a bit divisive when it comes to fans since some people love them and some folks aren't too crazy about them. To be certain, some sequels are great while others aren't able to live up to the original and become kind of an embarrassment but can also become cult classics depending on the fans. Edward Norton, who has starred in sequels but only because he didn't star in the original movie, is one of those actors that can do just about everything and, depending on how one feels about him, is pretty good at just about every aspect. He's a bit controlling according to some reports and a little hard to work with, but the fact that he can act, write, produce, direct, and understand the whole process is kind of impressive. But he won't star in sequels unless there's something there that's worth his time apparently. His whole idea of sequels is that it can be hard to shed the persona that an actor has to take on for a sequel, and that's difficult to argue with since some actors have found it increasingly difficult to step away from the characters they've helped to create. Some actors are still attempting to get away from certain roles that people have known them by for years, especially since in order to grow and expand as an actor it's important to remain versatile and take on new projects and new faces, so to speak.
Some actors don't mind being typecast, as it could mean steady work and a loyal fanbase that will follow them regardless of what they star in. But with those such as Norton, getting away from one role in order to take on another is important since it builds one's repertoire, it can open them up to new experiences, and it can most definitely create the belief that they're worth more than just one role. Norton might be kind of difficult to work with, but he's managed to create one role after another that people are willing to watch since he puts so much into each role that it's hard not to appreciate his talent and his dedication to the craft. Some people like him, some people don't, but his reluctance to do sequels is kind of interesting since it might make him look like kind of a snob to some people, but to others, it might make him appear a bit wise since a lot of sequels just don't live up to the original in a big way and tend to become a bit problematic when it comes to further storytelling.
Interestingly enough, Norton would have gladly starred in The Hulk sequel since he pitched two movies to Marvel and would have likely been just as good in the second one. For one reason or another, a lot of people had an issue with Norton's Hulk, which is surprising since he was slightly more believable than Ang Lee's constantly-expanding, rubber-skinned goliath that could somehow increase one part of his anatomy at a time when needed. Plus, unlike Mark Ruffalo's Hulk, Norton's looked absolutely savage and didn't appear to be the slightly muted version that the MCU ended up going with. It's true that in the Age of Ultron the Hulk did go pretty savage, but it almost feels as though Norton's Hulk would have given the Hulkbuster armor even more problems. But somehow there were too many creative issues between Norton and the MCU and the sequel he wanted didn't happen, and we got the friendlier version of the Hulk in Mark Ruffalo. People are still divided about who played the role better, both Banner and the Hulk, but at this point, it doesn't really matter since the character has been done and redone a couple of times and everyone that has an opinion has put in their two cents and more. Edward Norton would have gladly starred in the sequel to The Hulk, but for one reason or another the MCU just didn't see fit to make it happen, and there wasn't enough of a compromise to see it through. That's the way Hollywood goes though, not everything is going to work out the way that people want, and not everything is going to be the way people expect or hope for it to be.
Maybe one of these days we'll see Edward Norton in a sequel that's worthwhile and he'll make a go of it and create a character that's worth a couple of movies, but when a person really thinks about it there are a lot of good reasons to not want to see some of his characters in a second movie. Tyler Durden would be kind of a pointless character in a sequel, while many others would be just as hard to take seriously.
Tell us what's wrong with this post? How could we improve it? :)
Let us improve this post!