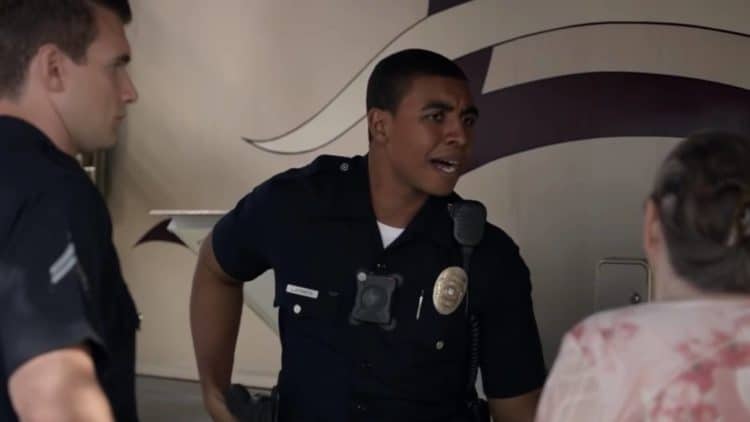 Joseph Lee Anderson has been acting professionally for almost a decade, but during the last several years his career has really taken off. He really started getting attention in 2018 when he got a recurring role in the TV series S.W.A.T and was cast in the movie Harriet. Since then, Joseph has kept his foot on the gas and he hasn't looked back. In 2021, he earned the part of Rocky Johnson in the new TV series Young Rock. As he continues to take advantage of all of the opportunities that come his way, there's no doubt that Joseph's career will continue to reach new heights. Keep reading for 10 things you didn't know about Joseph Lee Anderson.
1. He's From Kansas City
Joseph was born and raised in Kansas City, MO and it was there where he first developed an interest in acting. Although he is very proud of his midwestern roots, it goes without saying that Kansas City isn't the best place to pursue a professional acting career. He eventually decided to relocate to Los Angeles where he lives today.
2. He's Not Really Into Social Media
As Joseph's career continues to grow, there will probably be a lot of people who want to see what he's up to on social media. Unfortunately, there won't be much for them to see. He doesn't seem to be really into posting things online and it appears that he's only started being active on Instagram because of Young Rock's recent premiere.
3. He Got His Start In Commercials
Commercials are a great starting point for many people who want to be professional actors. Although commercials aren't typically glamorous jobs, they can help people get a foot in the door to get access to bigger opportunities. Early in his career, Joseph was in a commercial for Google Fiber. In 2014, he was also in a music video for the Tech N9ne song "Fragile". The video has gotten more than 23 million views on YouTube.
4. He's A Shy Person
When most people think of actors, they automatically assume that they're outgoing and love being the center of attention. That isn't always true though, and it certainly isn't in Joseph's case. Joseph told Wrestling INC. "Personally, I am a very shy and introverted person." In order to get into the character of Rocky Johnson, Joseph had to step out of his shell and be more extroverted.
5. He Was A Wrestling Fan Growing Up
Being cast as Rocky Johnson was an honor for Joseph for multiple reasons. Not only was he proud to play the legendary wrestler and father of Dwayne Johnson, but as a wrestling fan it was simply a cool opportunity. Joseph grew up watching wrestling but unfortunately could never afford to attend a live match.
6. He Put On 30 Pounds For His Role As Rocky Johnson
Rocky Johnson was known for his large stature and Joseph had to bulk up in order to put on a convincing performance. He gained 30 total pounds with 16 of them being muscle. While talking to Wrestling INC he shared that at one point he reached 250 pounds.
7. He's Very Private
Joseph is definitely enjoying the success he's achieved over the last few years, but he doesn't seem to have any interest in spending all of his time in the spotlight. So far he appears to be a very private person who likes to keep the attention strictly focused on his work and not his personal life.
8. His Faith Is Very Important To Him
Joseph is a devout Christian and his faith in God has helped guide him throughout his career. According to Movie Guide Joseph said, "For me, working [in the industry], faith is everything. There's so much that that the artists control when getting a job. From where I started to where I am now, it's nothing but God."
9. He's Been In Several Police/Crime Shows
Joseph's resume includes a wide range of experience, and he has more than three dozen credits to his name. Still, he feels very at home in the police/crime genre. In addition to S.W.A.T he has appeared on several other shows in this category including NCIS, Hawaii Five-0, and Chicago PD.
10. He's A Writer And Director
As a true story teller, Joseph's acting skills aren't the only thing he has to share with the world. He is also a filmmaker who has already gotten some experience writing and direction. In 2019, he wrote, directed, and produced a short film called The Jog. As his career continues I think we'll see a lot more behind the scenes work from Joseph.