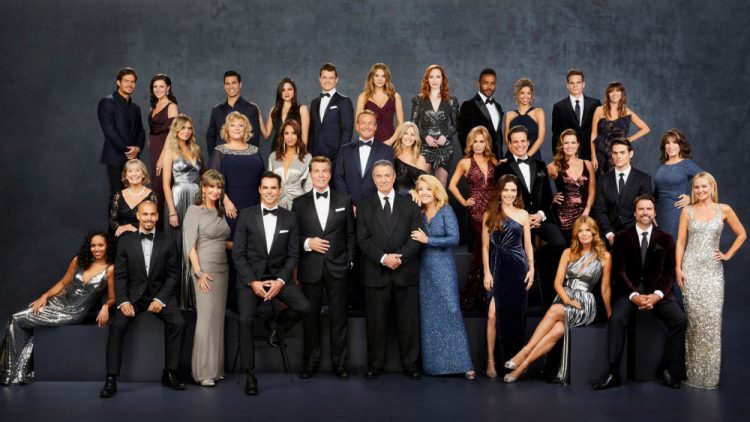 Young and the Restless fans aren't afraid of a little drama, and that's precisely what our most recent recap brings to your home. If you missed the show — or you forgot what happened in the past few hours — you might be surprised to hear all about what happened when Phyllis and Billy were a little nude, a lot intimate, and a lot interrupted. It wasn't pretty when Summer walked in on their very revealing moment and made things slightly awkward for them, but it was certainly entertaining for all of us.
Phyllis and Billy are already facing a bit of trouble as she's spending so much time with Nick. While they might not even realize it, Sharon has noticed; and she does not like it. We know she's only helping Nick stay off their tails when he's looking for JT, but that's not going to stop their bond. Now that Summer is back, Phyllis might have her own problems to deal with as she's working on getting what she wants out of her mother. It's been interesting to see Phyllis bond with Nick while dating Billy, and now we will see as Summer shows up into her mother's life to spend some making sure they bond even more over their own daughter.
It's also been very uncomfortable watching as Nikki basically confronts everyone she knows about the things that are going on in her own life. She's not sure she can handle things as they are unfolding. She's recently had issues with Phyllis, she's confronted Abby about Arturo, and now she's talking to Victor about his evil deeds. She's been confronting all of the people in her life it seems, and she's not getting what she wants out of any of them.
What's New on the Young and the Restless
This is one soap that doesn't always find themselves in the news in terms of what's going on in the world, but there is a fun new face showing up again. We're going to see Eileen Davidson making her rounds, which leads us into our next bit of news. A Real Housewife straight from Beverly Hills is going to show up and play a quick role alongside long-time YTR star and real housewife Eileen Davidson (Ashley). Erika Girardi is going to show up this week for a moment to play Farrah DuBose, the lovely realtor who can't keep her business to herself. She's always fun to watch, and we can't wait to see her in action alongside more seasoned soap veterans.
Young and the Restless Spoilers
It's Summertime in Genoa City next week on #YR! pic.twitter.com/td7oQ4j6Zc

— Young & The Restless (@YRInsider) June 1, 2018
This is going to be a very interesting day on this hit soap as we get to see things unfold for Nick. His father, for one, is going to sue him. Victor is not a man who likes to play games unless they are of his own creation, and he has a new one he wants to show Nick. It involves a lawsuit, but it's not nearly as shocking to him as seeing his daughter return. He and Phyllis haven't seen Summer in a very long time, and she's shown up and proved she's here for a reason.
Abby is not going to have anything nice to say to Arturo today, either. She's going to hae a very big issue with him, and we feel it might just be a little bit about Nikki and what Abby learned from her. We will see her get upset with Arturo, but he's got her number — and we think he can talk her right down when he feels it benefits him. She might repeat what she learned from Nikki, but Arturo — if we suspect correctly — has all the right answers to keep her calm. He will calm her fears, cause her to doubt everything she really does know to be true, and she will let it go.
He's a master manipulator, and we think this is his first round making sure she's going to lose her mind in some way, shape or form. It will be interesting to watch this unfold throughout not only today, but the coming weeks as well.
Stay tuned for more Young and the Restless and be sure to check out TVOvermind daily for the latest Young and the Restless spoilers, news, and updates.
Tell us what's wrong with this post? How could we improve it? :)
Let us improve this post!