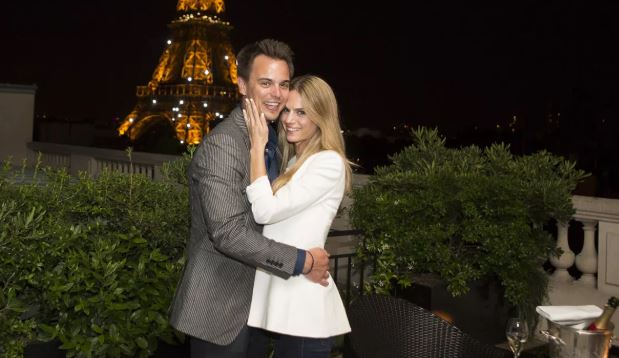 Young and the Restless fans are certainly more than a little excited that one of their favorites is back. Mac has been gone for a while, but she's back with a vengeance after her marriage to JT went south, her move to another state didn't work out for her, and she decided to come back. Now she's making her role bigger and better than ever, and it makes fans want to learn more about the elusive Kelly Kruger. She's beautiful and talented, but what else don't we know about her?
1. She's Canadian
Kelly Kruger was born in Montreal. That's in Quebec, which is in Canada. She spent most of her childhood living there, which is probably why she's fluent in both English and French. What a beautiful language to get to call your second language.
2. She's Married to A Famous Man
She is the wife of her Bold and the Beautiful co-star Darin Brooks. He plays Wyatt, she recurs on the show as Eva anytime she's needed, and they've been together since 2010. She married him in Hawaii in 2016. He was born there, so it was natural for them to make it their wedding destination.
3. She's A Blogger
She's been working as a blogger and lifestyle expert since 2014. Her blog is Madison Charles. It's a beauty and lifestyle blog that just does wonders for the world. She has a big following, which is not surprising considering who she is.
4. She Was Discovered
So many young women would love to be discovered, and she was. She was in Los Angeles visiting her family when she was 17. A person from Elite Models spotted her, loved her, and signed her. We wonder if her family was skeptical when they heard this or if they were trusting that it was a legit offer.
5. She Was A Successful Model
Not only was she a woman who was discovered and dreams came true, she was good at it. She booked clients such as Macys, and she was featured in countless magazines. She could have kept going there, but her real passion was acting.
6. She's Keeping her BB Role
She might be headed full-time to YTR now to keep her role as Mac going, but she's not giving up her role as Eva on the BB. She might come back here and there as a recurring character. She's always done that, and she enjoys it. How much fun to get to work with your husband here and there.
7. She Did Only A Short Stint as Mac
We all know and love her as Mac, but we always forget her role as this character was such a short one. She was only on the show for a little over a year in 2002 and 2003, and that was not something we forgot. She's back now, though, and we can't wait.
8. She Starred in A Movie with Her Husband…Kind Of
Her husband spent 2016 working on "Blue Mountain State: The Rise of Thadland." And she spent 2015 doing the same. What does this mean? Well, we don't know. All we can think is that her scenes filmed before his did, and it happened close to the New Year? Can someone tell us how this worked?
9. She's Older Than Her Husband
She's not cougar, but she's older than her husband. That's not something you see too much, even if the age difference is only two years. She was born in 1982 to his 1984. We don't care, but it does seem so out of place in the Hollywood world in which they live. Well, maybe it doesn't.
10. She's Never Been Nominated for A Daytime Emmy
Perhaps it's because she doesn't spend as much time on the sets of either of her soaps, but she's so good at what she does. We think that if her role as Mac lasts a long time this time around, she will change that. She will get that Emmy nomination, and maybe she will even get a win if she's able to show she's there to play hardball with her character.
Tell us what's wrong with this post? How could we improve it? :)
Let us improve this post!