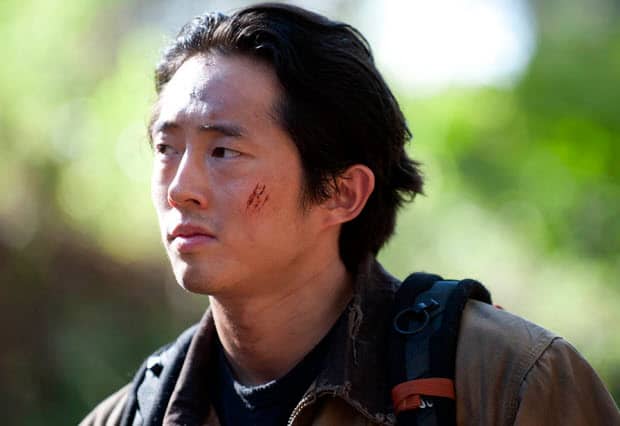 In many ways, "Us" marks the end of The Walking Dead's experimental (ish) half season – and as all signs lead to Terminus for every possible character on-screen in last night's episode, I couldn't help but be a little disappointed in the show's literal and figurative tunneling, shining the faintest of light on what is to come in the season finale and beyond. The self-contained, character-focused stories have been hit or miss, but showed a narrative ambition the show lacked previously in seasons two and three, pausing for long stretches in single locations where the show's weaknesses (primarily the two-dimensional construction of most characters) became a lot more obvious.
Smaller is often better on television: and by breaking up a single timeline and journey into multiple short arcs told slowly over six episodes, it's allowed The Walking Dead breathing room for many characters (Carol, Rick, Carl, Beth… the list goes on and on) to evolve. In a short time, the show's become grittier and more compelling – and most importantly, heartfelt and hopeful, thanks to subplots like Glenn's search for Maggie, and Carol's attempts to reconcile with herself (arguably the show's single best and worst story line of the season, thanks to Lizzie and Mika).
For all intents and purposes, "Us" marks an end to that kind of storytelling for the time being, appearing to return to the louder, more overt plot-driven style of the show. Jumping between Glenn and Daryl for most of the episode, "Us" is more interested in drawing all of its characters towards Terminus rather than explore the more interesting, quieter explorations of human empathy (or lack of it). And sure, it's nice to see Glenn and Maggie get back together, but the most intriguing parts of "Us" are those hinted towards, like Daryl "claiming" a radish from another member of his violent, ragtag group (which includes Davi Jay, best known as Robinette on Treme) while they walk past the wrapper from the Big Cat bar Michonne and Carl shared hours earlier (we can assume). The camera certainly acknowledges the juxtaposition for a moment, lingering on the wrapper stuck between railroad ties, but it's heavily overshadowed by everything plot-related happening around it.
These individual plots are a mixed bag; and knowing how The Walking Dead likes to tip its hand on certain things, leaves a lot to be desired. It's pretty much a guarantee that Terminus is not going to be a pleasant place (it's called TERMINUS, for starters… what does that sound like?), just as I'd be willing to bet that Eugene does not have any clue what caused the outbreak. His confidence, Mary's smiling, robotic welcome to the group… it all smells rancid the moment it appears on screen, moments that are designed to feel atmospheric and intriguing, but betray their illusions through the long trail of bread crumbs setting up what is to come.
When "Us" is focused on the present, on that single train track connecting every disillusioned character and fractured community this half-season, it's much more successful – Glenn refusing to give up on Tara (who offers herself up to sacrifice, another moment telegraphed by her deep honesty with Glenn… anytime a minor character gets some catharsis or potential emotional resolution, The Walking Dead revels in ripping it out of our hands) and her actually living through the tunnel endeavor was one of season's most well-executed little subplots, the rare time a surprising moment isn't constructed to inject dread, anger, or sadness into the audience. As was Daryl's: "Us" isn't very subtle about the points it makes about Daryl or the new group he's with, but they're effective: hearing Daryl "claim" that radish was one of the most disheartening moments of the series, a sign that Daryl hasn't quite grown into the individual he thought he was coming – just like the days when his brother was alive (the exact ones he talked about to Beth earlier this season), Daryl always adopts the identity of the people surrounding him. Prison Daryl might've covered up the body of a dead compatriot – Post-Prison Daryl's seen some stuff, though, man – and under the dark guise of Joe (who is tracking Rick to Terminus to murder him, by the way – which Daryl has not figured out yet), is again starting to show his chameleon-like abilities once again.
Despite last week's debacle, and the growing feeling that The Walking Dead is going to mostly be a one-location show again next season, "Us" stands as a testament to what this back half of The Walking Dead's fourth season has attempted to do. There were unique, visually evocative zombie scenes, meaningful character resolutions (and in the case of Eugene, true introductions), and interesting thematic parallels between the main narratives – everything that's made the last seven weeks of watching this show the most entertaining of the show's run. It may all be coming to an end with "Us" and the looming fifth season this fall – but it sure was fun while it lasted.
[Photo via Gene Page/AMC]