It's been a little over a week since the climactic season finale of The Walking Dead season 2, and already fans are hungry for more. "Beside the Dying Fire" brought a whole host of new tasty bits to chew on, including the ones everybody's talking about, and those some might not have noticed.
First we were treated to the comic book revelation that all survivors are infected with the walking dead virus regardless of bites, then we lost our minds as Andrea (Laurie Holden) found herself alone in the woods and in need of rescue, saved by a mysterious woman carrying a samurai sword and leading two walkers in chains! And even after catching our first glimpse of Michonne (to be played this fall by Treme star Danai Gurira), the final shot of "Beside the Dying Fire" showed us an ominous prison facility looming over the survivors, which fans know to be the site of The Walking Dead's most famous arc of all!
Still, not everyone was happy with the second season of The Walking Dead, feeling fatigued that the AMC survivors spent too much time on Hershel Greene (Scott Wilson)'s farm rather than killing zombies. So with The Walking Dead season 3 confirmed to bring the survivors to the famous prison, how long can we expect that arc to last? Will the 16-episode season 3 end with the survivors leaving that prison, or continue on into season 4? We recently had a chance to speak to The Walking Dead's executive producer and showrunner Glen Mazzara to shed a little light on the coming season!
Says Mazzara of the prison arc:
"Right now, I do see that prison as a significant storyline for season 3 and season 4. I do think that's a major storyline, and I know we were on the farm for longer than perhaps people wanted, there were reasons for that. I think what we want to do is make sure that that prison does not become claustrophobic. I think the farm played a little claustrophobic for people. Now that the entire landscape has fallen to the zombie apocalypse and zombies are literally at the gate of the prison, if you see in the graphic novel, that prison is a very, very small safe corner."
"There's a lot of danger around, so we won't feel like we're bottled up in the same way that we were on the farm, in season 3. So, I do think that prison is a significant storyline, and we're also interested in opening up the world. You know, The Governor has the world of Woodbury, there are other factors out there in the world, other groups, so I think that Rick's group is really stumbling into this larger world."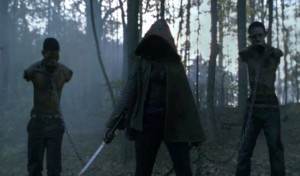 But that's not all! Ever since the wheels started turning on The Walking Dead season 2, the questions first and foremost on fans minds were whether or not AMC's adaptation would ever introduce Michonne, the prison, and major villain The Governor (set to be played by British thesp David Morrissey next season). With all three now confirmed for next season, where might The Walking Dead go next?
As you may well know, we're huge fans of The Walking Dead comics and how they compare to the TV show, so we pressed the series showrunner what other Image Comics storylines and characters he'd like to one day introduce into the AMC series!
Says Mazzara of his future plans:
"There's a lot of great material from the comic book, this show would have to go on 20 years to get to all of it. I think the Tyreese character is someone we're interested in introducing at some point. We still have Morgan and Duane out there, from the pilot, we're interested in them, and there's new characters that will be original to the series, not coming straight from the comic books."
"I was telling someone yesterday, I think seasons 1 and 2 have been prologue, and now we're hitting the ground running, and I see season 3 as resetting the show in terms of what I really hope it can be."
Not only that, but season 2's shocking decision to kill off long-running comic character Dale (Jeffrey DeMunn) far earlier than his literary counterpart may have stunted a few potential stories, but that doesn't mean that events can't be shifted around to different characters. In the books, Dale met his end – SPOILER ALERT – sustaining too many injuries from a group of cannibalistic stalkers in the "Fear the Hunters" arc. but Dale's death on the AMC series doesn't necessarily table that idea. Says Mazzara, "Anybody can be cannibalized, so we still have that story in the pocket."
What do you think? Does the possibility of the survivors staying at the prison for longer than a single season worry you about The Walking Dead season 3? Which future characters and stories are you most looking forward to seeing? Give us your take on Mazzara's revelations in the comments below!