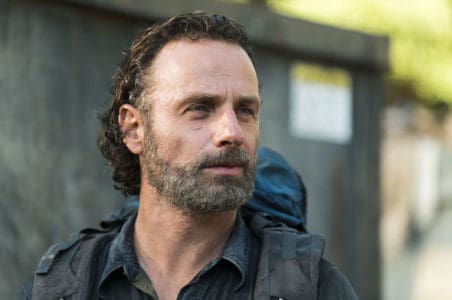 It's kind of likely that a lot of fans of The Walking Dead would ask 'why?' when it's revealed that Andrew Lincoln tried to keep a fellow character from being killed off. But it shouldn't come as much of a surprise to anyone that people on this show were only as safe as the showrunners were going to allow them to believe. There were a couple of fakeouts with Glenn, and people knew his number was going to be up eventually. But a character such as Axel, who a lot of people might not recall, being kept alive for longer than the show dictated, or rather, the writers dictated, feels like it might have been an effort without that much foresight attached to it. Stuff like this might really make a person wonder just how closely the actors follow the source material that they're supposed to be acting out and whether or not they get the point that at any given time the narrative might change. It is admirable that Andrew attempted to lobby for a way to keep Axel alive for a bit, but the emotional punch that came when he was killed off by the Governor was actually more potent than when T-Dog, a main character, was eaten alive by zombies. To be certain, the show made it feel at times that pretty much anyone could be taken at any time, as there was never really a safety net for anyone, and even the idea that the show might fail to live up to the comics was very real. After all, look at who should be alive at the moment and who should be dead. Look at the fact that Rick got to keep both of his hands, and then ask yourself why this was so.
A big part of it is because anything that starts its life in a book or a graphic novel or anything that's not directly written for the big or small screen is going to be altered in some way. It might be that certain characters are killed off sooner, it might be that some of them barely register before they're gone. But the point is that things that occur in one medium might not make to the next unless someone is willing to put their foot down and make it so. Andrew Lincoln attempted to go that route but in the end, it just wasn't going to happen since Axel apparently wasn't seen as an important addition to the cast, or at the very least didn't appear to be someone that would be needed later on down the line. His story arc was pretty quick before it was over and while he might have had some use, later on, the writers still managed to cut Axel out of the picture and moved on without him. It's commendable that Andrew tried, but even with his pull the show had to go on and the only way to do that with TWD has been to ditch actors as they appear, keeping some of them alive for a while and others as mere fodder, which Axel turned out to be after a while, literally to be fair since Carol had to use his dead body as a shield when she was being shot at soon after Axel was killed.
It's a bit pointless to wonder just what Axel would have been doing at this point in the show since season three when he came in and then went out, was a high point in TWD's history, while at this time a lot of people are probably still wondering when the finale episode is going to come out, but aren't overwhelmed or too anxious about it. The truth is that TWD has really dropped in ratings over the years and the story has dropped in quality considering that people just don't care any longer. It's a danger that a lot of shows face after surviving for several years and creating something that people want to see, eventually, the audience wants more and more and the show can only go so far before having to tread over the same ground that they've been across in the past. There are some shows that are fully capable of doing this without any serious backlash from the fans, but time and gain TWD has proven that it's not one of them. A lot of fans have remained loyal to the show in a big way, but they've still been lamenting just how it's been handled throughout the last several seasons and when it could possibly be getting better, or when it might finally go away. At this point the finale episode from the last season is something that people still want to watch, but if they're still into what might come after it will be a little surprising.