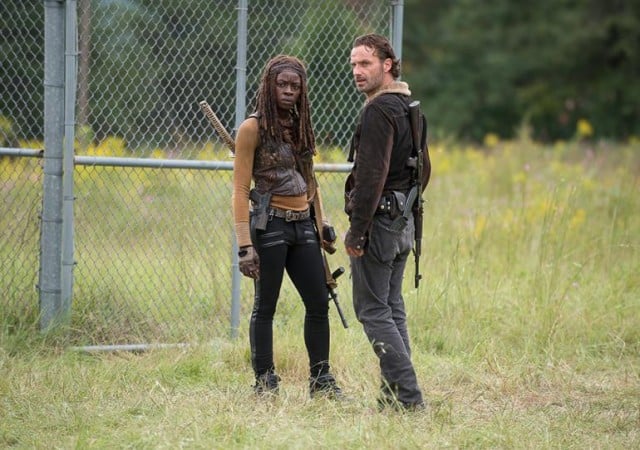 Carol's baking again, which is never a good sign for The Walking Dead: there aren't many signs more ominous than Carol in the kitchen, fretting over how many acorns she has for her latest cookie recipe. And boy, does "Not Tomorrow Yet" follow up on its delicious promise: in order to secure their own safety for a little while longer, the Alexandria crew find themselves exploring new darkness within themselves to complete their deal with the hilltop survivors.
Perhaps The Walking Dead's attitude towards zombies is best personified when Carol kills one during her argument with Maggie at the end of the episode: zombies are sooo 2015, and The Walking Dead's primary concern has become the violence its still-living components are capable of creating. Carol's annoyed face at being interrupted mirrors the episode's attitudes towards the undead: it's a lot more interesting to see Glenn and Heath struggle to put their knives through the heads of sleeping men rather than dead ones, naturally (and effectively) raising the tension of "the new world" we're watching Rick and his people form.
Such little attention paid to zombies leaves a lot more room for human drama: and to compensate, "Not Tomorrow Yet" goes balls-to-the-wall to try and make up the difference. This leads to some awkward moments – Abraham screaming at Rosita that she's "not the only woman in the world anymore" might be the most ridiculous line of the entire series – and some head-scratching ones (why are we back to Carol struggling with her Mom feelings again?), but mostly "Not Tomorrow Yet" uses its humanity to great effect, even during its formulaic montage through each romantic pairing the show has to offer (save for Rick and Michonne, for some odd reason) as they struggle to convey their emotions to each other.
Where "Not Tomorrow Yet" really shines is away from those heart-to-heart moments (why do I care about Tobin and Carol? I guess it's kind of cute the way she calls him an a**hole when he asks her for a cigarette), doubling down on the plan for their assault on the Savior compound, and the emotional fallout from that preparation. Glenn and Heath coming to terms with killing (or at least, Glenn protecting him from it, for better or worse) sets the stage for many other characters to process their feelings over what they're about to do: Crazy Rick may only be able to chant "we're doing it for food" over and over again to convince himself, but there's some real meaningful character material contained in those other moments. Denise recognizing her responsibility as the town doctor (over her desires as Tara's girlfriend), Morgan failing to appeal for a more peaceful approach – and of course, the hilariously dark head hunt the team goes on, in order to prepare a fake head to set the stage for their assault.
Most importantly, the assault delivers as a kinetic, tense set piece, triggering some of its deeper observations in subtle fashion (or in other cases, like Glenn's, just getting right down and dirty with it). Rick's sense of "choice" might be the most fascinating among them: he doesn't question whether Maggie wants/should/needs to come or not, he simply says "she chose" and goes about his business murking a bunch of random Negan employees (they briefly think they've killed him, wondering which one was him – HA!) – Rick's given up all pretense of being an emotional leader, and has set his course on being as deadly efficient as possible instead. It's not a surprising turn for his character or anything, but it's the first time in a long time he's felt driven, and his inability to deal with indecisiveness or hesitation brings his character to life more than some petty observation about how little he cares about disfiguring corpse heads.
"Not Tomorrow Yet" isn't always the most elegant with its delivery – again, anything involving Abraham or Rosita is TWD at its most stilted and awkward – but seeing Alexandria's residents reformed as this deadly assault team is an intriguing direction for the show to take, doubling down on themes present from seasons four and five, but with a conviction those previous stories lacked (maybe it's because Glenn and Gabriel finally killed someone?). As Rick and his team head further and further down a dangerous rabbit hole trying to establish their community (reminded each and every step of the way just how twisted and dark Negan and his people are; Glenn catches sight of a wall full of murder photos), The Walking Dead is starting to build an interesting case study for what humanity means in this 'new' world of theirs – and for the first time, it feels like they have some interesting answers to that question, setting up this back half of season six to be infinitely more exciting and meaningful than the first. With "Not Tomorrow Yet", they're off to a surprisingly good start.
The Walking Dead Season 6 Episode 12 Review: "Not Tomorrow Yet"
Summary
"Not Tomorrow Yet" delivers one of the season's best episodes with a brutal depiction of what Rick and his people "have become".