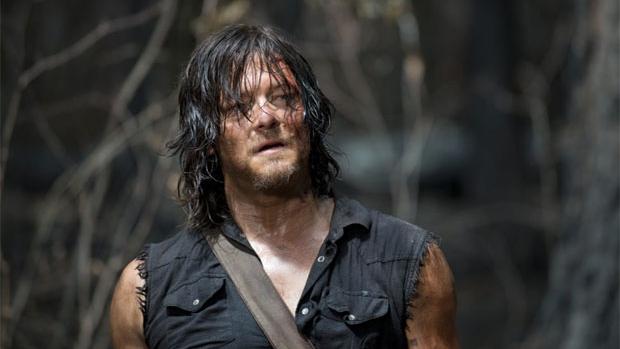 We've seen some of our favorite characters on "The Walking Dead" come and go…they usually die. This leaves fans with a common question that is frequently asked, "Who is going to die next?" Daryl Dixon is a fan favorite, portrayed by Norman Reedus and there was a popular T-screen that read "If Daryl Dies, We Riot." We don't know if he's going to be the next in line, but at some point, Daryl probably will die on the show. The next question is, how will he die? He could be killed by an acquaintance, we've certainly seen that, or he could go out fighting the walking dead, or he could have a tragic accident. Here is what Norman Reedus has to say about how he'd like his character to go out.
Prelude
Most of us don't believe that Daryl Dixon or Rick Grimes are going to be killed off. They're fairly important cast members as they draw a lot of viewers. In addition, their characters are central in the series, but this doesn't mean that there won't be a terrible twist that leaves us feeling bitter, angry and a bit empty. Here is what Reedus envisions as the best way to kill Daryl off, in his opinion.
Norman's take
Reedus has put some serious thought into how his character could best depart the show. He imagines that it would happen under a lovely sunset, he would see a cute little wolf pup, follow it into the woods, and disappear. Just when we thought he was going to give us some insight into how his role may end, he gives us a scenario that is just never going to happen, so now we're off to other scenarios of how Daryl is most likely to die.
Death by Negan
It's possible that Jeffrey dean Morgan's evil character could be the perp that ends Daryl. He's certainly rotten enough to do the act. The 6th season ended with him killing a mystery character. It wasn't Daryl, but we could see this kind of a cliffhanger happening at the end of one of the future seasons. It would probably happen as a finale to the series if he doesn't make it out alive.
It would have to be complex
In order to keep fans happy, they can't kill Daryl until the very last and most of us know that. Another scenario in which Daryl dies would be fighting a warring faction and giving his life to save somebody else. The character has a heart of gold so this scenario would fit in very well with the character.
He could be bitten
This is another way that Daryl could go out. If he's bitten, it would give the writers some time to maximize the effect of the situation with viewers. He may ponder how he's going to end things if that were to happen. It would be fitting for Rick to be the one to help him escape the fate, but again, if this happens, it had better be on the very last episode of the last season. Our guess is that he's not going to die, but again, that's a secret that nobody is telling.