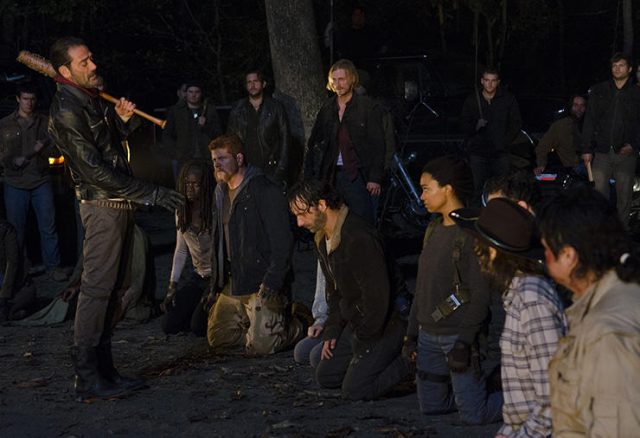 The Walking Dead Season 7 premiere, "The Day Will Come When You Won't Be," has generated some intense reactions and fervent discussions from the show's fans. Some viewers loved the episode, calling it one of The Walking Dead's best hours ever, while others deemed it was too sadistic and violent, as they mourn the loss of the two characters that met their ends thanks to Negan and his trusty bat, Lucille. However, one thing that all people can agree on is that this episode was a ratings juggernaut; in fact, The Walking Dead Season 7 premiere drew the show's second best ratings of all-time, as people tuned in to see which characters would die and what type of horror Negan would inflect upon the survivors next.
17 million total viewers tuned in for this Sunday's premiere for The Walking Dead Season 7, netting the show an 8.4 rating (aka 10.7 million viewers) in the highly coveted 18-40 demographic. These numbers are just a little below the show's series high ratings, which came during TWD's Season 5 premiere. Back in 2014, the show's Season 5 opener drew 17.3 million viewers and a 8.7 rating in the 18-49 demo.
However, while the Season 7 premiere didn't break the show's overall ratings record, it did improve upon viewership from last season's finale by 16 percent in total audience and by 14 percent in the 18-49 demo. Overall, those are some incredibly impressive number for a series kicking off its seventh season, and it will be interesting to see what the ratings for the show look like following the backlash surrounding the major deaths from the premiere. Will they drop at all, or will the presence of Negan get even more people tuning into the show this season? We'll have to wait and see.
The Walking Dead Season 7 continues with a new episode this Sunday at 9 p.m. on AMC.
[Photo credit: Gene Page/AMC]
Tell us what's wrong with this post? How could we improve it? :)
Let us improve this post!