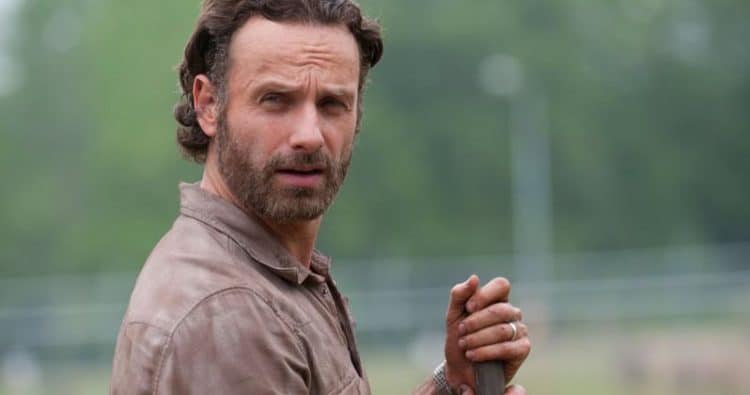 It likely wouldn't have mattered if Rick would have been kept on the show since it's coming to an end as of the end of 2021 and the beginning of 2022 when the final season will end. Of course, the idea isn't ending, as there are going to be spinoffs, but it's not going to be the same, much as it hasn't been the same without several characters that have been dispatched in the seasons leading up to this point. But Rick Grimes was one of those that a lot of people were hoping they'd see make it to the end since he'd been the leader of his group for so long that it didn't feel likely that anyone else would be able to take the position. We're still waiting with baited anticipation to see Andrew Lincoln take on his role once again in the movie that will see Rick Grimes after being taken to wherever it was that Jadis was heading, presumably to another part of the country where the apocalypse hasn't wiped out everyone. It's going to be interesting to see another part of the world in which The Walking Dead takes place since throughout the show we've seen how the apocalypse affected a few different regions, but that's hardly the whole country, or continent to be certain. It kind of makes a person wonder just what might happen if a plague such as this did hit the real world. Would anyone be safe?
The funny thing about the character of Rick Grimes is that he's held up as a hero by a lot of people, but a very human hero to be certain. What that means is that he's not perfect, he's done things that are reprehensible and downright wrong, and he's been kind of a pain in the backside a couple of times throughout the series. Making a case for him being the hero isn't hard since he's done plenty of things throughout the course of the show that have been quite heroic without a doubt. But pointing out his faults is something that kind of divides people since some folks are willing to vilify him for the things he's done while others are willing to defend him to the end by using the logic that he didn't have a whole lot of choice when it came to the things he did. It's kind of amusing to hear the many different arguments, especially since they're all right and don't want to reach that compromise that often. Rick is in fact a very human character that makes great decisions and bad decisions alike throughout the course of the series. Those saying that they would have done something different in his place first need to realize that this is a fictional story and calm down, and then really dig deep into their character and wonder about how they would react during a zombie apocalypse if it ever happened.
Rick was definitely a complicated character, but as much criticism as he gained from fans and from those that had never known about The Walking Dead until watching the show, he was still deemed as necessary since he was the only real leader that wasn't trying to screw everyone over at every turn. He had his questionable moments and there were times when it appeared that he was less than forgiving, but a lot of the time he was still the kind of guy that was there to look out for the people in his care and not necessarily treat them like garbage. Taking him off the show was hard for a lot of people to see, but it did push things forward in a big way since it forced everyone to deal with the loss and propelled the survivors into another gear that brought them closer and continued to push the narrative of surviving no matter what it took. It can be said that the quality of the show was starting to go down before he left since many upon many fans were already chiming in that each season was getting steadily worse as the show eventually became more akin to a survivalist soap opera with a few zombies thrown in for excitement. That's kind of a harsh assessment, but it's not entirely wrong since things were growing progressively worse with each episode as the excitement and action that was to be found was buried beneath tons of exposition that wasn't always that boring, but definitely dragged things down in a big way.
Of course, if the show had continued to be all about action and thrills there would have been a lot of people that would have said that there needed to be a break between action scenes, which is evidence that people are never satisfied. But as far as Rick's place in the story goes, we'll get to see him again, but it might be a while.