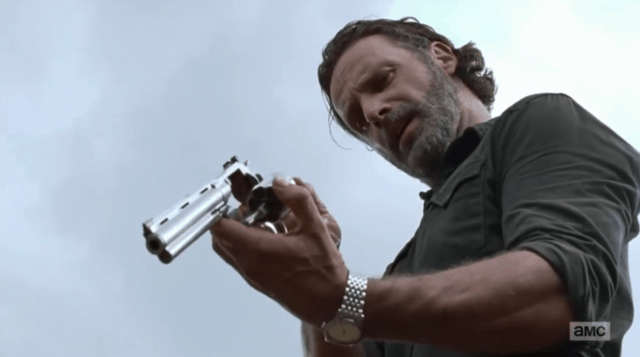 The Walking Dead comes back to AMC tonight so it's basically flooding my feed along with every else's. Season 7 episode 9's "Rock in the Road" will show on AMC at 9pm EST. Rick and the group are led to a new community, where they are introduced to its inhabitants and ruler; and a familiar face resurfaces.
So there's that. But what can we talk about that hasn't already been covered this week? Pretty much nothing. Though I did get this little nugget of information today thanks to CBR. According to none other than Andrew Lincoln, season 7's finale is going to have "more action than ever."
"Rick's swagger is back and he's reclaimed his mojo," Lincoln said. "He's getting his strut back. That was exciting, but also, as you said before, there's a palpable sense that the world is a lot bigger and he has to change as a man and as a leader as a result."
"It's very much driving towards a very exciting end point in this season, and all I will say is that normally we're shooting and it is a very painful, too, for a lot of reasons. Leaving great friends and being apart from one another a lot. A lot of the core cast was separated, but what I will say is that there is more energy and more excitement and enthusiasm and build and build and action than we've ever had at the end of this season. I've never seen the crew and cast be more ready to continue telling the story."
Get ready for some fireworks folks.
Catch a glimpse of Sunday's #TWD mid-season premiere. pic.twitter.com/5UXltgi7Ps

– The Walking Dead AMC (@WalkingDead_AMC) February 9, 2017