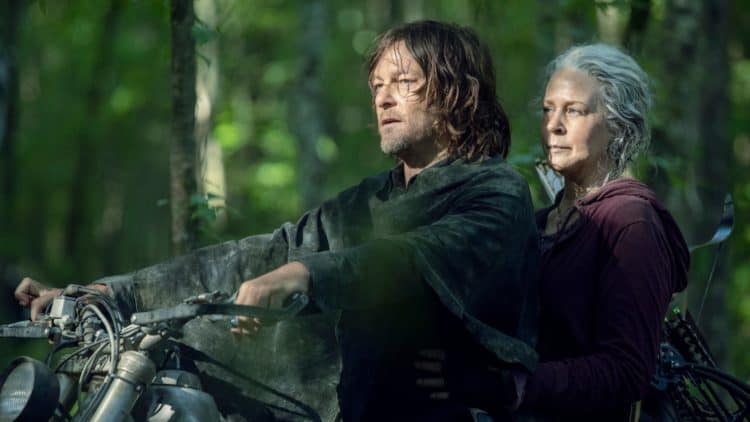 The Walking Dead is an American series that portrays a handful of human survivors trying to survive a post-apocalyptic era of humanity characterized by zombies who are also known as 'walkers.' The series which airs on AMC locally and Fox Networks Group internationally is an adaptation of the comic book series developed by Robert Kirkman, Charlie Adlard, and Tony Moore. Its plot centers on human survivors of the fall of humanity; they face a threat from zombies and other groups of people who survived but have different morals. Its first season premiered on 31st October 2010, and it has been on since being renewed for ten seasons; the 10th season premiered on 6th October 2019. The company has already announced plans to develop its 11th season, but before then, let's meet the cast of "The Walking Dead" season 10.
Norman Reedus playing Daryl Dixon
He is the primary hunter in the survivor's group and one of the two casts who have starred in the series since its first season. He was a trusted lieutenant of deputy sheriff Rick Grimes before his passing. He is now forced to take charge as the group's leader after Rick's passing and lead their safe zone in the conflict against the 'Whisperers.' In the first episode of the 10th season, Daryl can be seen communicating in sign language with group member Connie, a clear indication of the bond between the two. According to CNN, the two have a spirited connection that showed from the start and fans are hoping it could blossom into something more intimate. Apart from this series, Norman has been in other notable movies and series such as "The Boondocks Saints," "Blade II," and "American Gangster."
Melissa McBride as Carol
She played a recurring role in the first season and has since grown to act as a skilled and vigorous fighter who is capable of making tough decisions. She has had her share of hardships in the show; at the start of the show, she was a suffering housewife and lost her biological daughter called Sophia. In the fourth season, Carol is forced to kill one of her surrogate daughters, Lizzie. She does so after discovering Lizzie killed her sister, Mika, and other people due to her gradual mind loss. In season 9, episode 15, Carol undergoes immense pain again when she lost her adopted son Henry to the 'Whisperers.' The award-winning actress has appeared in several hit productions such as "The Mist," "The Reconstruction" and "Texas Ranger."
Danai Gurira playing Michonne
She is the third longest-serving cast of the series after Norman and Melissa. She first appeared in its third season as a mother of two, and her role has since evolved as she is the current leader in the safe zone known as Alexandria. The fierce woman was involved romantically with Rick (dead) and is now acting as the mother figure to Rick's son, Carl. She is well known for her role as Okoye in Marvel's massive blockbuster, "Black Panther." Forbes reported that Danai has confirmed she will not be in the series' 11th season as she is set to cast in a new HBO show.
Christian Serratos as Rosita Espinosa
She was first introduced in the series' 4th season but started acting a more substantial role in season 5. She plays as an efficient and energetic survivor who is also Gabriel's (Seth Gilliam) girlfriend. The 9th season ended with Christian expecting Siddiq's (Avi Nash) baby; in season 10, she gives birth to a daughter who she names Socorro or Coco in short. This season will portray Rosita trying to balance her life as Coco's mother and surviving through the apocalypse manifested by zombies and 'Whisperers.' She also has to adjust to the growing complicated relationship between her boyfriend Gabriel and her son's father, Siddiq. The actress was cast in "Twilight" in 2008 and "96 Minutes" in 2011.
Josh McDermitt as Eugene
It seems like Rosita is a female heart-throb in the series since Eugene also has romantic feelings for her. The actor who joined the cast in season 5 is a coward when it comes to dealing with the 'walkers' but very intelligent; he has well-planed maneuvers to survive the zombies. The 41-year-old actor is known for his role in the 2011 sitcom, "Retired at 35."
Seth Gilliam as Gabriel
He is another coward cast of the show who is fragile and terrible when dealing with the 'walkers.' He joined in the 5th season, and he plays the character of a priest who is having a hard time coping with the new post-apocalyptic world. He is Rosita's companion and one of the five leaders of the union between various communities living in Alexandria. He has had significant roles in television shows such as "Teen Wolf" and "Oz." His role in season 9 is to ensure the unity of Alexandria, for them to survive against the zombies.
Ross Marquand as Aaron
Aaron is another character who has been through a lot in the show and first appeared in season five as a recruiter who introduced Rick's group to Alexandria. At the start of season 9, Aaron survived after losing his arm during a war and saw the death of his close companion Jesus (Tom Payne). In the 10th season, Aaron is set to play a more substantial role as he steps up to be the training leader of the Alexandria militia in preparation for fighting the 'Whisperers' army. Ross is a renowned voice actor who has voiced animations like "Sheep and Wolves" and "Impress Me." He has also starred in movies such as "The Avengers Endgame" and "Avengers Infinity War."
Khary Payton as Ezekiel
Ezekiel is an ex animal attendant who owns a tiger pet called Shiva. He was the 'King' of a community called the Kingdom that fell at the end of the 9th season. Ezekiel joined the series in season 8. He is still grieving from the death of his son and sees no reason to continue fighting. He has voiced numerous DC comics, including "Teen Titans Go" and "Young Justice."
Samantha Morton as Alpha
Alpha is the new supervillain that solidifies her role when she killed ten characters. She is a human survivor and the leader of the 'Whisperers;' ill-mannered people who disguise themselves with walkers' masks to stir up conflict with Alexandria. Samantha Morton is a Golden Globe Award-winning actress that has starred in movies like "Minority Report" and "The Messengers."
Ryan Hurst as Beta
Ryan was introduced in season 9 but will be playing a more permanent role in season 10. His onscreen role, Beta, is Alpha's most loyal servant and holds the second rank in leading the 'Whisperers.' He plays a villain who helps Alpha, the leader of the 'Whisperers,' to fight against Alexandria's militia. Before "The Walking Dead," Ryan was in movies such as "Remember the Titans" and "Sons of Anarchy."