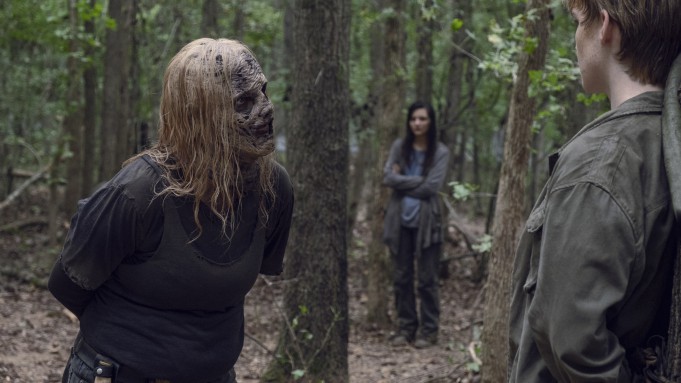 Just when you thought it could not get any better, AMC has decided to extend your chills. It announced another spin-off of your favorite series, "The Walking Dead," a few months ago. The President of AMC realized that "The Walking Dead" has been the number 1 show for so long and since there is an unutilized opportunity, why not make another series. Well, for those of you who are zombie fans, here is everything that we have gathered about the new Walking Dead spin-off, mainly from Vulture and Deadline.
It will premiere in 2020
If you thought 2020 would be boring, then hold on to your remote because you will not be moving away from your screen. The new spin-off will air in spring 2020, and as if that is not all, other exciting shows will be returning next year. Those who love reality shows will be glad to know that "America's Got Talent" season 15 and "American Ninja" season 12 will be part of the entertainment package. Another show you can also expect to catch in 2020 on AMC is "Better Call Saul."
Matt Negrete will be its showrunner
If you enjoyed watching "White Collar" and "Graceland," then you have to thank Matt Negrete for being the creative writer behind the series. Cartoon lovers also have to pay tribute to the stroke of genius that Matt led to the creation of "Kim Possible," "Timon & Pumbaa," and "America Dragon: Jack Long." Currently, Matt has dedicated his brains to producing "The Walking Dead" since its debut in 2013. Now that it has a new spin-off, no one is better placed to continue charming us with the zombie world than Matt Negrete.
Scott M. Gimple is the series co-creator
It seems like "The Walking Dead" producers are not leaving their spin-off in the hands of new people; trusting only themselves to deliver what the audience has come to love as the best zombie series. Scott joined "The Walking Dead" team in 2011 when he became producer and writer for its second season. In 2013, he replaced Glen as the series showrunner and now is the chief content creator for "The Walking Dead" as well as "Fear the Walking Dead," according to Wikipedia. Having worked with Matt in most of the episodes, it is only logical that he serves as the co-creator.
It will be produced by AMC Studios
AMC Studios is AMC Network's in-house studio for production and distribution. The studio's first series was "The Walking Dead," and it is therefore not a surprise that they have continued focusing on it since it gained massive success as the highest-rated series in the entire cable history. "Monument" will consequently follow in the footsteps of its predecessors because AMC Studios will be in charge of its production too.
Jordan Vogt-Roberts will be the director
Imagine trying your hand in something, and it was so good that it not only wins an award, but it also is appreciated in the country's largest event. Well, that is what Jordan experienced when he made his first debut as a director with "The Kings of Summer." The feature film was screened at the Sundance Film Festival in 2013, and it scooped the Narrative Feature audience Award during the Dallas International Film festival, held the same year. Having already displayed his talent, Jordan is now set to direct The Walking Dead's new spin-off.
Its pilot episode will involve a plane crash
Some of the best movies we have ever watched included either a plane crash or a person trying to prevent one. We are talking of "Final Destination," "Con Air," "Die Hard 2," "Passenger 57," and "Turbulence" among many more. Series have also taken this route with "Lost" focusing on survivors of a plane crash while "Manifest" concentrates on passengers of a plane that went missing and wound up having special powers. The new spin-off has therefore decided to use the plane-crash plot in its premiere episode as Screen Rant reports.
It will have two women as the leading actors
The Walking Dead is always evolving. In the original series, there is one male protagonist, Rick Grimes while in the first spin-off, two people are in the lead. Madison Clarke is the female protagonist while Travis Manawa takes up the male lead. In this new spin-off, things have also changed because now there will be two female protagonists who have grown up in the apocalypse age.
It has already released a teaser trailer
If you have ever watched "Glee" then you must have heard Quinn Fabray advise her fellow cheerleaders in skimpy outfits that it is all about the teasing and never about the pleasing. As such as, AMC decided to tease us with a trailer of what we should expect in the upcoming series. It comprises the cast doing voice-overs over images of artwork and even telling us when we should expect to see the dead.
It is still under a working title
Coming up with a suitable title for whichever project you are undertaking demands creativity. You want the title to tell the audience what to expect from its mere mention. As of now, the new spin-off is yet to get an official title with which it will be aired, so it is using "Monument" as its working title. That in no way is related to the content of the series considering that "cobalt" was the working for "Fear the Walking Dead." Consequently, we can expect the producers to twist the title a bit but still incorporate "The Walking Dead."
It will be filmed in Virginia
Now that AMC ordered the show in a series format, the producers have to get to work on the ten episodes that will be in season one. Filming was set to begin in summer 2019, and according to WSLS, the premiere episode's shooting will be in Hopewell from 30th July to 15th August 2019. Filming will continue until November 2019, and since extras will be needed for the other locations in which filming will take place, locals were encouraged to apply as per a Facebook post.
Tell us what's wrong with this post? How could we improve it? :)
Let us improve this post!