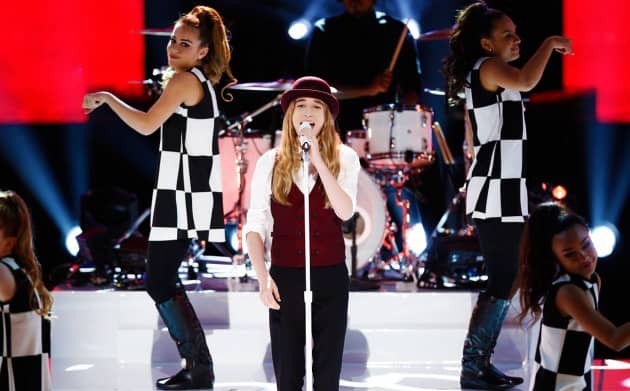 The Top 6 gave it their all last night on The Voice, as each contestant had two chances to show America why they deserved to remain in the competition. With Mother's Day coming up, they each dedicated one song to their mother (or in Joshua's case his wife, the mother of his children), giving them the chance to play the emotional card. As to be expected at this stage of the competition, there were a couple of standout performances that guarantee another week for some contestants, while others did nothing to help their cause. In the end, it's up to America to decide who goes home, and as we've seen in the past, no one is truly safe.
Taking the stage first was India Carney, who dedicated the song "Glory" to her mother. This is a song she has sung in the past with her a capella group, so she has a level of comfort with it. Mixing up the arrangement, she chose to sing the rap parts of the song, a risky move that in some way took away from the power of the performance. India's biggest problem is that she never seems to connect to what she's singing, and this was no exception. In her second song of the night, India stepped outside of her comfort zone. While the coaches loved it, claiming that it was her best performance yet, it's becoming evident that India won't be able to move past her classical training and because of this, her performances aren't as compelling as some of the other contestant's. She barely survived last week's elimination, and this week might be it for her.
Adam's only remaining contestant, Joshua Davis, picked a U2 hit as his first song of the night. He's run into the problem of his voice being lost in the band before, and it happened again with this song. While his raspy vocals were still enjoyable, he spent the first half of the song being overpowered by band. This was the most fun we've ever seen Joshua have performing, but I do wish we could see more of a connection from him, too. Thankfully, that connection could be seen in his second song, which he dedicated to his wife. Joshua did what he does best, with a simple performance that mesmerized the audience. If it weren't for the mistimed clapping from the audience, the performance would have been close to perfect.
Next up was Koryn Hawthorne, who dedicated a song to her mom, who has been through so much pain but keeps pushing forward. You could legitimately feel the emotion pouring out of Koryn as she sang her heart out. The performance was inspiring, and while I wish she had arranged the song to highlight different verses, she nailed the parts that she did sing. Later in the night, the second song she picked is one that is often done on singing competitions. She stumbled through it with some pitch issues and cheated on the big note at the end, leaving the audience disappointed. If she wasn't going to go big and commit to the note, she probably shouldn't have chosen this song. Still, her first performance should be enough to carry her through.
Team Christina's ace, Kimberly Nichole, took an unexpected route with her first song, which she dedicated to her mom. While it wasn't a song that we would expect to hear from Kimberly, she made it her own with a stellar performance. Like some of the others, it's hard to feel an emotional connection from Kimberly when she sings,but she did enough with the performance that it wasn't as evident as it is with other contestants. Her ability to perform was never more apparent than it was in her second song of the night, which was dynamic and crazy. It was truly a rock n roll performance, as she not only owned the stage but also destroyed the vocals.
Blake's only remaining contestant, Meghan Linsey, showed off her soul roots in her first performance, with her passion clearly coming through. She needs to be more dynamic when she sings, though, and she once again failed to do so with this song. It was her second song of the night that proved why Meghan is a frontrunner in this competition, as she dedicated "Amazing Grace" to her mom, who came from nothing and made a life for herself. Singing the first verse a capella, Meghan's powerful and emotional performance was incredibly compelling. It was emotional and beautiful, just what Meghan needed at this stage in the competition.
Sawyer Fredericks remains my favorite contestant this season, as he continued to prove that he can sing anything and make it inspiring. The song dedicated to his mom was soulful, engaging, and simple, and although I had never heard it before, he made me a fan. In his second performance of the night, Sawyer mixed it up, getting rid of his guitar and singing a faster song. This allowed him to open up and have some fun on stage, engaging the audience in a different way than he normally does. While the dancers were extremely distracting, nothing could take away from Sawyer's talent. As Blake so aptly put it, all Sawyer has to do is stand there and sing and he will win over audiences. It's this ability that makes Sawyer such a threat to win this season.
[Photo via NBC]