It's night 2 of The Voice season 13 blind auditions and two things are apparent. One is that there's going to be a whole lot of country music this season. The other thing is that the competition is fierce – among the coaches! Don't let the above sweet photo fool you!
The Claws Are Out! Coaching for the Win!
It's not that the coaches aren't being playful and having a good time. However, the newest coach, Jennifer Hudson, has taken to coaching people even before they've chosen. She is fierce – and dead set on winning this thing!
In one case the strategy works for her – in that the artist picks Jennifer.
Maharasyi
I think Maharasyi lucked out getting Jennifer, mainly because this wasn't exactly my favorite audition. I'm hoping it's just the song choice. Chaka Khan -is hard to follow, and "Tell Me Something Good" is a difficult piece and very genre-specific. On the other hand, it should be something to see how JHud does. There's nothing like taking a diamond in the rough and making it sparkle!
In another case where Jennifer coaches before the artist decides it doesn't work. Even thought the coaching makes a serious improvement – it don't get her the singer.
Dylan Gerard
I don't blame Dylan Gerard for going with coach Adam Levine. His song choice and vocal style screams Team Adam! Also, I've no doubt Adam would have tweaked him similarly. What Adam said about being able about being moved by Dylan's voice is exactly how I felt listening to him. Goosebumps! Keep an eye on this guy!
The Country Music Claws
Meanwhile, coaches Miley Cyrus and Blake Shelton have squared off in the country arena. Miley is serious about country music this season. At one point Miley put on a full-on sparkly cowgirl outfit and brought her dad, country music artist Billy Ray Cyrus. in for a backstage chat.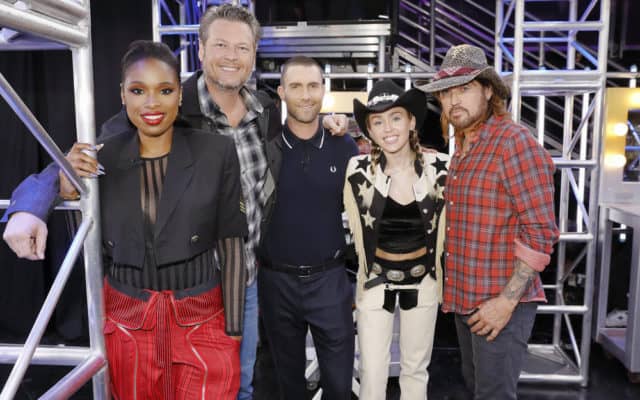 Maybe she should have kept the outfit on. The first time Miley and Blake squared off over a country artist didn't go too well.
Red Marlow
As Miley said 40-year-old Red Marlow is as country as they come. I doubt the outfit would have helped Miley. Blake and Red were speaking in that "down home, man-to-man" shorthand that let me know there was no way Red was going to pick her. He was sweet about it though, a real gentleman. Also, Red's bit with Adam was funny as heck. The likeability quotient is high with this one!
The Wrap Up for Night 2 of The Voice Season 13 Blind Auditions
One of things Miley said going after Red was that she plans to that she plans to win The Voice with a country artist. …That's a little worrisome. The last time a coach declared something like that was season 4. That season ended up being one of the least interesting seasons of The Voice because it was so skewed to that one genre. Blake made choices that bumped off objectively better singers. So long as Miley doesn't favor genre over genuine talent it should be fine.
Speaking of genuine talent, Miley landed another great singer – the final one of the night – who happens to be a country artist!
Ashland Craft: "You Are My Sunshine"
Ashland is awesome! She's country with an edge. On night 2 of The Voice season 13, I'd say she and Keisha Renee (who was featured as a sneak peek and chose Blake) are the country music mavericks to watch. Meanwhile, Dylan is the best rocker thus far. I'm sure all three will make it to the live shows.
Check back with TVoverMind next week for news about nights 3 and 4 of The Voice blind auditions!
Tell us what's wrong with this post? How could we improve it? :)
Let us improve this post!