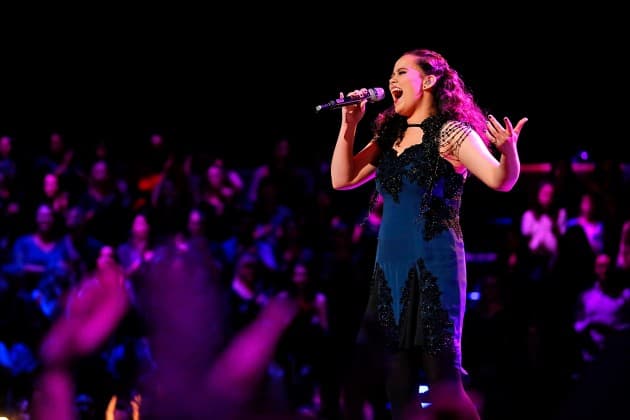 By the end of the day Wednesday, the Top 20 of The Voice will be narrowed down to the Top 12, possibly the most difficult cut of the season, with two members of each team going home. Last night, the five remaining members of Team Pharrell and Team Blake performed, giving it everything they've got to secure their spot in the Top 12. Overall, it was a night of entertaining performances, leaving America with the difficult decision of who to send home.
After Maroon 5 took to the stage to perform their current single "Sugar," the night really began with Team Blake's Sarah Potenza up first. In the past, I've had issues with Sarah's tendency to shout songs at us instead of singing them. Surprisingly, this wasn't as big of an issue last night, but her song choice paired with going first may end up hurting her. Her voice is powerful but she isn't contemporary enough to connect with the younger generation.
Pharrell's first performer of the night was the extremely talented Caitlin Caporale, who picked a song that showcased her desire to be a pop/R&B artist. As usual, her vocals were spot on, but it's her personality on stage that could use a little work. Even though she isn't lacking in confidence, it's difficult to get a good idea of who she is on stage. In the end, her performance was a bit forgettable, hopefully not to the point that she goes home.
The goofy and energetic Hannah Kirby was up next for Team Blake, known for her unique personality and crazy dance moves. On top of all that though, she's got a strong voice, despite sometimes falling into the same trap as Sarah and occasionally coming across as shouty. She certainly knows how to entertain, a quality that will most likely help her advance to the Top 12, even if it means contestants with better vocals going home.
Pharrell has gone out of his way multiple times now to save Lowell Oakley and I'm not sure it's paid off. There's no doubt that this kid has a unique voice, but his phrasing is often odd and the way he moves around the stage is more distracting than anything. He's got so much potential but isn't quite there yet, leaving the question of whether he will ever be able to get there during the competition. At this point, I'm just not impressed, and I wouldn't be too disappointed to see him go.
One of my favorites of Team Pharrell has to be Mia Z, who, at only sixteen years old, often comes across as much more mature on the stage. There's something about her voice that is so special and she knows how to showcase that in her performances, as she continues to improve each time she takes the stage. The rest of the contestants better be careful because Mia has the qualities of an underdog who might just be able to make it far.
Next up for Team Pharrell was Koryn Hawthorne who gave a soulful rendition of a gospel song. Her tone is amazing, but overall her performance was a bit forgettable with nothing to help make it stand out. The song choice, though it showcased her vocals, may end up hurting her in the long run.
A fan favorite from Team Blake, Corey Kent White, performed next and Blake made a smart decision giving him a love song. Girls are already proposing to him on Twitter, and I have a feeling that fanbase will take him far, regardless of how well he sings. Corey has proven time and time again that he knows how to emotionally connect to a song, and it's this instead of his vocals that carry his performances. His voice isn't bad; in fact, it has a nice raspy quality that is nice to listen to, but alone that won't be enough to take him far.
Brooke Adlee from Team Blake was up next, who has struggled with pitch throughout the competition. She's got to be careful with this week's song as it forces her to explore her full range. Her performance was solid, showing off a lower register that we hadn't seen before. The coaches felt like she could have loosened up a bit but noted that it did show her versatility.
Meghan Linsey has struggled with some negative feedback on social media from people who think it's unfair for her to be on The Voice because of her past success in her previous band. Blake assures her that it is fair that she's there, as she had to start all over again when her band broke up. It's hard to complain about her being on the show when she gives such stellar performances each week. She got the biggest reaction from the audience last night as gave her best performance yet. No doubt she'll be around for another week.
Team Pharrell's Sawyer Fredericks closed out the night, getting the coveted last spot that is usually reserved for the producer's favorite. At the young age of 15, Sawyer is already able to feel comfortable stepping in and telling the band how he wants the song to be arranged. The band did end up overpowering him a bit during his performance but not enough to distract from his incredible rasp. Sawyer has an old soul and he knows how to connect with a song, something that will take him far.
[Photo via NBC]