The Vampire Diaries celebrates Caroline's (Candice Accola) 18th birthday so that's a time to be cheerful right? It would seem not, especially as this is the first birthday for Miss Forbes since she has become a vampire and this excellent episode explores letting go of the old and embracing the new. This sounds pretty simple but obstacles such as a power play between Klaus (Joseph Morgan) and Stefan (Paul Wesley) makes this both dangerous and complicated.
Stefan is ready to make his move against Klaus and wants to see if his theory about the importance of the coffins is correct by calling Klaus' bluff. This is a dangerous, ballsy and perhaps stupidly crazy move that Stefan is set upon doing, with or without Damon's (Ian Somerhalder) consent. The aim of the game here is to get the hybrid army out of town and to see if Klaus would actually blink and agree to Stefan's demands. It turns out that Stefan really can be the better villain and actually succeeds in his plan; but at what cost? The humanity on/off switch analogy was employed again but it turns out there is actually a third option; the switch is fried. Stefan claims that he has nothing else now other than his plan to destroy Klaus and this is where things get complicated in terms of what he is feeling and what he isn't.
Stefan certainly seemed willing to drive Elena (Nina Dobrev) off Wickery Bridge after feeding her his blood, a place that has great meaning for the pair of them as it is the place he first saved her after all. Nina Dobrev once again nails a heartbreaking scene as she tries to figure out why Stefan used her in his grand Klaus plan and his insistence that he needed her fear doesn't ring true. Instead Elena believes that Stefan is trying to make her hate him, a remark that he denies but the crack in his voice would suggest that he does still care and he's trying his best not to. Elena's analysis of Stefan's actions looks to be spot on and it will take a lot for this damage to be repaired if Stefan ever wants to.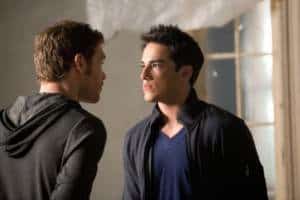 Elena was not the only person that Stefan's behaviour put in harm's way as the birthday girl Caroline became collateral damage. It appeared at first as if Tyler (Michael Trevino) could in fact turn down a request from Klaus, unfortunately this wasn't the case and the sire bond and lack of free will is still in full effect as Tyler bit Caroline without intending to as they shared a make-up kiss. Think that this will seriously hamper their chances of getting back together.
The subsequent scene that followed between Klaus and Caroline was strangely touching and heartfelt, as Klaus used his blood to save her from the deathly situation that he caused. The issue of mortality was raised (what better place than your deathbed) and the triviality of birthdays, with Klaus coming out of this scene looking like the good guy as he describes the world out there beyond Mystic Falls giving Caroline the desire to live. Is Caroline going to be in favour of Klaus now? Candice Accola proves once again that she has chemistry with all of the male characters; is Klaroline going to be a ship?
The Founder's Council are also leaning towards Klaus as Stefan plays his dangerous game and Klaus has assured Carol Lockwood (Susan Walters) that he will keep Tyler safe and by saving Caroline's life it looks like he might have Liz Forbes (Marguerite MacIntyre) on side too. Stefan's increasingly erratic behaviour is alienating him and whilst he might now be the better villain it also means that Klaus is now becoming the good guy in the eyes of some.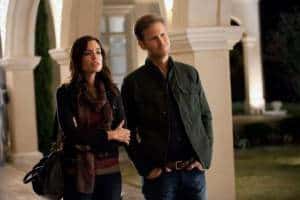 One further development that is curious involves Meredith Fell (Torrey DeVitto) and her now dead ex Brian (David Colin Smith). Instead of being something supernatural this looks like a case of old fashioned murder, even if the weapon of killing is a stake. So whodunit? Is there more to Meredith than meets the eye? Brian was certainly verbally abusive to Meredith at the Founder's event and she talked about how she'd like to throw him off Wickery Bridge, but that doesn't necessarily make her a killer. Alaric (Matt Davis) came to her aid but I really can't see him committing a cold blooded crime such as this. The fact that Brian is the medical examiner, who falsifies death certificates as 'animal attacks' and not vampire ones, is something that I think will be important as to why Brian died. Who do you think killed Brian?
The big kiss moment happened last week and whilst there was no follow up Elena is clearly conflicted about the event and used the punch bag to work out her frustration. After her traumatic experience with Stefan you might think that this would drive her into the arms of Damon, but Elena tells Damon that it isn't right for him to kiss her again. Damon disagrees with this, he thinks it is right but that the timing isn't; when will there be a right time?
Other Observations:
-Thanks Damon for clarifying who is in the coffins; Klaus had 6 siblings, Rebekah is with Klaus, one died in the old world, one in the new so their bodies are long gone, Elijah is in one coffin and there are two others who we are yet in two of the coffins. This leaves one mystery coffin, who or what it inside?
-It was good to see Elena, Bonnie (Kat Graham), Matt (Zach Roerig) and Caroline acting like regular teenagers even if was for a brief moment, as they toasted Caroline's birthday with a bottle of tequila. Ok the funeral part of the birthday celebrations was out of the norm but you've got to take these moments where you can get them.
-Matt may not have any supernatural powers but he is a good friend and the scene between him and Elena on the bridge showed what a wise friend he can be. It was a sweet moment that linked both Elena's pre-Salvatore life to her current one and Matt offered words of comfort when she needed it most from the least supernatural person she knows.
-Caroline received bracelets from both Tyler and Klaus, which will she be wearing when we see her next?
-There is a part of Damon that is proud of Stefan gaining the upper hand against Klaus for once, though he is clearly frustrated that he can't predict his brother's state of mind or what his next move will be.
-No kiss between Damon and Elena this week but the episode did open with Damon in the shower.
-We got to see Jeremy (Steven R. McQueen) before he left for safer territory and Bonnie was less than pleased with Elena's method to get Jeremy out of town. Elena is still feeling awful about this use of compulsion but believes that it is justified if it means Jeremy will be out of harm's way.
-Good to see Klaus quoting John Lennon with "Give Peace a Chance" though I can't quite see Klaus finding his own Yoko and holding a Bed-In.
-The hybrids didn't fare so well this week with one losing his heart and another losing her head.
This was an episode of transition between the old and new and had some emotionally charged scenes that I was both expecting (Elena and Stefan) and which were a complete surprise (Klaus and Caroline). Where Stefan's extreme actions leave us now is unclear and like Damon we can't predict what Stefan will do next, in his attempt to destroy Klaus and this makes things even more exciting as this season heads in this unknown direction.
What did you think of this week's episode of The Vampire Diaries? Did Stefan go too far? What will Klaus do next? Let us know your thoughts in the comments below.
Next week; Bonnie's mother may hold the key to the mystery coffin. For a look at the promo video and photos head here and here.