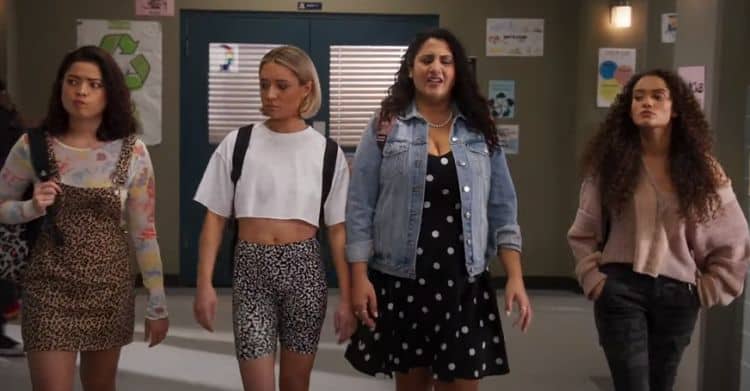 With all the commentary that's been given concerning the original American Pie movies and how they've been vilified over and over, it's hard not to do the same thing to this movie since it would appear that the girls are doing the same thing, which a lot of guys and fans of the movies will no doubt think is awesome. Finding out just when so many people became offended by American Pie when back in the day when it was released it was one of the most well-liked comedies of all time, is still kind of difficult. Somewhere along the line comedy has become more of a difficult thing for people to accept when it comes to various topics, as the funnier aspects of the movie are now being analyzed beyond belief and what was comical at one point is now being considered creepy, misogynistic, sexist, and every other word a person could think of to describe the movies. But then we have this gem coming out, and to be fair, it looks as though it might be funny, but if it doesn't end up getting the same type of criticism there's bound to be a lot of folks who are more than willing to call out the hypocrisy for what it is. High school movies are notorious for being controversial since to be realistic, high school is a time when a lot of people are undergoing changes that they don't fully understand and are bound to make the kind of mistakes that will follow them for a good part of their lives.
Seriously, anything too dark or controversial needs to be pointed out since there are subjects that even comedy probably shouldn't touch at times, but when it comes to American Pie the idea is to get as far out there as one can without going over the line in a way that might suggest that even the most horrible things are fair game. But just watching the trailer it would appear that the same behavior that young men are being frowned at over is going to be apparent, and if those that vilify such movies are even considering taking the 'tit for tat' option then it's time to put the kibosh on that sour note in a big way by embracing the funniest and most controversial bits that American Pie has to offer. From what's been shown thus far there are bound to be plenty of moments in which the girls will be seen objectifying young men every bit as much as young men have objectified young women in the past. The hope though is that at one point they'll realize that after being young, stupid, and constantly fueled by hormones that don't often let high school kids rest that easily, they'll be able to find someone that will treat them the way they want and that they can treat with a bit of compassion and even love. It is still possible in this day and age after all.
From a comedy standpoint, it's bound to do just as well if not better than the other American Pie movies that have come along since the bar has been lowered to such an incredible degree that it doesn't take much more than a hop or a skip to get over it at this point. Some might want to argue that point, but even the main series started to falter after the second movie since American Wedding and American Reunion were still funny, but the gags were starting to wear thin since the high school days were over and so was the party for the most part. The amusing antics that the guys managed to get away with in the first and second movies aren't bound to work again unless the bar is raised in a way that doesn't end up offending a large number of people, which is a task and a half these days. Plus, like it or not, there are a lot of female-led comedies that haven't done quite as well as their male counterparts for one reason or another. That's a debate for another time, but it's also a fact that many people don't care for despite being real and verifiable. The hope of course, and the belief, is that female-led comedies will finally find someone that can crack the code and make a convincing and popular comedy such as Bad Moms or Bridesmaids again that will win over the audiences. If this turns out to be that way then so much the better, but seeing as how it's a part of the American Pie series it doesn't feel likely this will happen.
It's not an instant bad mark against the movie, and it's not a deep and abiding need to hold female-led comedies to a higher standard, it's asking said movies to hold themselves to the same standards that they're demanding male-led comedies be held to, lest they run face-first into their own double standards.