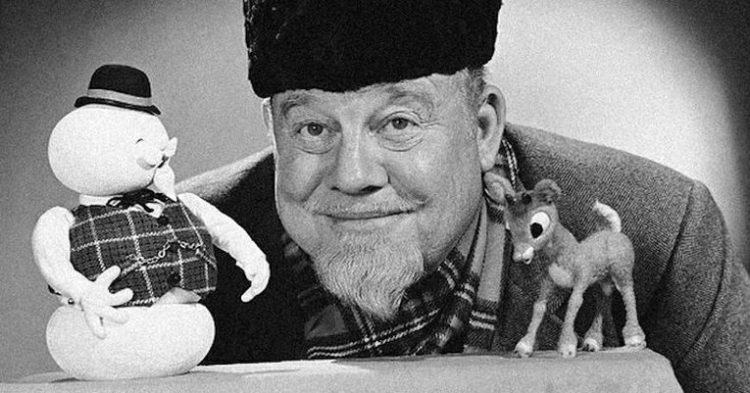 If you remember the Christmas classic that is alluded to above then you've heard Burl Ives sing even if you didn't know his name. His contributions to the music and acting industries were quite great, though you might only hear his name in passing these days as the industries continue to broaden and move on with the necessity befitting their stature. Ives however was one of those that realized from his earliest days that school was kind of a waste of time since it was teaching him things that he didn't truly care about. One can argue for education all they want and make one valid point after another, but the truth is that those with the creative talent, such as Ives, are those that generally feel constrained by what society deems is necessary to survive. Burl however showed many people just what can be accomplished seeking out what you want to do in the way that makes sense to you.
Here are a few of his songs that have been used in TV and movies throughout the years.
5. Better Call Saul – Big Rock Candy Mountain
In some ways Better Call Saul seems like a balm for those that were railing over the ending of Breaking Bad and needed some sort of fix with a few familiar characters, as well as some that had already been killed in the original show. But for all that it's definitely highlighted a few of those that had bad endings in the original show and has managed to allow Saul, a character that some didn't think much about initially, to shine in a way that was kind of unexpected at the outset. If nothing else it's kept the Breaking Bad mythology alive and has allowed the spinoff to really come forth in a way that expands the entire project.
4. Hugo the Hippo – The Best Day Ever Made
Some of the animated films in the 1970s were noticeably darker than much of what we have today, which is kind of confusing considering that a lot of people seem to want to vilify those themes and ideas that seem to be 'poisoning' their children. Hugo was the last hippo that had been spared and as a result he was kind of a desperate character that had to survive by raiding farms and stealing food to survive. The villain that was set on destroying him was the kind of guy that you'd look at askance these days and wonder what was wrong with him. Once again though, animated features in the 70s were kind of odd.
3. Burl Ives – Silver Bells
If you don't hear Burl Ives' voice crooning at Christmas it seems like kind of a loss since he's been a part of the holiday ever since he voiced his first Christmas song. To not hear Ives at all makes it seem a little dreary at Christmas since he's kind of a hallmark of the holiday at this point. That might make some people grind their teeth and argue that the main point of the holiday has once again been lost in the face of commercialism and all else that's wrong with the country, but honestly and truly Burl Ives is one of those individuals that you simply expect to hear after so many years, you know, as part of our current culture and all.
2. The Ref – Holly Jolly Christmas
So let's be clear, you have the nice and happy, packaged Christmas picture that shows people being happy, content, and ready to embrace one another for the holidays in a cheerful and pleasing way, and then you have this movie. The family is miserable with one another, snapping at one another over just about anything, and the Christmas dinner is supposedly so horrible that the extended part of the family stops at a local restaurant before they arrive. And in the midst of this you have an unfortunate thief that picked the wrong couple to take hostage as he finds out just how messed up the family really is.
1. Rudolph the Red-Nosed Reindeer – Rudolph the Red-Nosed Reindeer
Kids today don't seem to realize how classic this special really is and tend to want to watch movies and animated features that are smoother in their action and not quite so simple. So yes, the effects aren't quite as good, but the story is still one of a kind that has yet to be topped in terms of nostalgia and true storytelling. That could be a person that grew up on this story refusing to give in, but if you can recall, telling a story used to be something unique, special, and very touching, rather than just for commercial purposes. At one point and time this was the Christmas special you wanted to watch.
Burl Ives made it possible to love music just a little more during his time.