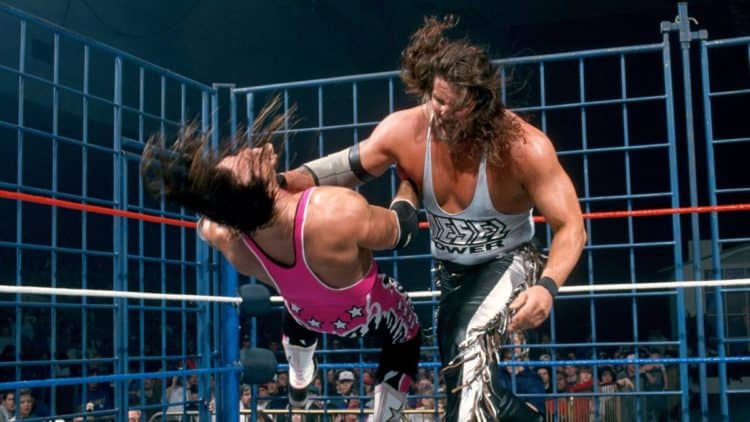 WWE's In Your House PPV was created as a lower-cost monthly event to bridge the gap between the main PPVs of the year, such as WrestleMania and Summerslam. In total there were 27 events which ran from 1995 to early 1999. The name has been brought back recently as an NXT branded event, so let's take a look at the top 10 best WWE Championship matches of all time.
10. Stone Cold Steve Austin vs The Undertaker vs Kane – Breakdown: In Your House
Following on from Summerslam 1998, Stone Cold Steve Austin would face both Brothers Of Destruction in a Triple Threat match at Breakdown. The match saw Austin spending most of the time playing defence as he tried to fend off both brothers in order to retain his WWE Championship. Unfortunately, he failed to do so as both Superstars pinned Austin at the same time, failing to crown a new champion, which set up the following PPV which saw the brothers face off at Judgment Day.
9. Sycho Sid vs Bret Hart – In Your House 12: It's Time
After defeating HBK for the title the previous month, Sycho Sid would make his one and only successful title defence by defeating Bret Hart at In Your House 12. Overall it was a good match, but Bret Hart is in the ring so what do you expect? Although it would be wrong to not put Sid over as he plays the monster heel role incredibly well and this match is a great example of that.
8. Shawn Michaels vs Ken Shamrock – D-Generation X: In Your House
One month after defeating Bret Hart in the most controversial moment in WWE history, Shawn Michaels faced the "World Most Dangerous Man" at D-Generation X: In Your House. Ken Shamrock was criminally underrated and should have held the title at least once in his career, this match is perhaps the closest he ever got to that opportunity.
7. Stone Cold Steve Austin vs Dude Love – Over The Edge: In Your House
After defeating HBK for the WWE Championship at WrestleMania XIV, Stone Cold Steve Austin began his industry-changing feud with Vince McMahon, who sought the help of Mick Foley's alter ego Dude Love to defeat the Texas Rattlesnake. Austin defeated Dude Love at both Unforgiven and Over The Edge, but this match was definitely the better of the two, but they're both worth watching.
6. Shawn Michaels vs The British Bulldog – In Your House 8: Beware Of Dog
This isn't their first or last match against each other, but it is probably their best. During HBK's 1996 WWE Championship run he defended the title against The British Bulldog in a classic match which saw Michaels try to outpace Bulldog while dodging the powerful grapple moves that will stop anyone in their tracks. It is a shame that Davey Boy never got a run with the World Championship.
5. Bret Hart vs The British Bulldog – In Your House 5: Seasons Beatings
A rematch from their classic Summerslam 92 match, Bret Hart faced his real-life brother-in-law, The British Bulldog for the WWE Championship. While not as good as their previous encounter, it was a fantastic match that put the technical and powerhouse styles against each other, resulting in a classic match that is worthy of your time.
4. The Undertaker vs Kane – Judgment Day: In Your House
At Judgment Day: In Your House, The Undertaker faced his brother Kane for the vacant WWE Championship with Stone Cold Steve Austin serving as the special guest referee. If Austin failed to crown a new WWE Champion he would be fired, which he didn't do after he counted both Superstars shoulders on the mat, which resulted in Vince McMahon firing him. That of course didn't last long and was overturned by Shane McMahon.
3. Bret Hart vs Diesel – In Your House: Rage In A Cage
Bret Hart can have a great match with anyone, and this match is no exception. Taking place just one month before WrestleMania XII, the match helped set up The Undertaker vs Diesel after 'Taker broke through the ring and dragged Diesel under the ring, presumably to the depths of hell.
2. Shawn Michaels vs Diesel – In Your House 7: Good Friends, Better Enemies
In Your House 7 saw the final PPV match for Diesel and Razor Ramon before they departed for WCW, and in the case of Diesel, this match is perhaps the best match that he ever had in the WWE. Facing his real-life best friend Shawn Michaels, the two Superstars put on a great match with the high flying and powerhouse styles contrasting with each other in a way that kept HBK as the underdog. It also featured a great spot where Diesel stole the prosthetic leg from wrestling legend Mag Dog Vachon and used it as a weapon.
1. Shawn Michaels vs Mankind – In Your House 10: Mind Games
Mick Foley came into WWE the day after WrestleMania XII in 1996, immediately being pushed into the spotlight with a long feud against The Undertaker. One of the more surprising moments came when he challenged Shawn Michaels for the WWE Championship at In Your House 10: Mind Games. On paper, HBK vs Mankind sounds like it shouldn't work, with HBK being more of a high flyer and Mankind being a violent brawler style wrestler.
Thankfully it did, and it became one of the highlights of 1996 as well as both Superstars careers, with both highlighting this match as one of the best matches that they ever had. In the words of Ric Flair, "Shawn Michaels could have a 5-star match with a broom", while Mick Foley has always been a very giving wrestler, looking to tell a good story and ensure everyone involved looks good, rather than playing political games to get ahead.
Combining these together resulted in a fantastic match that helped cement Mick Foley as a main event Superstar and a wrestler that can be trusted in high profile matches, and it helped show the flexibility and ability that HBK had to be able to work with any Superstar regardless of size or style. If you're looking to watch one match from 1996, this is one you should be checking out.
https://www.youtube.com/watch?v=_UTIS1cuqK8?t=1646