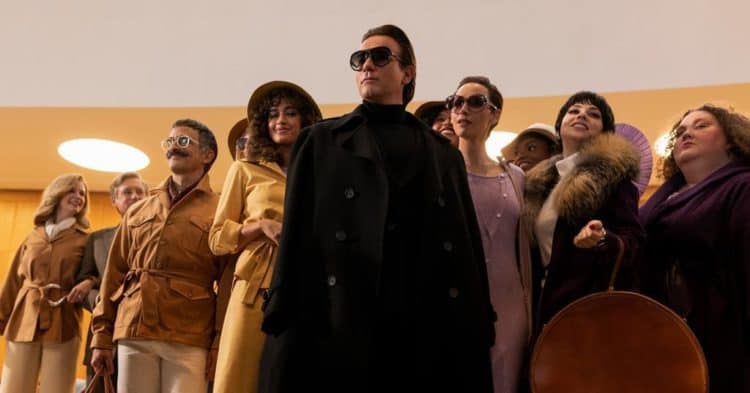 Roy Halston Frowick's love for fashion and design are best summed up in this quote: "It has everything. It's difficult, it's hard work, it's harassing, it's full of drama. I don't quite know where I got my ambition but I have it. I go into things with an optimistic point of view and I look at it straight and try to make it the biggest and best success I can. But the thing that holds my interest always is MORE; what's next, what's going to be the next exciting thing." His life and work are the subject of a new Netflix mini-series entitled Halston. It explores his rise to fame in the fashion industry in the 1970s and struggles along the way. Created by Ryan Murphy, this mini-series draws the audience into the over-the-top world of 1970s fashion. Here are the seven best fashion moments in the series.
Jackie Kennedy's Inauguration Hat
In the early 1960s, Halston was Bergdorf Goodman's in-house milliner. Designing the pillbox hat that Jackie Kennedy would wear for John F. Kennedy's 1961 inauguration put him on the fashion map. Soon after he was designing clothes for Hollywood's elite. Ironically enough, Jackie dented Halston's original design. "Funny thing about that pillbox hat," Halston told Vogue in 1966,. "It was made too small for her . . . but Mrs. Kennedy wore it anyway. When a gust of wind threatened to topple it from her head, she dented it hanging on to the hat. The Seventh Avenue copycat hat makers reproduced the design by the thousands so accurately that each pillbox had a dent in it."
Halston's Ralph Lauren Inspiration
When trying to market a new item to his patrons at Bergdof Goodman, Halston took his inspiration from another designer, Ralph Lifshitz. Ralph sold wide neck ties to Bloomingdales under the brand name of polo and refused to take no for an answer. Ralph would eventually change his last name to Lauren becoming the icon we know today.
Battle of Versailles
The Battle of Versailles, held in November of 1973, was the brainchild of fashion publicist Eleanor Lambert and helped solidify the place of American designers in the wider fashion world. When Versailles fell into disrepair, Lambert saw both a fundraiser and a public relations possibility. The show would pit French designers Yves Saint Laurent, Hubert de Givenchy, Pierre Cardin, Emanuel Ungaro, and Christian Dior's Marc Bohan against the American designers Oscar de la Renta, Bill Blass, Anne Klein, Halston, and Stephen Burrows. The French designers went first with a two-and-a-half-hour performance that was opulent but too stuffy. They missed the mark. The American designers on the other hand presented a 30 minute set that was more attuned to the time period. The clothes were the focus. Women's Wear Daily stated that "The American segment pulsed with the vibrancy of the groovy disco era, and a more liberated view of femininity." They ultimately concluded that the "Americans came, they sewed, they conquered."
The Ultrasuede Shirt Dress
This iconic 1970s fashion piece came to be because of a misunderstanding. Halston did not create ultrasuede, a lightweight polyester/polyurethane blend fabric with a suede-like feel, but discovered in at a cocktail party in Paris. Designer Issey Miyake was wearing a Ultrasuede shirt and said that the material was washable. Halston misunderstood this and thought he said it was water proof. Halston attempted to make rain coats out of ultrasuede but this failed for obvious reasons. The ultrasuede No. 704, a feminine shirt dress, would evolve out of this and become one of Halston's biggest sellers.
Caftans
Another iconic Halston piece was the flowing tie dyed caftans. These loose fitting garments looked great on a number of different body types and allowed freedom of movement. In the first episode of Halston, we see how they came about. Halston is inspired to create them when one of his proteges Joel Schumacher presents him with the tie-dyed fabric he created.
Liza Minnelli's Personal Designer
Halston had many patrons and celebrity clients throughout his career but none quite as close as actor/singer Liza Minnelli. They were each other confidants and supported each other through the ups and downs of chaotic creative lives. Liza even performed at The Battle of Versailles as a favor to Halston. He was her personal designer helping her create her signature look. She wore his designs at important moments in her life such as her gold ensemble for her 1973 Oscar win and her yellow pantsuit for her 1974 wedding to Jack Haley Jr.
Halter Dresses
Another reason to be thankful to Halston is the halter dress. Halston was a master at draping these creations which were perfect for the disco era. They would be fastened at the waist and neck allowing freedom of movement. They created a narrow, elongated, feminine silhouette. Liza wore a quintessential red Halston halter for her 1972 Bob Fosse "Liza With a 'Z'" concert film .
Costumes for Martha Graham
Halston designed the costumes for his friend, dancer and choreographer, Martha Graham's "Rite of Spring." This would mark a return to designing for arts sake and a move away from business-fueled commercialism. It would happen during tumultuous time in his business where he was kicked off the label bearing his name. The costumes would have his signature draping and flow allowing the dancers freedom of movement.
The Bottom Line. . .
Director Dan Minahan told the LA Times he was drawn to Halston because "he's a tragic hero. This idea of someone coming to New York, creating this made-up name, building it into an empire and then being stripped of his name and company — he couldn't be Halston anymore. And to me that was very rich. It seemed like a really archetypal American story." Halston greatly impacted the fashion world and much like the Battle of Versailles did for American designers Netflix's mini-series Halston will help cement his legacy.