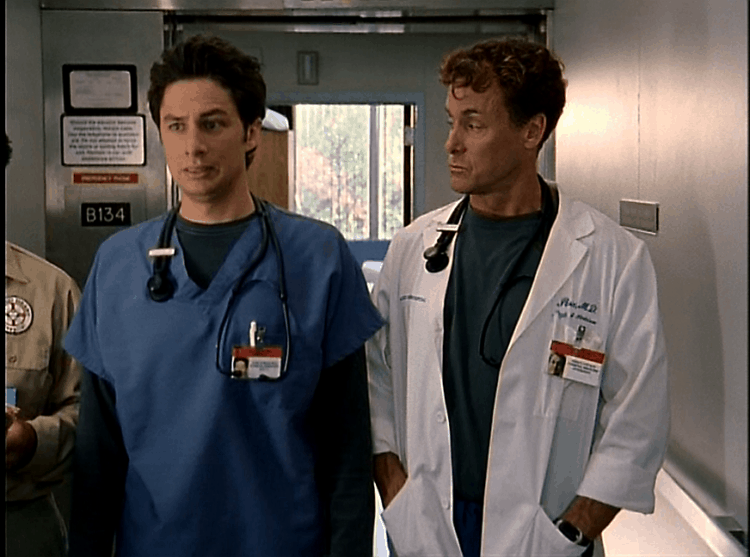 It's time to mark your calendar! The Scrubs cast is having a reunion that is meant to celebrate 10 years since the show went off air. Time flies by so fast as it feels like it was just yesterday when viewers got to see the last episode of Scrubs on NBC. Some will ask, didn't they just reunite some years back? Well according to Distractify, the last time the actors of the hit comedy got together was two years ago hence feel there is a need for another reunion. Stars of the show including Zach Braff, Sarah Chalke, Donald Faison, Judy Reyes, John McGinley, and Christa Miller will reunite to celebrate the 10-year anniversary of the show.
A Recap of the Show Scrubs
Scrubs is a medical comedy series that aired on NBC from October 2, 2001, and later aired on ABC until March 17th, 2010. The show follows the lives of employees at a fictional hospital called the Sacred Heart Hospital. The title is a term for low ranking medical personnel and at the beginning of the show most of the characters are interns at the hospital. Scrubs is based on the unique perspective of John Dorian (J.D) who narrates for the first 8 seasons. Kerry Bishe takes over from season 9 narrating as Lucy Bennet. The story is based on the comical daydreams of Dr John Dorian and later on Lucy Bennet.
The show gave actors such as Zach Braff a chance to improvise their own lines. Since every episode is an entry by JD in his diary almost every episode is titled 'My'. A few of the episodes are told from other character's points of views and these episodes are titled 'Her Story' or 'His Story'. There is a brief narration period in the beginning and the end from JD,D but these episodes are narrations by other characters apart from JD. Narration duties usually transfer mostly when there is physical contact between two characters. The show received critical acclaim throughout its run with many praising the cast for its humor especially Zach Braff's fantasies. Even though the cast filmed the 8th season as its finale, it got a reboot and got moved to a medical school setting.
The subsequent seasons got mixed reviews as many were unsatisfied with the new cast's performance with some even terming the replacements as a mistake that serves as a step backward for a network that had made huge strides at comedy. The show, however, has had a great run and has received 17 Emmy Awards nominations in various categories including its casting, writing, and cinematography just to mention a few. It has won 2 awards including a Peabody Award and a Humanitas Prize in 2002, 2008 and 2009. The ATX Television Festival announced that its ninth annual event which is set to run from June 4th to June 7th will feature, according to Austin 360, the iconic medical interns of the Scrubs show and other cast members of the beloved show for a reunion panel.
The exciting news is that Scrubs isn't going to be the only show that offers a reunion. Cougar Town will also see its cast meet after 5 years. Cougar Town is another one of Bill Lawrence's sitcoms which starred Courtney Cox who will unfortunately not be attending, Josh Hopkins, Brian Von Holt, Ian Gomez, Busy Phillips, and Robert Clendenin There will be numerous activities in the festival such as a conversation that focuses on NBC's Female Forward directing initiative. Additionally, the attendees will get a rare screening of the pilot of the show 'LA Confidential' and the show 'The Other Two' which airs on Comedy Central. There will also be panels for shows such as 'CW's Full Frontal with Samantha Bee' and 'Nancy Drew'.
According to Page Six, NBC's cast of 'Parenthood' will also be reunited for its 10th anniversary. The cast of the show including Lauren Graham, Peter Krausse, Erika Christensen, Monica Potter, Craig T Nelson and Mae Whitman are all scheduled to attend alongside the show's creator Jason Katims and executive producer and writer David Hudgins.
What is the ATX Television Festival?
This is an annual event that is based in Austin Texas that showcases and celebrates the past, present, and future of the TV industry. The event takes place for over 4 days and is open to members of the public. Some of the activities that take place in the event include screenings of movies, Q&As, industry panel discussions, and cast reunions. The festival was founded by Emily Gipson and Caitlin McFarland, and was first held in June 2012. When the show began it had only 700 attendees but the number has since risen to 2500 as of 2017. The film festival organizers now work together with studios and networks that want to promote their programming.
The Festival's History
The fist ATX festival took place in 2012 from June 1-3. The headlining reunion was with cast members and crew of shows such as 'One Tree Hill', 'Adult Swim', 'Friday Night Lights', and 'Love Monkey'. Jason Katims and Bill Lawrence were the panel showrunners that year. The second festival came around June 6-9 2013 with the headline event being Parenthood and cast reunions for the shows 'Husbands' and 'Friday Night Lights'. Rob Thomas and Michael Jacobs were the panel showrunners. Notable screenings that year included 'Once Upon a Time' and 'Boy Meets World' among others. Season 3 of the festival took place in 2014 from June 5- June 8, and conversations with Carlton Ruse and Henry Winkler stole the show. Cast and crew members of 'Orange Is the New Black', 'Justified', and 'Archer' were among the reunions that took place that year at the festival. The 4th festival ran from June 4-7 2015 with special reunions by 'Gilmore Girls', 'Queer as Folk' and 'Dream On'. Amy Sherman and James Brooks were the showrunners in the conversations. Season 5 was held from June 9-12 2016 with reunions of cast and crew members from 'Ugly Betty', 'West Wing' and 'Rescue Me'. Season 6's event ran from June 8-11 2017 with a special reunion by 'Battlestar Galactica'.