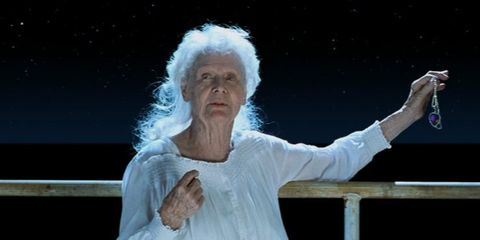 The overall feeling as to why Rose tossed the Heart of the Ocean over the rail in Titanic is pretty simple: it was time. To better explain that, one has to understand the essence of the story and why she kept it, to begin with, and how it came into her possession. As most everyone that watched the movie knows, Rose was engaged to Caledon Huckley, who was a rather cruel man and looked at her as a possession. But the Heart of the Ocean was her gift, and eventually, she asked Jack Dawson to sketch her portrait with nothing but the pendant on, which he did. Eventually, Cal found out about Rose and Jack and framed Jack by placing the pendant in his jacket. Unfortunately, once Cal took it back, he forgot about the pendant when he put his jacket on Rose during the evacuation of the Titanic. Rose only found the pendant when she reached into her pockets near the end of the movie, and she kept it from that point on, though she never sold it, figuring that she didn't want to live off of Cal's money since legally it was still his. But upon coming to the ship to tell the story of how a picture of her came to be found on the ruins of the Titanic, she never did allow the treasure hunters to know just what happened to the diamond.
Now to the best part, the reason why she tossed it over the side. Again, it's a simple matter, since Rose had told her story, she'd relayed what had happened aboard the Titanic, and she was ready to go, to meet Jack and the rest of those that had been fated to perish upon the ship on that fateful night. She'd made her peace, and the diamond, which was seen as a prize to many, was to her a thing that had served its purpose and needed to be returned to where it belonged. Some might have said it was useless to her, and that might have been true, but it was more than that. Her time was done and her story was at a stopping point as she'd come to realize, and it was time to put things back where they went, to tidy up before making that final journey. It sounds sappy, doesn't it? But it's also quite poetic and more than a little touching to be certain. After the sinking of the Titanic, Rose went on to live a full and engaging life that saw her keep a promise that she'd made to a man she'd fallen in love with during her youth and had lost during one of the biggest tragedies in her life.
The fact that Rose didn't sell the diamond and live off of the fortune that it would have brought proved that she was both a decent person and that she was extremely headstrong since she didn't feel the need to be petty or dependent on anyone, no matter that Cal had likely figured the diamond to be lost. Titanic is a story about a maritime tragedy that was unprecedented at that time but has since become the basis for many stories that have gone on to win the hearts of many fans. But this particular blockbuster was one that showed the best and the worst of humanity. The story that unfolded due to Cameron's imagination and his ability to study and take into account the details of the sad and horrific fate that the ship and its passengers endured was one for the ages, no matter how much people might want to say that a good deal of what happened likely didn't. Rose's experience on the Titanic went from being a young woman who saw life barreling down on her in the form of being a rich man's wife and little more than a prize that he could show off to others, to a free and independent thinker that lived for adventure and wasn't about to allow anyone to tell her what she was going to do. In fact, in the alternate ending of the movie, it was revealed that the man looking for the diamond caught her in the act of trying to toss it overboard, but she still held onto her principle as she allowed him to hold it before tossing it over the side, returning the Heart of the Ocean to its proper home, in her eyes and the minds of those that might agree with her.
It wasn't done out of spite, or out of some noble ideal, it was simply time to return a part of the story to its rightful place, and in doing so Rose might have very well assured her own place among the crew as the final images revealed, back where she was happy.