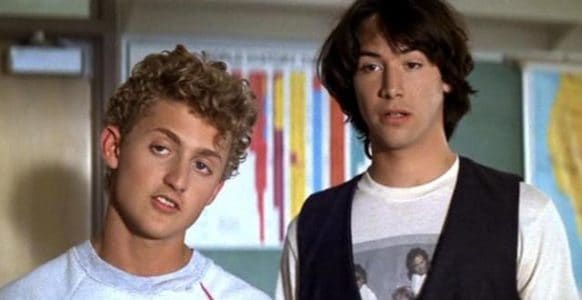 It's amazing how something as classic as Bill and Ted was started, especially when it was just a couple of guys sitting around spouting lines at each other in an attempt to come up with something. That's the basic idea of what happened between Chris Matheson and Ed Solomon when they rented out a Hollywood theater for $20 and invited a group of comedians to come and kick it with them. The creative process started to flow and things just kind of went on their merry way, and eventually the idea for Bill and Ted started to materialize. What's really funny is that there was no talk of history to start with, just a random scene between two friends that were trying to sort out current world affairs. Of course, the two teens being portrayed were about as ignorant as they could be, since that happened to be the idea that stuck, but after a while, things started to take shape and the idea of two less than intelligent individuals that needed to figure out how to pass a history class came to life. Since their debut on the big screen, Bill and Ted have slowly but surely become movie legends that were popular in their own time and have been brought back in a big way after about three decades to finally finish the last chapter in their story that a lot of fans might have believed they'd finished with Bill and Ted's Bogus Journey. The sequel didn't really turn heads as much as the original, but it was still fun in its own way and appeared to settle the fate of the Wyld Stallyns since they had their lives together and had apparently created the music that had helped to revolutionize the world.
But apparently that's not the case since here we are waiting for Bill and Ted Face the Music to come out. It does sound as though a third movie was always a desire and Alex Winter and Keanu Reeves were never against it, but as the years passed by nothing happened and both men went their own ways with their careers as Alex kind of disappeared after a couple of appearances despite the fact that he stayed relevant thanks to his contributions. Keanu on the other hand saw his career blow up in a big way since he went on to become an action and drama star, while the idea of the third movie was put on indefinite hold until recent years saw it make a comeback finally. Now that the movie is almost here people are fully ready to see how the story ends and according to Kevin Smith, it's a tearjerker since he managed to see an advanced screening of it and thought the movie was great. While people will take that as they will, the idea of the movies finally ending is something that meets with a lot of mixed reactions since Bill and Ted have been a part of pop culture for so long that trying to think of a fitting ending that would make a director cry has already made the rumor mill spin a little quicker as people try to think of what could possibly be in store for the duo.
Thinking back to how it all started is interesting since if one is being honest, some of the most grandiose ideas that have ever come to the big screen have started with exceedingly simple collaborations that might not have gone anywhere without the right circumstances. Bill and Ted's Excellent Adventure isn't bound to be seen as the most groundbreaking movie of all time, but it's been a cult classic and fan favorite for so long that it's bound to go down in history as one of the most loved movies of a generation. Plus, it's a movie that the people could surely use at a time such as this when the nation is currently being divided in a huge way. There's nothing to say that the movie will cause greater unity, but it will definitely remind some folks of what's really important and why fighting amongst each other is rather silly when thinking about what's really important. Bill and Ted don't have all the answers, unfortunately, but the feeling and idea behind their movie is something that would be highly beneficial for a lot of people to think about since it's meant to promote unity instead of division. The idea behind it might not have been the driving force that managed to get the movie off the ground, but it's something that has made the movie great and highly memorable over the years. Despite being about two brainless high school students that were stuck trying to figure out a way to pass their class, it became something much more that people have been able to enjoy for years and will continue to enjoy for as long as they can.