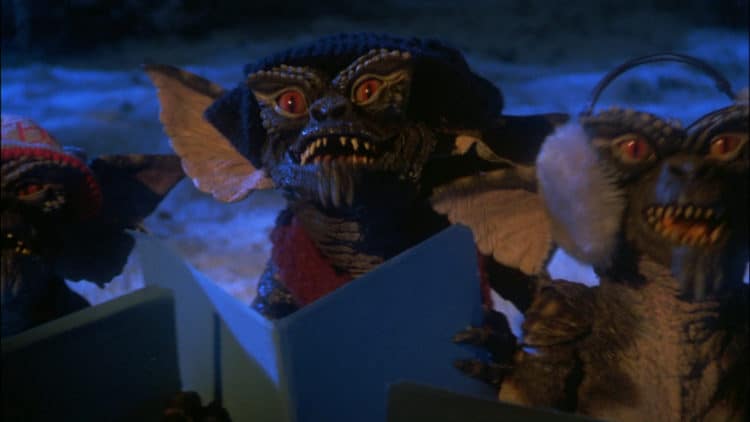 It was in 2018 that rumors of a new Gremlins movie started coming out as David Stephens at ScreenRant and many others were eagerly reporting that it would be reboot and not a continuation of the movies that came out decades before. But as of late the news has kind of died off concerning Gremlins and one has to wonder why. It could be that as fun and as many laughs as this movie brought it was possibly perfect enough as it was. That doesn't seem to be the case though since quite honestly the reboots and remakes that have been coming out again and again throughout the years would seem to argue that it doesn't really matter just how popular a movie from back in the day was, the various studios that are vying for dominance or just to stay relevant in Hollywood are bound to latch onto something that can help them outdo the competition. Gremlins is one title that many people have been wondering about since there was never a truly definitive ending to it considering that Gizmo was still alive by the end of the second one and therefore there was always the likelihood that another round of gremlins could be born. But then again, who's to say that Gizmo was the last of his kind?
Seth G. Macy from Medium makes a very good point that was never really addressed in the movie but should probably be thought about since it makes a lot of sense. Recall how Gizmo was always calm and quite nice to those around him, and now think about the mogwai that popped out from his back when he was exposed to water. Each one of them was a rascal and a troublemaker, especially their alpha, Stripe. This means that Gizmo is the anomaly, not the rule, and it seems that this should be featured in the next movie should any producer brave enough to bring it up think about it. If nothing else it might lead to an interesting origin story about where Gizmo came from and why he's the only mogwai we see in the films apart from those that eventually turn into gremlins.
That being said there was a rumor started back in February and reported on by Chris Evangelista from Film that there's a Gremlins animated series in the works from WarnerMedia that could be arriving. One has to think that an animated series might be able to get away with more unrealistic limits than a live-action show could, but in all honesty the Gremlins movies did push the boundaries quite often since they did several things that didn't seem like they should be possible. Hotwiring an electric chair to speed along its track, becoming a creature of living energy, turning into a gargoyle, those kinds of things. That was the fun of the movies though, the gremlins were so over the top and yet so bent on mischief that they didn't always kill, but they did create the kind of havoc that made it possible for the fatalities to mount up. In the second movie they definitely took on a more dangerous cast since they tended to kill a little more often and weren't bound by the silly nature that they'd been given in the first film.
But as I recall the rumors that started about another movie at one point did say that the next Gremlins film, apart from being a reboot, would go a lot darker and be less comical than its original counterpart. In a way it's almost as though the original director wanted to show the gremlins in a playfully homicidal light that made them all seem like little psychopaths that were intent on having fun even as they went about destroying anything and anyone they could. Turning them into darker versions of themselves makes it seem as though they'd be absolute nightmares, and that Gizmo wouldn't stand a chance when it came to standing up against the lot of them. But to be fair in the first movie he wasn't much of a fighter and didn't do a whole lot since the only real act of violence he took was to aid in the final downfall of Stripe, who was about to recreate his entire army of gremlins after the lot of them had been blown up in a theater.
Making a darker Gremlins movie does seem like it would appeal to fans of today and quite possibly to the fans that enjoyed the movies in the first place. While the first one was actually kind of amusing and even terrifying the second one was kind of, well, meh. Bringing out a new movie though and making it a true horror movie without any of the frivolity would likely change the face of the entire franchise though.