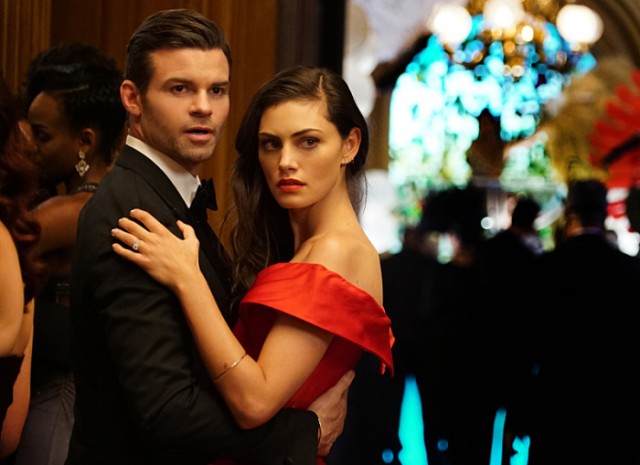 A gathering of The Strix delivered a bloody good episode of The Originals. Â The humor that's been lacking in the dark and frankly boring season so far has started to make a comeback as storylines continue to slowly drag along.
We're being hit over the head over and over again with this bloodline war, but I fail to see any threats yet. Â Aside from Lucien and his seer Alexis, who claims she's now seen the downfall of Klaus in the future, there's nothing of substance brewing between the siblings' sires other than old feuds. Â The fact that The Strix is made up entirely of Elijah's sires is a little intimidating, but they're all too noble to make a move unless provoked. Â Maybe that's the point of this slow burn at the beginning of the season. Â A domino effect will follow once one wrong turn is taken, and it'll all be downhill from there.
Lucien and Klaus crash this elitist party in comical fashion. Â I may not know enough about Lucien to trust him, but he's definitely funny. Â He shares in Klaus' disgust when he makes the comment that it's a "room full of Elijahs." Â Take away the supernatural aspect of their circumstances, and I would love to see Lucien and Klaus as two old college buddies reuniting. Â 
The reason they crashed wasn't to instigate Elijah further, but rather to get Alexis back with Freya's help. Â It was pretty cool to see how Alexis uses her knowledge of the future to outwit every spell Freya tries on her. Â This all begs the question, though: isn't it possible for the future to change? Â Alexis has a clearer vision of at least Klaus' death, or so she claims. Â Confusingly, she'd rather not speak of the specifics but offers her hands to Elijah and Hayley to feed off her and see the vision for themselves. Â Her blood must've been poisoned along the way and I thought she'd died. Â Apparently not, but it would've been interesting if she died being the only person to know Klaus' fate. Â 
Of course, at the end, we see that Aurora has made her way into New Orleans unnoticed. Â She presumably had a hand in the poisoning. Â The preview for next week shows her making her presence known to Klaus, and there's a romantic history between them as we already know. Â Clearly, they didn't end up living a fairytale life together so there's bound to be some fun bickering between the exes.
The only unpredictable twist of the night comes when Marcel outsmarts Tristan and the rest of the Strix leaders in his initiation. Â By allowing Hayley's werewolf venom to poison his blood, he knew he'd end up the winner in this scenario. Â He then has to go humbly ask for Klaus' blood to heal himself, which he reluctantly does. Â Klaus is right to be weary of everyone. Â I'm not sure Marcel even understands the extent of what he just signed up for. Â Especially since he's the first member to be sired by Klaus, he's got to be extra careful. Â Once the tides in this war shift, he'll be the easiest target to get to Klaus. Â It all seems like a huge conflict of interest for The Strix to even be feigning an interest in Marcel, because if they happen to be responsible for Klaus' true death, they'll be killing their new friend off in the process. Â 
What did you think of this week's episode of The Originals? Â 
[Photo via The CW]