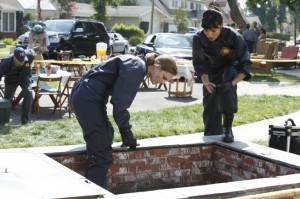 Do you know how difficult it was for me to do this recap as a Canadian? We don't spell it "neighborhood". We spell it "neighbourhood". My spellcheck wouldn't recognize the American spelling and it was driving me crazy!
We open this week's episode of Bones at a neighborhood luau. The neighbors are standing around, chatting, when something explodes in the luau pit. As it turns out, under the roasting pig there was a charred body.
Cut to the Jefferson, where Booth is waiting for Brennan and Cam. Parker's with him, since his mom and her boyfriend are away for the night. Parker's getting so big and he's sooo cute. He wants to see the barbecued body, but Angela's on babysitting duty instead. And she's going to paint Parker's face.
The team arrives at the crime scene and Brennan starts going on and on about cultural studies of the suburbs. I lived in the suburbs my entire life and none of my neighbors ever killed each other or went crazy like these people. Maybe the suburbs in Canada are less crazy. I don't know. Cam tells a story about how a guy on her street cut his lawn diagonally and the rest of the people got so pissed they set his garage on fire. Uh….psycho much? Booth goes off to interview the neighbors.
First we meet James and Nate, the two gay guys who had the BBQ pit in their yard. Then there's Trey, who is the gardener/handyman and hopefully my next boyfriend, because he is cute. Then there's Mary Kay and Bob Sayles, and their daughter Paige (who's about 18 and blonde). They're talking about digging the pit and Brennan comes by with aviator sunglasses. They recognize 'Kurt's'glasses and realize he's the dead body. Kurt and his wife live in the house with the big wind turbine on their front lawn.
Sweets is now talking to Kurt's wife, Kelly, at the FBI, confirming that her husband was the one who died. She discusses the fact that she and her husband didn't fit into the neighborhood because he installed solar panels and the wind turbine. She tells a story about the time a dog peed on the wind turbine and then Kurt gave the dog a laxative and nearly killed it. Nice guy. Anyways, they got shunned after that.
Hodgins is examining the BBQ pit and communicating with Cam and Arastoo over video link, who are back at the Jeffersonian, examining the body. Hodgins found pebbles embedded into the body and then spot the same pebbles on a nearby lawn. She tells him she respects his religion and he doesn't have to touch the dead guy and then when he gets so pressured by her constant nagging, he drops the accent and reveals his American accent. Cam is shocked. He goes off to pray and Hodgins calls to say he found pebbles covered in blood.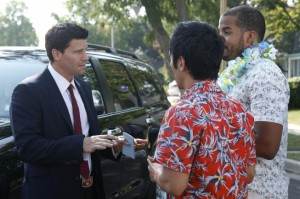 Angela is painting Parker's face and he mentions that his friend's dad just got a new girlfriend and his friend goes to the house to go swimming all the time. So he asks Angela if she has a boyfriend – she doesn't. Parker says that Booth needs a girlfriend to 'sex up'. Angela's all 'yeah, I considered it, because he's hot, but no.'
Cam calls Booth and Brennan to tell them about the blood Hodgins found and the fact that Kurt died that morning. Then she tells them that Arastoo was faking an accent. B&B are back talking to James and Nate. Apparently Kurt had poisoned their dog, but they deny that they killed him.
Cam and Arastoo are examining the bones, trying to find puncture wounds. Arastoo drops the accent when Cam tells him to stop pretending. There are multiple wounds on the body, but none so far near major arteries. Hodgins comes by with a bullet he found in the pit and Arastoo (the accent back in place), thinks that the bullet may have caused the blood loss.
Booth is in Angela's office to pick up Parker, and Angela tells him about their conversation about Booth's sex life. She says Parker thinks Booth needs a girlfriend. Cam comes by to give the bullet to Booth and Parker asks if she has a boyfriend (no….but she definitely sexed up your dad, buddy). Booth takes Parker home and then goes to interview a neighbor.
Specifically, Elliot, who hates the suburbs. But his wife wants kids and lawns and he got suckered. Turns out Elliot has a handgun. He also recently payed Kurt $5,000 to buy a second phone line. Ouch. Elliott denies shooting Kurt. He did, however, shoot the pig.
Cam goes to Sweets'office to say that Arastoo is faking an accent. She wonders whether he's crazy or weird and then tells Sweets to find out.
Brennan tells Booth that Kurt was stabbed and sawed, but neither of those explain the bleeding to death thing. Sweets starts talking about suburban communities and resentment. Brennan and Sweets argue about anthropology and psychology (cause she hates psychology….we get it). As Brennan goes to the car, Booth pulls Sweets aside to tell him about Parker. Sweets tells Booth that Parker is just getting interested in sex and wants to see how his father interacts with women. So Sweets suggests that Booth interact with women around Parker.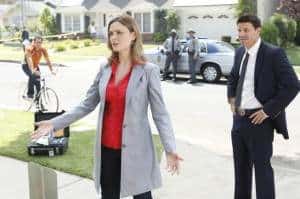 Booth's back in the suburbs, writing down motives and alibis and watching all of the neighbors. As it turns out, at the time of the murder James, Mary Kay and Elliott were all out biking together. Hodgins comes by to tell them about the particulates on the saw wound and Booth is very interested in Trey, the cute neighborhood gardener.
So Trey's pulled into the FBI for questioning. He denies sleeping with Kurt's wife. Instead, he was sleeping with Paige and Paula (Elliott's wife who wanted to stay in the suburbs). Apparently Kurt found Trey and Paula together one time. He says he was with his real girlfriend at the time of the murder.
B&B go to talk with Paula. Brennan doesn't like her because she's a therapist. She says that Kurt only smirked when he found her with Trey. Apparently Paula suspected that Kurt was sleeping with young Paige behind his wife's back, so Paula demanded the $5,000 back. Paula thinks that maybe Paige's father killed Kurt (because of the relationship with his daughter).
Paige admits to the affair. Booth asks if maybe her father or Trey could have killed Kurt for sleeping with her, but Paige says neither of them know about Kurt.
Sweets is meeting with Arastoo, who confronts him about the fake accent. Sweets thinks that Arastoo fakes an accent so he doesn't have to justify his devout Muslim religion.
B&B are driving, and Cam's on the phone, talking about how Kurt had saltpeter in his blood. Apparently it's a blood thinner, so the previously-thought superficial wounds would have caused him to bleed out.
So B&B interview Kurt's wife, Kelly. She says she told Kurt to stop cheating on her, but he wouldn't, so she gave him the saltpeter, hoping it would cause him to stop having erections and not sleep with Paige. Oh, wait, Kurt was sleeping with Paige and her mother, Mary Kay. Booth brings Mary Kay in for questioning and she's very surprised to hear that Kurt was also sleeping with her daughter, Paige. Booth says that Mary Kay would normally be suspect, but she was out biking with James and Elliott. Mary Kay wonders if her husband, Bob, killed Kurt.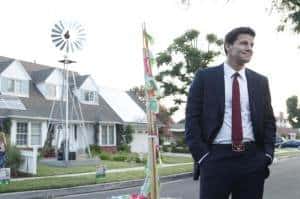 Back at the Jeffersonian, Arastoo enters a lab filled with Angela, Hodgins and Cam and just starts talking in his American accent. Angela and Hodgins are shocked. He explains to them why he faked the accent. Then he goes on to describe a wound Kurk sustained while on the ground – maybe with a golf club.
At the FBI, Booth is explaining to Brennan that it takes a village to raise a child. So he asks Brennan to interact with him in front of Parker. Sweets comes in to say that he told Bob that Kurt was sleeping with his wife and daughter and believes his shock was genuine. B&B go to talk to Bob, who laments his failures as a father. He makes a Palin joke and said that teach abstinance doesn't work in Alaska, so why would it work in the suburbs. Heh. Bob doesn't have an alibi (he was home alone, sleeping). He says that he took two jobs to provide for his familiy – one as a CPA and the other working with Kurt. They started an internet business (which he can't continue without Kurt) – selling sex toys.
The squints realize that Kurt was killed with the pointy tip of a sign in the neighborhood – a sign that's on every line. So Hodgins goes to spray each sign for blood and he finally finds it…..on a sign on Kurt's line. B&B quickly realized that Mary Kay kicked Kurt when he was down, and James and Elliott also hit him. Elliott tries to bike off, but Booth smacks him down and then the three of them get taken into custody.
Sweets comes by and doesn't understand the motive of the murderers. Brennan hypothesizes that James was pissed that Kurt poisoned his dog, Elliott was pissed about the $5,000 and Mary Kay was pissed that…..I don't know. Sweets thinks that the three of them snapped at once because of the ugly wind turbine.
Back at the Jeffersonian, Cam, Hodgins, Angela and Arastoo are chatting and enjoying homemade moonshine. They're questioning Arastoo about his religious beliefs.
Cut to the Royal Diner, where B&B are having lunch with Parker. Parker tells Brennan that Booth needs a girlfriend. Brennan asks Parker why he wants his father to have a girlfriend. It's so Parker can have a pool – because his friend's dad got a pool when he married his girlfriend. So Brennan gives Booth a key to her apartment and says he and Parker can use her pool whenever they want.
Email me at clarissa @ tvovermind.com
Follow me at twitter.com/clarissa373