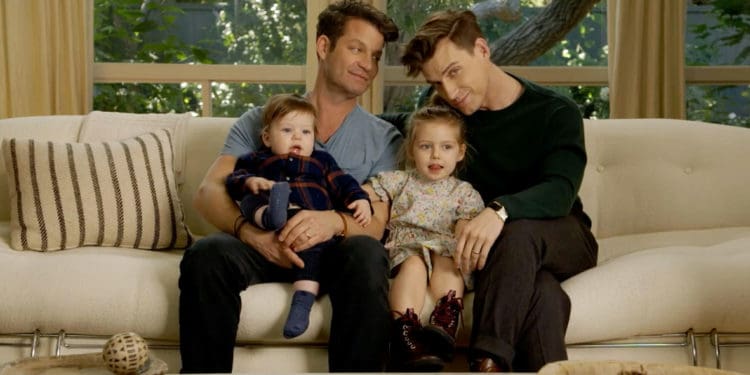 Nate Berkus and Jeremiah Brent know a thing or two about a thing or two. Not only are both exceptional designers who know all there is to know about houses and design and homes and projects and HGTV filming, but they also know what it's like to work together. This is, as they say, not their first rodeo, and these two are good at what they are doing. They are taking the world by storm, and they have a new project to share with the world. These two are now the hosts of "The Nate and Jeremiah Home Project," and their fans are excited to learn more about what they are up to.
1. They are Married
We did mention that they've worked together before on another show, but did you know that they work together on many projects? That's right; they're a married couple working on the biggest project there is – living life as a married couple with two kids. It is the busiest, yet most rewarding, job of all.
2. They Focus on Stories
HGTV always tells a good story, but this new show tells a lot more of a story than the ones before. This is a show that focuses on what this lovely couple finds important – the heart of the home. They believe the heart of the home is the family who lives in it, and that is why they spend so much of their time focusing on the people they are working with, their stories, and their lives. They also do some designing, but the emphasis is on the relationship.
3. This Show's Birth Story is Sweet
According to Berkus and Brent, this show was born out of stories. They want to know the families personally. They want to know that the families they are helping to design homes for are getting exactly what they want that is both meaningful and special to them in a way that some other designs miss. The point is that the homeowners share what is important to them, and these two find ways to incorporate those things into the design.
4. Berkus' Life Story Plays a Part
Long before Nate Berkus and Jeremiah Brent were together and married, Berkus was the biggest name in HGTV and also the man dating Fernando Bengoechea. Fernando was a famed photographer, and his story is tragic. The two were together on vacation in Sri Lanka when a tsunami struck, killing many – including Fernando. Since his former partner's death, Berkus has kept the woven photographs that his former partner gave him as a reminder of that time in his life and the love that he lost.
5. They're Sticking to NYC
At the moment, this show is going to focus on the homes in and around New York City. The first episode shows a couple of sisters in Queens, New York, who are looking to make some changes in their own lives. While these two are not yet doing this in other areas of the country, there is no evidence to suggest that they will never change cities.
6. They're Getting Sentimental
Some people have a hard time letting go. They may not be hoarders like you see on television, but they have a difficult time getting rid of things that are no longer important to them in their lives. This is a situation that so many people live with, and it's one that we get. They go into the homes of people and help them learn to refresh their lives by getting rid of what is no longer serving a purpose.
7. You Get to See Personal Details
Unlike other reality shows like this one, fans will get to see the inside workings of this family's home. Nate and Jeremiah will show themselves at home with their son and daughter. They will share their own lives and homes, and they will find a way to make sure the world knows that they are just a couple of down-to-earth people.
8. When to Watch
Now that you know you'll be watching, it's time to find out when to tune in. This show will air on Tuesdays at 9 pm beginning on October 5. You can also stream it on discovery+, and it will be worth it to watch.
9. They are Proud Parents
One thing you will see when you watch this show is just how proud these two are of their two children. Their daughter, Poppy, was born in 2015 nearly a year after the couple got married. Their son, Oskar, was born in 2018. They are navigating their lives as a family of four, and they are doing a lovely job of it.
10. They Are Personally Involved
Another aspect of this show that differs from others is the fact that these two are very personally involved in what they are doing. They have a lot of input on the way the show is being handled, and they are loving the way that this is working for them.work together