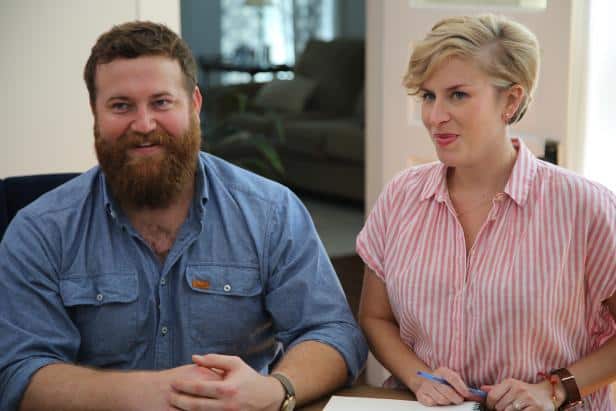 According to Amber Katz at Domino, Ben and Erin Napier, hosts of the HGTV show "Home Town", are the all new Chip and JoJo Gaines from HGTV's "Fixer Upper". In fact, they are to Mississippi what the Gaines couple is to Texas. The artist (Erin) and the craftsman (Ben) are living in Laurel, Mississippi, and they love to welcome newcomers to their little Southern town and help them to locate, buy, and restore historic homes. So, here are Five Life Lessons HGTV's "Home Town" Teaches Us:
1. Always Have a Plan B:
In the Home Town episode entitled "Move it or Lose it" which aired on Monday, February 12, Ben and Erin discovered just how important a Plan B can be. Newlyweds, Robyn and Cassidy, want to not only have them renovate Robyn's great-grandmother's home, but they also want the crafty Home Town couple to move it as well. The property was once Robyn's family farm, however, it had recently been sold. The new buyers only wanted the land and not the house, so they were going to tear it down. Robyn, of course, didn't want it to simply disappear, so she planned on having it moved. The house itself, which was built in 1938, is 1800 square feet with two bedrooms, and a number of very desirable features like hardwood floors, interior French doors, and high bead-board ceilings. Nice. Not so nice, however, are the rotting porch and two support columns that are missing, as well as the unique feature of having three separate front entrances.
In addition, the overall cost of moving the vintage home could prove prohibitive. It would be approximately $15,000, however, if it could be done, then the couple's . If that can be done successfully, then the couple's $100,000 budget would leave approximately $85,000 for the renovation. And, naturally, Erin and Ben have some great ideas for that.
But, back to the issue of the move. Of course, you can always expect a number of inherent risks with moving a house. In addition, there are numerous things that could potentially go wrong. In fact, some houses don't end up surviving the move. Erin admits that it can be a bit intimidating, which is truly an understatement. Ben added that he's never had to move a house and the newlywed couple wants them to actually pick up the house, relocate it, and make it beautiful. Sounds daunting but the Napiers are definitely willing to give it the old college try, however, they have the good sense to have a Plan B in their back pocket just in case the move is a failure. That scenario includes The Key House, which is a charming vintage home built in the 1940s that offers some really nice features. One of the best features is that it doesn't need to be moved.
So, how did it go? Did Erin and Ben need to use their Plan B? No, after a collapsed chimney and a big moving adventure, renovations were underway and the house was sitting on nice firm ground. And, of course, when they were done, it was gorgeous just like all of the houses that the couple renovates.
2. The Safest Tool is a Careful Worker
This is actually a sign in Ben's workshop and it's really quite astute. Not only can it apply to woodworking, like it does at the Scotsman company, but it also applies to every other thing in this world that involves worker safety. And, Ben's workshop is not only safe but he also creates some of the most beautiful custom furniture pieces and accessories for their clients that we've ever seen on an HGTV show! Even better, he shows many of the steps and equipment that go into producing them, which is not just entertaining but educational as well.
3. You Can Never Have Enough Clamps
Yes, this is another of Ben's workshop signs and sure, it rings true for woodworking shops, but also in many ways can be applied to numerous other things in life. Believe it or not, there are a number of different types of clamps, including:
Angle Clamps.
Band Clamps. .
Bar Clamps.
Flooring Clamps
Locking Clamps
Quick-Release Clamps. …
Screw Clamps (use a screw mechanism for adjusting the jaws and clamping a piece in place),
Toggle Clamps.
4. It Doesn't Have to be Expensive
In fact, Erin and Ben teach us that some simple cosmetic improvements can certainly be enough for renovating some rooms in a home. You don't necessarily always need to do any kind of major overhaul. You can just refinish the floors, paint the walls, and switch some of the light fixtures. A little goes a long way and Erin is a master at finding furniture and accessories that aren't expensive. They just look expensive. And, so do the custom pieces that Ben makes in his workshop. Put them all together and you have the perfect look that defies those old decorating rules that involved spending a ton of money. .
5. Anybody Can Make a Difference
Now, many couples might hesitate to try to make their town more beautiful, thinking that they can't really make a difference. But, Erin and Ben Napier have shown that you really can. One house at a time, they're changing the entire landscape of their home town of Laurel, MS. And, as their popularity grows and grows by leaps and bounds, they'll be renovating more houses and putting more smiles on the homeowners' faces as they are introduced to their new modernized home that has still maintained its vintage charm.
Tune In to HGTV
All in all, we have now learned that some expert renovations, cheap real estate, and a husband and wife team that is as talented as they are cute, can make for a seriously enjoyable show. So, tune into HGTV and catch some amazing renovations as well as the beautiful smiles on the homeowners' faces when they see what Erin and Ben have done to make their house a home.
Tell us what's wrong with this post? How could we improve it? :)
Let us improve this post!