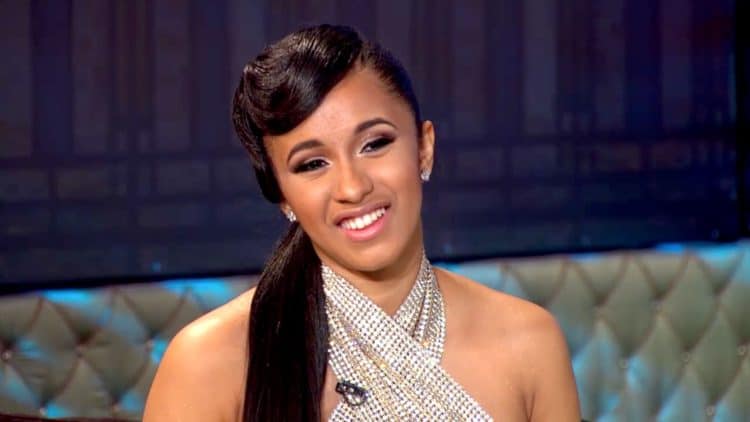 When it comes to making messy television, Mona Scott-Young might as well take the cup. What started as a peek into the life of rapper Jim Jones turned into a reality television franchise that has captured the attention of a majorly African-American audience. Through the shows, viewers have experienced it all as the lives of cast members play out on screen. We've witnessed couples fighting, people getting cheated on, others' careers thriving, babies coming into the picture, beautiful weddings, and drinks flying across a few rooms. It's not Love and Hip-Hop without a fight or an unexpected plot twist. Some 360-degree turns happen on the show, while others are penned long after a cast member has called it a day. These are the most surprising turnouts of all:
1. Cardi B Pulled A Fast One On DJ Self By Going Mainstream
When we first met Cardi B, she was the 'regular, degular, shmegular' girl from the Bronx who had a wide following on social media and an insatiable appetite for making money and turning everything up. Quickly, Cardi B became a fan favorite for how she spoke her mind. Even though she was rough around the edges and needed an etiquette class from Tara, deep down, Cardi was a soft gangsta who wanted to succeed in music. One too many times, she was hoping DJ Self would be the one to help her out. In one instance, Cardi B called him out for not taking her seriously. " He don't believe in my music," she told Mariahlynn. Fast forward to a couple of years later, the tables have surprisingly turned. Cardi B is now a top-charting artist with more hits than we can count and a whole load of millions in the bank. Turns out she didn't need DJ Self after all.
2. Kirk Frost Went A Little Too Far With His Cheating
For a while back there, all was well in the Kirk-Rasheeda camp. The queen and king of Frostland were fully minding the business that paid them, raising a number of children, and aside from one or two shakeups, seemed pretty solid. Things got a lot frosty in Frostland when Kirk's philandering ways started to play out on screen. At the height of it all, Jasmine stepped into the picture, shattering any hopes we had of Rasheeda and Kirk being the perfect couple. Unlike previous times, Kirk had stepped out of his marriage, and a child was involved. When that happened, Rasheeda had enough, and the pair separated. Kirk had to figure out his co-parenting situation with Jasmine, and Rasheeda took time to warm up to the idea that the family was growing bigger. Little Kannon eventually met his siblings, but not before Rasheeda gave Jasmine, who'd been trying to apologize, a piece of her mind.
3. Safaree Unashamedly Scammed Erica Mena
The love story between Safaree and Erica Mena was simply a case of being careful what you wish for because it might just come true. For a long time, Safaree was on Erica's case, wanting to go out with her and calling her the mother of his children. Though she did not entertain him at first, Erica eventually gave in, and the pair had a lavish VH1 wedding. In the eyes of Erica and the public, Safaree was the world's greatest husband. Unlucky for her, that did not last long. The one thing that Safaree wanted Erica to do, have his children, was the final blow he needed to have a change of heart. Caring for a child became too much work, and Erica wanted him to get on board. As time flew, she hit him with the news that they were expecting again, and Safaree lost it. He became a shadow of his former self, leading Erica to believe she was scammed. A heartbroken Erica filed for divorce. The pair has since resorted to co-parenting.
4. Peter Gunz's Whole Life Was A Series Of Plot Twists
Never before has anyone provided so much entertainment on television as Peter Gunz did. It's sad that his life played out in the public eye. Gunz's rollercoaster of a love life was a handful for everyone watching and the women involved. When we met Amina Buddafly, she was a talented artist with a soothing voice, who was simply working with Gunz. Later, the public and Peter's long-term love learned that he was in fact married to Amina. What followed was a series of back and forth moments between the three, with Peter in between. The women hated each other, then tried to amend things, and hated each other some more. At the height of it all, Amina got pregnant by Gunz, got rid of the baby, and when she learned that Tara was pregnant, got pregnant again! Cardi B put it into perspective when she called out Gunz at a reunion. She gave us a meme-worthy moment with her reaction to Gunz saying he was paying rent for both women, and also let him know he was making Amina and Tara look stupid on television.
5. Stevie J Finally Met His Match, Faith Evans
Wild, Wild Stevie couldn't be tied down for nothing. From the time we met him, he made it clear that he, just like his counterparts in the creep squad, was all about the ladies. Boy did he dribble them! Mimi had been trying to get Stevie to act right, but he was hell-bent on getting it on with every girl he worked with. Just like Peter Gunz went back and forth with Amina and Tara, Stevie played around with Joseline and Mimi, until the latter called it a day. When his Puerto Rican princess Joseline decided she was done with Love and Hip Hop, Stevie stayed in the game, and it took a minute for the Panamanian Goddess, Estelita to check in. Still, he wasn't done with making his artists fight with each other. After years of being a bachelor who could do anything he wanted, Stevie finally settled down with Faith Evans, who he had known for a long time. Things in the Stevie-Evans camp have been a smooth sail until word got out that it wasn't all rosy. Stevie filed for divorce from Evans after nearly three years of being together and is reportedly seeking spousal support. Faith Evans isn't on board.
Tell us what's wrong with this post? How could we improve it? :)
Let us improve this post!