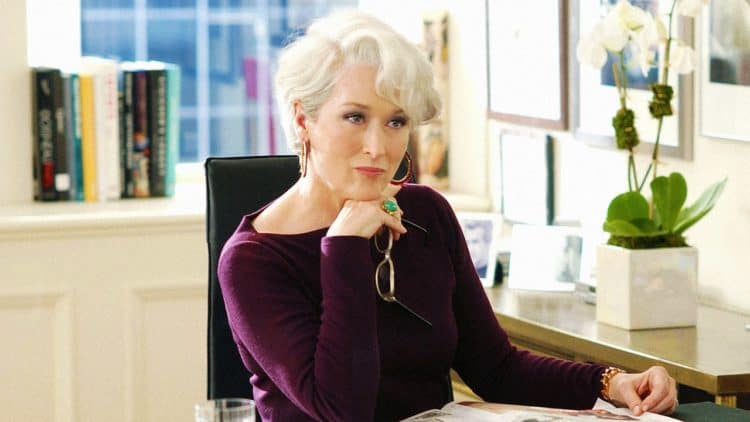 For many writers, including myself, one of the main stresses of the job is dealing with a difficult editor. You may think that your story is absolutely perfect only to get a call, at home, in the pub, even on holiday, that it needs to be completely rewritten. Editor-in-chiefs, especially those who work in print, where deadlines are much more rigid, are incredibly exacting masters, many of whom are renowned and respected for their cruelty. Yet perhaps the hardest part for many writers to accept is that no matter how harsh their editor is, most of the time they're only harsh in order to make the story better. After all, it is one of the most stressful jobs one can think of, dealing with writers, sponsors, illustrators and even printers on a daily basis in order to get the work properly done. This is especially true in today's dying print media climate.
To celebrate ruthless editors who put copy above humanity and great scoops above personal feeling, we have compiled an essential list for you to peruse. Spanning from one of Meryl Streep's most iconic performances to Spider-Man's most obtuse enemy to one of the most famous movies of all time, we believe that this is an essential guide to ruthless editor-in-chiefs for you to read. Disagree with what we have said? Believe that we are in need of some serious rewrites? Please feel free to sound off in the comment section below.
Miranda Priestly in The Devil Wears Prada
You won't find an editor quite as mean as Miranda Priestly in The Devil Wears Prada. She is a woman so self-absorbed in her own work that she has little time to even acknowledge the presence of her new staff members. Played with pitch-perfect precision by Meryl Streep, Priestly, who runs the fictional Runway magazine, is so adept with her put-downs that basically everyone in the office cowers away from her out of fear.
There is little that is actually exaggerated here, with magazine editors such as Priestly known for their ruthless attitude towards their (usually unpaid) interns and fellow writers. Nonetheless, she takes a chance on Andy (Anne Hathaway) however, who is a "real" journalist (whatever that means) who isn't impressed with the world of high fashion. The result is a fascinating exploration of the lengths one wants to go to in order to pursue a successful media career in New York.
J. Jonah Jameson in Spider-Man 1, 2 and 3
"Get me pictures of Spider-Man"
No one has ever been quite as obsessed with getting the perfect pictures of Spider-Man as J. Jonah Jameson, the fast-talking, mean-spirited, yet oddly inspiring and deeply hilarious editor-in-chief of The Daily Bugle. Convinced that the superhero is up to no good, he is hell-bent on discovering him in the midst of a crime.
Played with expert energy by J.K. Simmons, Jameson barks orders at a variety of sub-editors, all while smoking a cigar, as Peter Parker visits his office. He doesn't listen to words such as "no" or "we can't do that", usually responding with something like "get out of my office". Luckily for Parker, he is literally Spider-Man, making his task an easy one. In taking and selling pictures of himself, Peter Parker was ahead of the curve, the film accidentally predicting the Instagram influencer era.
Walter Burns in His Girl Friday
For a newspaper editor, there's nothing worse than losing a top reporter. For Walter Burns (Cary Grant) this loss is coupled with that of his ex-wife (Katharine Hepburn), who is getting married to another man. Yet this dastardly fellow has a plan to rope her back in – by assigning her one last case.
His Girl Friday is a relic of the golden age of boot-leather journalism, replete with transatlantic accents that move a hundred miles a minute. Burns gets lucky when it turns out that the man being investigated for murder is actually innocent, leading to her getting stuck right into the case and the two of them rekindling their long-lost relationship. Recently parodied in the last season of Bojack Horseman, His Girl Friday is a true classic of the newspaper reporter genre as well as the 40s comedy of re-marriage.
Charles Foster Kane in Citizen Kane
There is no one more famous in film history for pursuing yellow journalism – that is tabloid press with little basis in fact – than Charles Foster Kane. Played with naked ambition by Orson Welles, he becomes a huge newspaper magnate, with the ego to match. The story plays as a tragedy, film noir, and pure memory, with Kane a type of mythical figure, sacrificing himself in pursuit of naked power.
The result is widely considered to be one of the greatest films ever made, and a cautionary tale about the pitfalls of being born into so much wealth. It was based on the life of William Randolph Hearst, who altered the news media landscape in both New York and the USA to become far more sensationalist in tone. His personality and far-reaching grasp can also be found today in the likes of Rupert Murdoch, whose right-wing views still colour his vast conglomerate of newspapers.
Anna Wintour in The September Issue
The only documentary on this list, The September Issue takes a deep dive into the life of Anna Wintour as she prepares the biggest monthly edition of Vogue yet. While The Devil Wears Prada was a heavily fictionalised portrayal of Anna Wintour's unique personality, The September Issue gets you up close with the woman herself.
She is an incredibly exacting figure, going through every single detail herself. Despite the fact that this magazine issue has a whopping 840 pages, she makes sure that every single page is done according to her demands. The film gives us an insight into the conflict between making profit and showcasing great material, and the demands that it puts upon those with such a high level of power. For anybody who is thinking of starting their own magazine, The September Issue represents truly essential viewing. You will probably decide it's not for you.