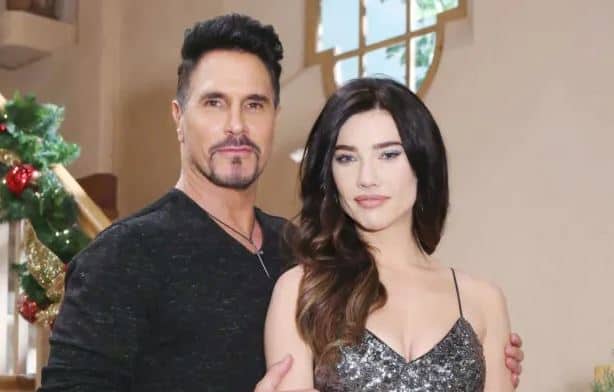 Bold and the Beautiful fans know that the entire show is all about relationships. While other soaps might be more focused on things outside of just who is dating whom and which couple is being cheated on, plotted against, or getting married, this is one soap in which the primary focus is relationships. It's less death and scandal and more who is with whom and which of her sister's or daughter's husbands or boyfriends Brooke is currently sleeping with — well, it's true, right? This is a show in which the people are constantly finding forever happiness for a month or two before they are moving on to others and a new form of constant happiness and new love, but that doesn't mean we always like the couples around here. In fact, there are a few we don't like to see together. They annoy us for one reason or another. Do you agree with the couples we chose?
Brooke and Bill
This is the man her sister was married to and in love with and has a child with, and she had not one bit of business coming into this situation the way she did a few years back. The moment she felt that something might not be right with herself and Bill was the moment she should have walked away from the situation and left it alone. That was her sister's husband, and that was horrible. They bother us so much when they are together because they are both too much alike to make things work out, and we don't feel it at all. It's not for us to say, of course, but we don't feel it.
Brooke and Ridge
They just can't get it together, and it's a pain watching two people try to make it work when neither of them is willing to make any actual changes. They both put their kids first — their grown up adult kids — and they both do what they can for their kids while undermining and screwing over their spouse. They fight about the same things, they do the same things, and they go behind one another's backs more than they do anything together. They're rarely actually happy together, and we are just not down for it. They make us crazy, and we cannot get on board with loving them as a couple. They need to get divorced, move on from one another, and be good alone or with someone else. But for the love of everything holy, they need not be together.
Steffy and Liam
She's too good for him. We like Liam, but he's too much of a pushover. He doesn't know what he wants or who he wants in his life, but he does know that he does not want to be alone. He cannot decide between Hope and Steffy because he just loves them both and cannot make a decision, which is a decision in and of itself. We don't know how Hope can be married to him and maintain an ounce of pride or dignity knowing he is with her because Steffy took the choice away from him when he could not decide. To get a man because another woman decided for you that she's not wasting her time on him is not a happy feeling, if we had to guess. While we like them both so much, we cannot stand them together in any capacity.
Wyatt and Flo
Flo is not a person we like. We don't like her weak personality. We don't like her poor me mentality. We don't like the fact that she did this horrible thing, ingrained herself into this family knowing it would crush so many people, and still continued to lie. We don't like that he thought she was a better choice or the love of his life because they dated in high school before he moved. They didn't even keep in touch, and they're young enough social media should have kept them in contact with one another. He left and literally never reached out to her again, so that is not the kind of true love we are all down for, you know? We don't like them.