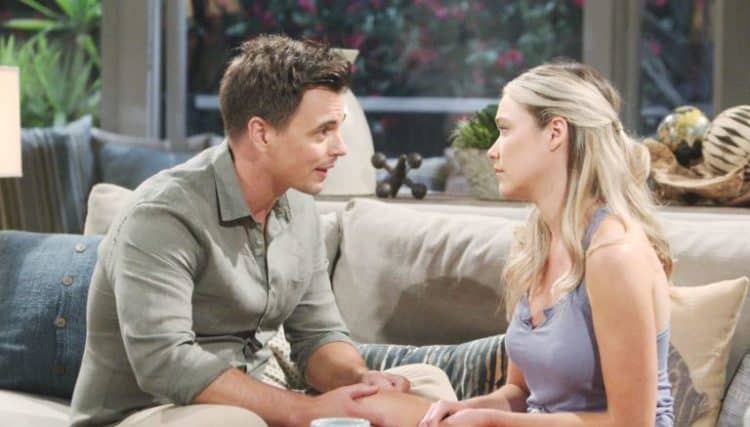 The Bold and the Beautiful fans know that Hope is not in a good place. She's making decisions that don't make any sense to anyone, and they are not good decisions. She's got so much going on that she doesn't know how to function with anything, and it's hard on her. She's struggling, and we get it. She's got a situation that no one should ever have to go through. She lost her baby, and then she gave up her marriage because she felt she didn't want to keep her husband from his own baby, and then she remarried a man simply because she wants to be a mother to his son. And now she's in a place where her life is taking a turn for the worse. Listening to baby Phoebe call Steffy mama for the first time in the middle of her own wedding was a horrible moment for her. It only served to remind her that she should be the one getting to go through things like this right now, and she is not.
Her mother tried to comfort her, but she's not doing the best job. Brooke will do anything and everything to make sure her daughter is all right, but it doesn't always work that way for her. She's not always going to find that things work in her favor, but she will always find that her mother will be there to protect her, even when that kind of protection is not the type she really needs. She wants her to be there, and Brooke will do anything and everything in her power to make sure this young woman is able to get through this — even if she is not happy with her daughter's decisions in the meantime. We get it.
What's Happening on the Bold and the Beautiful
These three are officially a family. 💕 #BoldandBeautiful pic.twitter.com/dEs1d7pMNK

— Bold & The Beautiful (@BandB_CBS) July 23, 2019
She may not want to be there, but she looks lovely.
What's Next on the Bold and the Beautiful
He made enemies, he made threats, and this week Thomas will make one critical mistake. You won't want to miss this on #BoldandBeautiful! pic.twitter.com/PHeFm9ibD6

— Bold & The Beautiful (@BandB_CBS) July 22, 2019
Thomas is a man who is going out of his own way to try and make things work in a marriage that he's the only one into. He's made a great deal of effort to plan a staycation since she didn't want to go on a honeymoon with him — being that she doesn't love him and all that, and she's left feeling as if there is nothing good going on in her life right now. She's a woman who is unsettled, and this is only making her feel that there is more than this going on. She's not happy, and he cannot make her happy. Is there a chance she will see this at all, or will they have to figure things out in some way?
On the other hand, Liam is not happy about what he heard Flo talking about, and he is looking into Steffy's adoption papers for the baby. She's going to catch him, and she's going to want to know what he is doing. He is going to demand that she tell him the entire story about what is going on with the baby, and that includes the history of the baby that she was told. He's piecing things together, and that is something we know he will not let go if he is given a chance to see things unfold in some other way. Will this be the moment it all falls into place for him, because he's heard different and conflicting stories?
Stay tuned for more The Bold and the Beautiful and be sure to check out TVOvermind daily for the latest The Bold and the Beautiful spoilers, news, and updates.